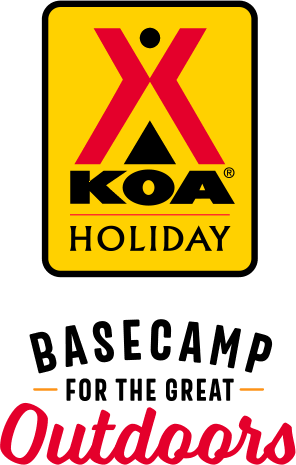 KOA Holiday Campgrounds
Whether you're exploring the local area or hanging out at the campground, KOA Holidays are an ideal place to relax and play. There's plenty to do, with amenities and services to make your stay memorable. Plus, you'll enjoy the outdoor experience with upgraded RV Sites with KOA Patio® and Deluxe Cabins with full baths for camping in comfort. Bring your family, bring your friends, or bring the whole group – there's plenty of ways to stay and explore.
KOA Holidays Feature:
RV Sites with a KOA Patio®
Deluxe Cabins with full baths
Premium Tent Sites
Group meeting facilities
Directions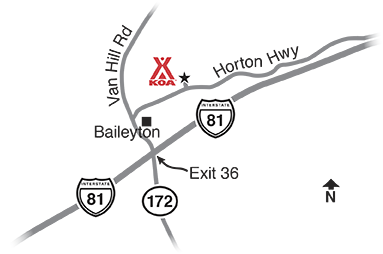 At Exit 36 off Interstate 81, follow the signs (9 of them) – take Local Route 172 north 7/10 of a mile (past 2 truck stops, 2 dollar stores and another RV park) to flashing light / 4-way stop (Horton Highway). Turn right at Horton Highway, go 1 mile. Park entrance is on the left.
GPS Coordinates: 36.338795, -82.824126
Get Google Directions
Jul 07, 2021
We loved our one night stay. Though we did not have time to enjoy all the amenities (pool, driving range, etc) we appreciate that those amenities were offered. The staff at check was very knowledgeable and friendly. We would note that we had a difficult time leveling our motorcoach in the site we were assigned which was D9. The site was low on the right side and low on the nose of the coach.
Jul 07, 2021
We absolutely love the campground the people are extremely friendly a lot of activities for the children and very clean and well-maintained
Jul 07, 2021
The park was clean and the staff was pleasant and helpful. The reason I didn't give 5 stars is because a motorhome pulled into the park right before we did and parked in the center of the driveway so we couldn't pull off the highway. We were blocking a highway while the people in the motorhome were checking in! We tried to wave people around us but it was not a good situation. Post a sign plea
Jul 07, 2021
We only stayed one night. It was quiet and clean
Jul 06, 2021
Such a clean campground. very family friendly. The owners are wonderful people. We stay here several times a year.
Jul 06, 2021
We will absolutely be back to stay again! The kids activities are great and has them begging to go back again. The campground is very clean and well maintained. I usually dislike the gravel roads and sites but because they have done such a great job of keeping a lot of gravel (no bald or dirt spots) it was great! We highly recommend this KOA!
Jul 06, 2021
Great campground. Friendly staff and facilities were very clean. I would recommend Baileyton KOA to everyone. It is a diamond in the rough. Great July 4th fireworks. We will definitely be back. One of the best, well taken care of campgrounds that we have been to.
Jul 06, 2021
If anything is needed , Karen and Bob do their best to provide
Jul 04, 2021
I love the Baileyton KOA and the owners and staff. Wonderful people and wonderful place to camp.
Jul 03, 2021
The campground is clean and amazing. The staff is friendly and always willing to help. There are plenty of activities to keep you and the family occupied during your stay.
Jul 02, 2021
We parked our travel trailer on site D5, a pull-thru in a newer section of the campground. The gravel was still a bit soft and required us to use levels. We liked the site's larger size and easy access to grass for our two dogs. Many of the sites in the older part of the campground were smaller. Lots of amenities. The staff was friendly and the grounds were clean & well maintained.
Jul 01, 2021
Relatively new camp ground. Well layed out. But trees need time to provide shade. Lots of good things about this KOA.
Jun 30, 2021
Great staff and very friendly and helpful, laundry room very clean, dog friendly, Beautiful clean grounds area. Will definitely come back.
Jun 30, 2021
The campground and bathhouse is clean and the staff is helpful and friendly. Very close to 81
Jun 30, 2021
I really loved how much open space there was. It did not feel cramped at all. The pool area was clean and nice, the activities for the kids was great and the employees were very nice!
Jun 29, 2021
Helpful staff. Staff helped with getting me to the right spot. Very busy KOA with lots of campers and families. Local police dept drove through.
Jun 29, 2021
Very nice campground, enjoyed the fishing and the driving range. Very pet friendly.
Jun 28, 2021
We love it here! Staff are awesome. The property is great! We highly recommend this place!!
Jun 28, 2021
Awesome facilities. Spacious feel to the layout. Totally family friendly. We took our toddler and it was perfect. We will be returning with friends and their two kids in two weeks.
Jun 27, 2021
Great campgrounds and nice and friendly staff.
Jun 27, 2021
Only spent 1 night passing through enroute to teaxs, but found it quite enjoyable and relaxing after a day on the road with 3 grandchildren. Staff are friendly, facilities are clean, would definitely stay again.
Jun 27, 2021
Excellent place for overnight right off 81.
Jun 27, 2021
Need more bathrooms and showers
Jun 27, 2021
Excellent facilities- but best part was the staff being very supportive and friendly!!
Jun 26, 2021
Everything was perfect 100 o/o !
Jun 26, 2021
The site is nice. The roads in and out are scary for larger RV's to say they least.
Jun 25, 2021
Lovely spot Clean and friendly
Jun 24, 2021
Very nice, very friendly staff. Nice pool and driving range. Would definitely stay again.
Jun 24, 2021
We stayed for one night traveling through the area. Very clean, nice sites, quiet and friendly koa.
Jun 23, 2021
Beautiful neat clean setting, convenient to I-81. Rows A,B,C may have some shade,but are mostly not big rig friendly. Rows D&E no shade but wider, longer and better angle for big rigs. We along with our neighbors across were assigned sites by someone who obviously never tired to maneuver a big rig. If we could get on row D or E we would stay again. We were in a 43'foot motorhome with tow.
Jun 23, 2021
My only complaint is the shower house isn't not air conditioned or vented so it's extremely hot and humid in there
Jun 22, 2021
Clean, very nice staff and vacationers, had a great stay!! See you soon!
Jun 22, 2021
Pro's-The campground itself is nice,staff was friendly when we checked in. Cons-Hated that people just walked thru our site uninvited back and forth from the pool area,adults and children alike. There was a beat up black car racing way to fast continually going up and down the dirt road kicking up dust.And lots of barking dogs.
Jun 22, 2021
Sites were okay and level enough. Adherence to Rules not so much. Yapping dogs, people walking thru sites instead of on the road. Not a word from Park Mgmt. Stay a lot at KOA's and this has to be the loudest and most unregulated one so far.
Jun 22, 2021
We loved it! Quiet but also kid friendly! Our new favorite spot, for sure!
Jun 22, 2021
We were just passing through and they were very accommodating. The bath rm house was very clean. The staff were very friendly.
Jun 21, 2021
Ever helpful
Jun 21, 2021
Very busy on a Friday night, but we had a good site and were pleased with the experience. A very good place to relax and walk around.