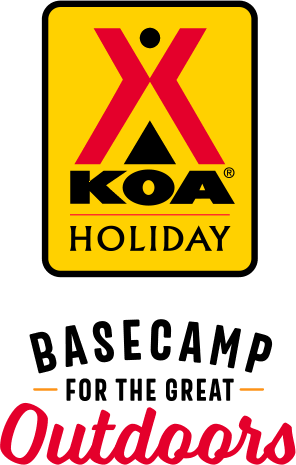 KOA Holiday Campgrounds
Whether you're exploring the local area or hanging out at the campground, KOA Holidays are an ideal place to relax and play. There's plenty to do, with amenities and services to make your stay memorable. Plus, you'll enjoy the outdoor experience with upgraded RV Sites with KOA Patio® and Deluxe Cabins with full baths for camping in comfort. Bring your family, bring your friends, or bring the whole group – there's plenty of ways to stay and explore.
KOA Holidays Feature:
RV Sites with a KOA Patio®
Deluxe Cabins with full baths
Premium Tent Sites
Group meeting facilities
Directions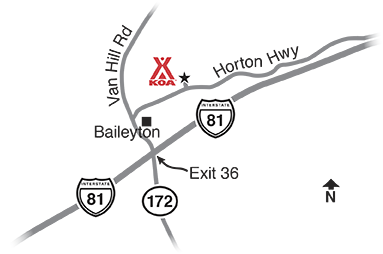 At Exit 36 off Interstate 81, follow the signs (9 of them) – take Local Route 172 north 7/10 of a mile (past 2 truck stops, 2 dollar stores and another RV park) to flashing light / 4-way stop (Horton Highway). Turn right at Horton Highway, go 1 mile. Park entrance is on the left.
GPS Coordinates: 36.338795, -82.824126
Get Google Directions
Jul 19, 2021
Friendly staff, clean amenities, plenty of activities for kids. Will be back.
Jul 19, 2021
Our first trip in our new RV and we messed up! Thank goodness the folks at Baileyton were there to help us out! Not only were they prepared to lend a hand and a tool they were such nice folks. The camp grounds were excellent and the shower house was very nice and clean. This is definitely on our list for a return visit!
Jul 19, 2021
It's ALWAYS been Nice, but with the NEW amenities, and location to interstate We can't stay away…..STAFF is AWESOME. We live nearby and always plan at least 1-2 trips per season �
Jul 19, 2021
Very family friendly
Jul 19, 2021
Very very nice staff, nice site lots, paved patio, gravel parking spot, full hook up. Lots of family activities, and a wonderful driving range, hubby very pleased. Busy on weekend, but everyone was very friendly. Great laundry, air conditioned too. Park is squeaky clean.
Jul 18, 2021
Hard for a 45 foot coach to maneuver. Check-in person not very friendly. Pretty RV park but full-timers need to clean up their sites.
Jul 17, 2021
Best KOA we have ever stayed at! Beautiful setting, very quiet, lots to do for the kids, yet, 1 mile off the interstate!
Jul 17, 2021
Very nice campground. Well managed and clean. If you have kids there is plenty to keep them busy. If you need shade, ask for a tree site as the new ones do not have trees yet.
Jul 16, 2021
The ONLY reason this KOA is not 5 stars is where they parked us. Our RV is 45' and we had a tow. We did not want to unhook for just one night. Thankfully, the people across from us left before us so it wasn't a problem. This is a SUPER campground and we will be back!! Lovely facility and kept so well. The staff is so friendly! Thank you for such a wonderful environment.
Jul 16, 2021
Looks like a Good Sams park for $33 not a $53 KOA
Jul 15, 2021
Beautiful campground. Great amenities. Bathroom needs some air freshener but was otherwise very nice.
Jul 15, 2021
2nd time there. Again staff was very friendly and site was well maintained. We'll probably be back in near future.
Jul 15, 2021
We only stayed for a night. Got the tiny house. This thing was way cool. Next time we're staying more than a night and I'm bringing my golf clubs.
Jul 14, 2021
07-08-21 Nice campground! Clean and trimmed. Our space (B12) was a pretty much level pull-thru. (Airstream 27') Lots of green space to enjoy at Baileyton too! Convenient to busy interstate 81 but far enough away to significantly lower traffic noise. Will stay again in future, as its a convenient stop-over for our TN to New England trips
Jul 13, 2021
Wonderful stay Only thing that was a little uncomfortable were the flies They were really bad
Jul 13, 2021
We are new to the "camping world" so we wanted to stay close to home the first time. We picked Baileyton KOA & absolutely fell in love! We L O V E it here! It is clean! The people are amazing & always so helpful & friendly! They have plenty of things to do for kids! Fun activities on Saturdays! Even the fellow campers are always super fun, nice, & friendly! This is our "go to" spot now!!
Jul 12, 2021
First trip in a camper as an adult. Super Friendly Staff, Great property! Will stay again
Jul 12, 2021
By far our favorite local campground. Love all the activities and super family friendly
Jul 12, 2021
I've been staying here on my way East. My first stay was before it was a KOA affiliate. One of my favorite parks
Jul 12, 2021
Well kept and neat. Could use some air conditioner in bath house. Our site was B8 and there were no 30 amp breaker in the fuse box, nor a 50 amp. Two 20 amp and a 40 amp. This could cause damage to a camper air unit because of low amps. Needs to be fixed. Luckily we had a 50 amp adapter and could use the biggest plug for our 30 amp system.
Jul 11, 2021
Overall, the campground was awesome. It was very nice to have so many activities to do! The only thing that we feel needs improved is the cleanliness of the restrooms. Their is a sign on the bathroom door that says they are to be cleaned daily, but we found that this schedule was not adhered to.
Jul 11, 2021
Great campground! Owners are very welcoming. We will definitely stay again.
Jul 11, 2021
Absolutely a great place to camp! We don't live far away so that makes it even better! The staff was beyond friendly and helpful. Firewood delivery. Trash pick up. Plenty for kids to do. Just an all around friendly, peaceful atmosphere.
Jul 11, 2021
Easy check in, very attentive owners and staff. Very clean, beautiful grounds with lots to do. Lots of expansion going on.
Jul 11, 2021
Nice, quiet little campground convenient to I-81. Pool was clean and refreshing on a hot July day. Stayed one night on our way home.
Jul 11, 2021
Nice, clean, not far off the highway. Great for a overnight stay!
Jul 10, 2021
Love this campground. It is our favorite. The staff is top notch.
Jul 10, 2021
Very clean and quiet campground. Easy to find off the interstate highway. We were only there for one night, but there are many things for families to do without leaving the campground. Would highly recommend for longer stays.
Jul 10, 2021
Clean, efficient, accommodating, overall excellent!
Jul 09, 2021
Good as usual
Jul 09, 2021
Very nice, clean and quiet. Easy to get to. Would stay again!
Jul 08, 2021
Excellent cabins. Super friendly staff. They brought a bundle of wood for us to our cabin while we were out at dinner. Nice quiet fire time even in July.
Jul 08, 2021
Such a beautiful & clean campground.
Jul 07, 2021
Lots of fun activities, friendly personnel and only 12 miles to Greenville. The Baileyton Restaurant is right down the street with good, inexpensive food but lousy service.
Jul 07, 2021
Our family loves Baileyton KOA.