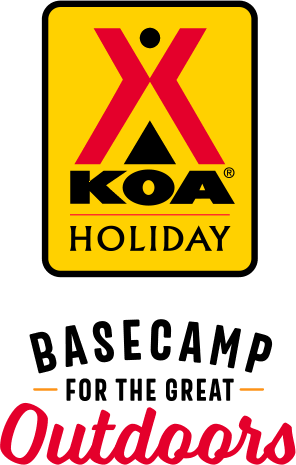 KOA Holiday Campgrounds
Whether you're exploring the local area or hanging out at the campground, KOA Holidays are an ideal place to relax and play. There's plenty to do, with amenities and services to make your stay memorable. Plus, you'll enjoy the outdoor experience with upgraded RV Sites with KOA Patio® and Deluxe Cabins with full baths for camping in comfort. Bring your family, bring your friends, or bring the whole group – there's plenty of ways to stay and explore.
KOA Holidays Feature:
RV Sites with a KOA Patio®
Deluxe Cabins with full baths
Premium Tent Sites
Group meeting facilities
Directions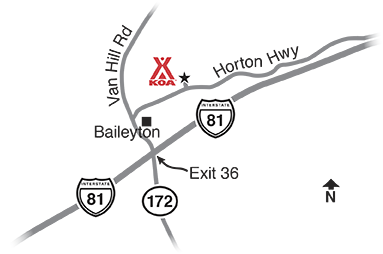 At Exit 36 off Interstate 81, follow the signs (9 of them) – take Local Route 172 north 7/10 of a mile (past 2 truck stops, 2 dollar stores and another RV park) to flashing light / 4-way stop (Horton Highway). Turn right at Horton Highway, go 1 mile. Park entrance is on the left.
GPS Coordinates: 36.338795, -82.824126
Get Google Directions
Sep 20, 2021
Very clean, nicely maintained and staff very friendly and helpful. We stay here every year and enjoy the peacefulness
Sep 20, 2021
Clean campground. Easy in and out. Good value for the price. A lot of outdoor activities available.
Sep 20, 2021
The kids loved staying at Baileyton KOA! The staff are wonderful!
Sep 20, 2021
We're first time campers and this place was amazing there was so much to do for the kids and the fishing was great. Tammy what a great personality enjoyed many long conversations with her. The sites were well maintained and ready access will definatley come again.
Sep 20, 2021
Very smooth. Everyone was friendly and accommodating
Sep 20, 2021
One night. Excellent koa.
Sep 19, 2021
Very nice park
Sep 19, 2021
It was only one night but the campground is very nice.
Sep 19, 2021
Outstanding , kids had a great time as well as the adults , will be going back for sure . loved the layout of property and how everything was set up for the activities Thanks KOA in Baileyton
Sep 18, 2021
We satyed here on our way up to VA about 10 days ago and on our return trip. Very nice place to stay, the staff is friendly and they are constantly doing projects to make the place even better than it is.
Sep 17, 2021
Extremely rrstful. Loved the Tiny House. Looking forward to my next visit.
Sep 17, 2021
Perfect transaction and the park was perfect.
Sep 16, 2021
We have stayed at Baileyton RV Park many times before. We continued our patronage after they became a KOA. The owners constantly strive to improve the park and the camper's experience. Great job Baileyton on your new section! You definitely will see us again.
Sep 16, 2021
Very peaceful and relaxing. We only live an hour away, but wanted to use the location for another shake down runs on a still new to us RV.
Sep 15, 2021
Nice quiet and very clean park.
Sep 15, 2021
The site was mostly level, everyone we had contact with was friendly, the park was far enough off of the interstate to be a quiet overnight stay.
Sep 15, 2021
I highly recommend this campground.
Sep 15, 2021
Fantastic: the best we have seen… we were in a cabin… sparkling clean!!! All amenities sugar, coffee etc in place Very quiet and clean grounds, pool spotless
Sep 14, 2021
We loved our stay in the tiny home. The bed was a little squeaky and squishy, but tiny home is very comfortable overall. We will be back!
Sep 14, 2021
Great campground!! We only had one night and wish we had more time.
Sep 14, 2021
The staff was very friendly and extremely helpful. The facilities well coward for. Hook up was easy.
Sep 14, 2021
We were experiencing 12 volt issues with our motor home while traveling home from NY to Georgia. We had no AC, lights, water and could not put out our slides. We decided to just park the motor home and stay in a hotel for a couple of nights. This KOA was AMAZING!!!! The owner actually worked with my husband to try to diagnose the problem. THIS IS A WONDERFUL PARK AND THE STAFF ARE AWESOME!!!
Sep 13, 2021
Another great weekend at Baileyton KOA. The updates to the park and the addition of Water Wars made for a good time.
Sep 13, 2021
Always a good time !! Very helpful and friendly staff! And it get's better with every visit !
Sep 13, 2021
Pleasant experience. Lots of activities for young ones.
Sep 13, 2021
Very nice quiet campground.
Sep 13, 2021
Staff was so helpful and friendly. Campground is well cared for with lots of activities/options for the kids. We plan to return soon!
Sep 12, 2021
A very nice camping area and facilities. The down-side, the highway noise (I camped in a tent so road noise was inevitable).
Sep 12, 2021
Just stayed one night! Would have stayed longer if our schedule permitted. Very nice area.
Sep 12, 2021
I called for a reservation only an hour or two before we arrived and am so glad you had room for us. Site B2 isn't a great site for a large rig because of the tree at the entrance and the posts, but A6 was great! What a beautiful campground! Everything was looking very pretty and we really enjoyed our stay. Cable and good wifi as well as a full pullthrough hookup...just what we look for! Thanks
Sep 10, 2021
Very nice campground with large pull thru sites. The pool was very clean and well ket
Sep 09, 2021
Fantastic as usual, except I'd post pick up dog poo!! We had the tent 2 and the cabin people just let out dogs to poo and never clean up.other than that wonderful!!!
Sep 09, 2021
Our grandchildren came with us on this trip. There was plenty of activities for all ages. We played all activities with them. Bingo, water wars, the pool, the jumping pad, crafts and movies. We definitely will be back.
Sep 09, 2021
Grounds, cabin, office & staff and amenities were amazing! Will return!!
Sep 08, 2021
We arrived last minute at the end of the day and they took excellent care of us. It is also very clean.
Sep 07, 2021
We love the Baileyton KOA. So quiet and family oriented.
Oct 16, 2021
Super friendly, clean and peaceful campground. 10/10. Would definitely come back when in the area.
- amy crumley on Google
Oct 16, 2021
Excellent. She said they were full at 2 in the afternoon but did a double search and found a way to get us in. Clean and friendly . My thanks to Tammy and the woman who printed out my shipping label ( twice ) . All around helpful and friendly.
- Jesse St Croix on Google
Oct 06, 2021
This KOA is very well marked far in advance. The staff are friendly, the park is immaculate, and the sites are great! It's got a clean dog park which is a big plus in our book. We definitely will be frequent visitors between our North and South trips. My 9 year old was disappointed by the swings and playground but I won't fault this one because everything else hit the mark.
- Mary Lou North on Google