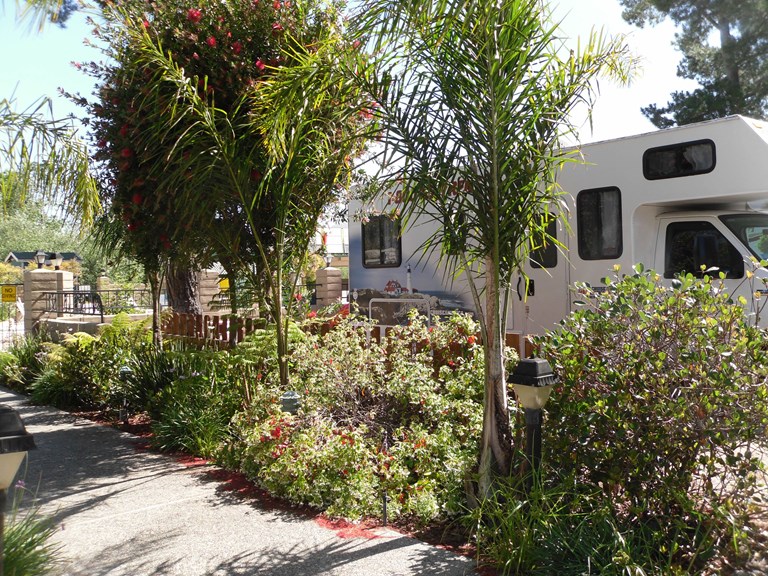 Avila / Pismo Beach KOA Reviews
Directions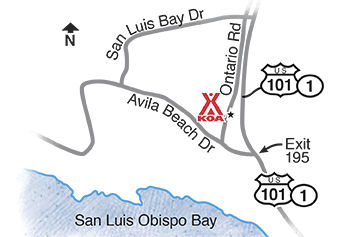 This campground is just off Exit 195, Avila Beach Drive: Turn right onto Ontario Road. This KOA is 5 miles north of Pismo Beach, 3 miles from Avila Beach and 5 miles south of San Luis Obispo.
Get Google Directions
Feb 24, 2020
Beautiful location and Close to bike trails.
Feb 24, 2020
Avila/Pismo Beach KOA was the first stay in our new trailer and we had a great experience. The staff were kind and super helpful. The store had a great selection of local wines, campground was very clean and amenities were excellent. We will be back in the future and would recommend to friends/family.
Feb 23, 2020
Totally relaxing and enjoyable. And even better mid-week without being crowded tightly together! We'll be back!
Feb 23, 2020
Great place very friendly and clean . Enjoyed going to the beach and shopping.
Feb 22, 2020
Loved our site. The owners were very nice. They led us to our site and directed us to the site. It was great weather and. A great two days.
Feb 21, 2020
This is a very nice clean campground with a friendly staff. There are only a couple things that bothered me. First, is the freeway noise and they can't do much about that, except move the freeway. Possibly plant more shrubs, build a higher sound wall or an earthen berm. Second I thought it was too restrictive to keep kids out of the spa. It's February and cold. Let them in to warm up.
Feb 21, 2020
Nice property, lots of amenities. A bit of noise due to HWY 101 being so close.
Feb 21, 2020
Really enjoyed our first time stay! We will be back. The only thing we would like to see improved is the internet.
Feb 20, 2020
We attended our 1st vintage trailer rally at the KOA. We had a wonderful time. The campsites were well maintained & the bathrooms were very clean. The store had a very good variety of foods, soft drinks, beer, & wine. The gift shop/wine tasting room was really nice. Kudos to managers.
Feb 19, 2020
Great people, very helpful. Very clean park including the restrooms
Feb 19, 2020
From the polite and efficient person who checked us in, to the gentlemen who guided us to our spot, our experience at Avila KOA was vey positive. We were part of a Valentines Weekend Vintage Trailer gathering. The staff was accommodating to the unique needs of our group.
Feb 19, 2020
We had a great time! Really enjoyed the atmosphere just wished we could have a fire at our camp spot.
Feb 19, 2020
Enjoyed a long weekend at the Avila/Pismo KOA. We enjoyed the quiet even with there being an event on site. Bathrooms were clean and the pool area was inviting. Loved that the Avila Valley Barn was just across the street!
Feb 19, 2020
Loved it great accommodation very clean and friendly
Feb 18, 2020
Pismo KOA was a great experience! We loved how the guys guided us to our spot and the bathrooms were the cleanest we've ever seen at camping! Thank you � We will be back!
Feb 18, 2020
Packed in like sardines. It is what it is, we get it
Feb 18, 2020
Grounds are well kept, staff is nice. Park is close to wonderful bike and walking path. I would give this RV Park excellent marks if it was not so noisy due to the 101 freeway being right on top of it. I realize that is an unchangable fact, but is really the only un desirable aspect of this park. There was a nice pool, nice restrooms/showers, even a dog park.
Feb 18, 2020
Love the area, staff were very friendly
Feb 18, 2020
The site was very narrow to the point we barely had a place to set the picnic table, and the WiFi did not work at all.
Feb 18, 2020
The staff is top notch. Always helpful and friendly. Only complaint was the spot, I believe #10. It was so tight even for my little 25' trailer, that it was a fight to get it in and out. Even the manager, whose motor home was parked across the way, wasn't quite sure how I was going to pull it off.
Feb 18, 2020
It is small and near a freeway ( so some sites have very loud road noise) but they pack a lot into this park with a lot for kids to do. The staff was very helpful. The park was VERY pet friendly. The restrooms and showers were clean. The location was great - next to Avila Valley barn ( fun for young ones) and the beautiful Bob Jones trail which takes you to the beach.
Feb 18, 2020
Only one night, it was good. A little too close to the highway but nothing you can do about that. Clean showers and bathrooms.
Feb 17, 2020
Relaxing and nice
Feb 17, 2020
The staff was great
Feb 17, 2020
Very clean grounds excellent staff Great accommodations Had a great time No complaints here���������
Feb 17, 2020
It was are first time staying at a KOA and didn't know what to expect. But we were really pleased with our stay and the staff. Everyone was really helpful and nice. Thank you for having a great park.
Feb 17, 2020
Welcoming staff, clean campsite! Restrooms were clean and well kept. Showers were clean . Nice campground they accommodate our group made us feel welcome! Thank you!
Feb 17, 2020
Very friendly staff - Also extremely clean property They have a pool - dog park - bikes - activities room - wine tasting - gift shop & general store The location is beautiful and near hiking trails. We will be going back and definitely recommend it to all
Feb 17, 2020
Very clean. Atmosphere charming. So many activities for all. Very nice experience.
Feb 17, 2020
Excellent, could not be better. Easy checkin, the crew escorts you to your spot and helps you back in.. Jim was absolutely awesome at backing us in the spot. Very clean, nice grounds. The spots are a bit tight but very livable. Yes there is a bit of road noise but nothing excessive and sound a bit like the ocean from our spot. Great location. Don't believe the negative just book it and go...
Feb 16, 2020
While most everything was great-staff, location, bathrooms, the main problem we had was accessibility. We have a 35' class A which fit the site but the weekend we were there it was full and we had a difficult time getting out because the site isn't sized for today's larger vehicles. Back in the day when campers were smaller it would be fine but not for today's full size rigs. Most of the c
Feb 13, 2020
The camp grounds are very clean. I love the area for the dogs. Great fenced in area for them to run around. The staff is friendly and helpful. There was always someone around if you needed any help. We will go back.
Feb 13, 2020
Very clean camp sites. bathrooms, playgrounds and recreation rooms. Staff were very friendly. We look forward to visiting again in the near future.
Feb 13, 2020
We liked this KOA!
Feb 11, 2020
Like our last two stays with was a business trip. Really enjoyed your lite guest load and the quietness of the park.
Feb 10, 2020
We had the best time. The RV park is amazing and so clean. The staff were so helpful and nice. We are planning and staying there again and again. Thanks for everything.
Feb 09, 2020
Nice park. Friendly people
Feb 07, 2020
Friendly, clean bathrooms, beautiful grounds, many activities available
Feb 03, 2020
This is our GO TO weekend getaway campground! Just minutes from Avila and Pismo
Feb 01, 2020
Staff was very friendly and helpful and the campground is very nice. Sadly the noise from Highway 101 was soooo loud we felt like we had pulled over on the shoulder and spent the night! We were very disappointed because we love the location, staff and campground.
Feb 01, 2020
Very clean and friendly!
Jan 28, 2020
Great location to beach, helpful staff!
Jan 28, 2020
This is a very tidy and well run KOA. Staff were available and pleasant to deal with. We will definitely stay here again.
Jun 29, 2020
Great place to stay. Helpful staff
- Matt Furrer on Google
May 13, 2020
Amazing location with tons of amenities! There is even an outdoor screen for movies when its nice out! Pool/spa, horseshoe pit, large kids playground, dog friendly fenced in K9 Camp! It's got it all and will definitely be back!
- Justin Harrison on Google

Avila / Pismo Beach KOA
Open All Year
7075 Ontario Road
San Luis Obispo, CA 93405
Check-In/Check-Out Times
RV Sites
Check-in: 1:00 pm, Check-out: 11:00 am
Accommodations, Cabins
Check-in: 3:00 pm, Check-out: 11:00 am
Get Google Directions

© 2020 Kampgrounds of America, Inc.