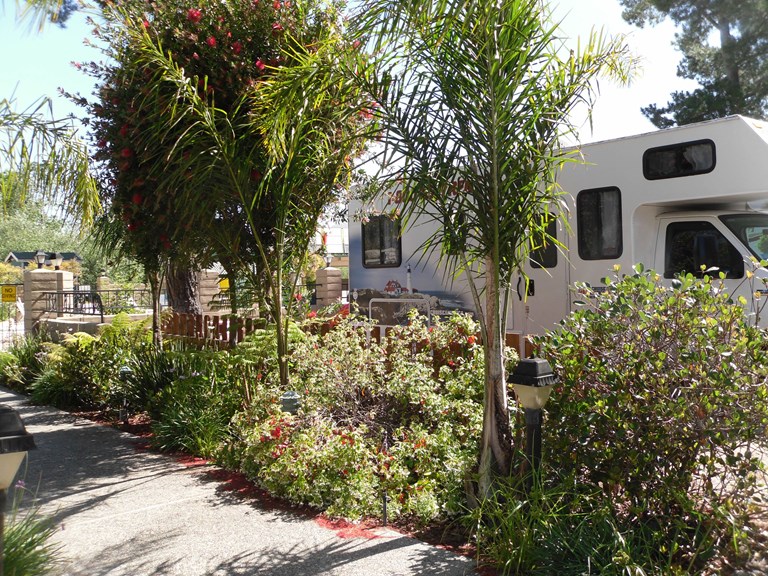 Avila / Pismo Beach KOA Reviews
Directions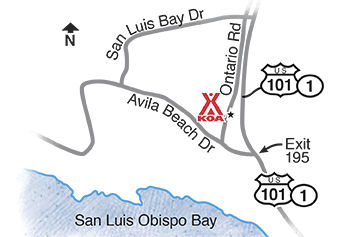 This campground is just off Exit 195, Avila Beach Drive: Turn right onto Ontario Road. This KOA is 5 miles north of Pismo Beach, 3 miles from Avila Beach and 5 miles south of San Luis Obispo.
Get Google Directions
Jun 03, 2020
Enjoyed our stay. Disappointed that the facilities weren't open due to COVID but understandable. Great location except for the freeway being so close we could hear the traffic. Very clean and well maintained.
Jun 03, 2020
Public restrooms were open but not at the half full campground. Also I don't like not being able to pick a RV site by number. Sun RV Resorts does it. Most other resorts you can pick your spot. Very important to me.
Jun 03, 2020
Campground personnel were very nice especially with the added strain of Covid 19 rules. Everything was clean and orderly. This would be a 5 star location except for the 24 hour freeway noise. A sound wall of some sort would be wonderful.
Jun 02, 2020
Hard to score due to activities in resort closed due to coved virus. Also very noisy by freeway side of park.
Jun 01, 2020
A poorly managed facility. We were given a site next to an construction area. For two days all we heard was sawing and hammers. When we asked if we could change to another site we were told we could not even though most of the park was empty. Not a relaxing visit.
Jun 01, 2020
Great clean place with helpful staff. Can't wait to go back.
Jun 01, 2020
Second time here. We stayed at site 33 during 50% capacity from Covid 19 restrictions. They put rigs too close to each other, adjacent and behind. The sites we were in were pull through that were converted to back in to increase capacity. It was a mistake. Modern rigs are larger with slides. These sites should be changed back into pull through set at a diagonal to accommodate larger rigs.
May 28, 2020
I just wish the amenities would have been open while we were there, but because of the Covid 19 virus things were closed. Everything else was great.
May 26, 2020
We had a great time. The staff was amazing! An employee had us follow him to our site, so we didn't need to search for it. Everyone was pleasant, and one of the employees even came over when I was trying to back up to hook up my trailer and helped me. The only reason I didn't give a 5 star rating was because (of the covid-19) the facilities (bathrooms, pool, jacuzzi) were all closed.
May 26, 2020
RV Park was great and met some great people. I wished some of the amenities were open.
May 26, 2020
Campground was nice.
May 25, 2020
It was a really nice place and the people were pleasant when we encountered them. Looking forward to the next stay.
May 24, 2020
nice campground but the site we had was to narrow for our RV. there was a fence in the way of our slid out and our steps.
May 23, 2020
First time , very impressed, it was clean, the store was amazing!! Can't wait to come back!! Wish the pool would have been open, but understand!
May 22, 2020
Staff unwilling to extend a late check out even though campground was mostly empty
May 21, 2020
Beautiful landscaping at this park! This was a stay during Covid-19, so we didn't use any facilities. The beach is very close. Fisherman's Beach is a dog beach! There is a bike/ walking path very close to the park. The staff was very friendly.
May 21, 2020
We enjoyed staying at this campsite despite Covid restrictions. The campsite was very close to bike paths leading to Avila beach. Pismo beach is 15 minutes away.
May 20, 2020
The only bad thing was the pool and playground were closed due to the Corona Virus.
May 19, 2020
we had a great stay we will come back
May 19, 2020
We enjoyed our stay during the COVID time. All employees were very nice and we loved the area. All amenities were closed but understandable at this time.
May 19, 2020
A little crowded but staff was great and stay was good. Thanks for being open!
May 18, 2020
Were told we would be with our group, not! In fact we were not allowed to pick our own space! Rude managers! Packed in like cordwood. Forced to move vehicles numerous times to park other campers. In the case of an emergency due to the amount of campers packed in, there would definitely be loss of life and property!
May 18, 2020
Overcrowded, space we were in was too small for our trailer. We asked to be situated with our friends, we were scattered about. Overall, a very disappointing stay.
May 18, 2020
First camp location we have stayed that we cannot choose a site, they put you were they want you. When we asked if we could have a different spot we were told they were full. They weren't full when we arrived, it would have gone a long way in customer service especially since people couldn't have requested a site we could have moved in to. Saturday they packed them like sardines.
May 18, 2020
Camp workers Don and his wife were awesome. Manager Jim and Jody were helpful
May 18, 2020
Because of all the COVID-19 shut downs many of the amenities were not available
May 18, 2020
I love it here, the sites are just a tad too close. Had we not ended up next a friend, we would have been forced to be up close and personal w strangers. Other than that we love it there!
May 17, 2020
Great respite from Covid
May 16, 2020
enjoyed our stay at this campsite. was informed prior to reservations that public camp areas...laundry, restrooms, play area, swim pool, etc were closed due to covid 19. appreciated this information
May 14, 2020
The blonde lady in the office is super rude. The lady answering phones at the register follows her footsteps. Both ladies seemed annoyed answering any questions regarding our visit. Unless the store clerk is a medical professional, she assumed (via comment) my daughter had spread the virus in the store. For the record, my family is not sick. We continue to enjoy our RV heading toward San Diego.
May 13, 2020
Amazing location with tons of amenities! It looks like they even have an outdoor movie theater for showings when it's nice out! Was here during the quarantine shutdown as we were passing through for work so all of the public spaces were closed, but plenty of room and social distancing. Will definitely be back!
May 11, 2020
One of the best KOA's we've stayed at.
May 11, 2020
The sites are small and most spots cant even open your awning all the way. The owner does not allow pellet smoker to be used in the campground. Smoking is not allowed either. If you are in your own site you should to smoke a cigarette/cigar outside. I understand the no open fire rule but using a pellet smoker is one of the safest way to bbq. We will not be returning to this campground.
May 11, 2020
The staff was wonderful. The location great. The very hard and uncomfortable rocks in the camp spaces was disappointing.
May 10, 2020
Very nice , let us stay a night on our way back home . Thank you so much �
Jun 29, 2020
Great place to stay. Helpful staff
- Matt Furrer on Google
May 13, 2020
Amazing location with tons of amenities! There is even an outdoor screen for movies when its nice out! Pool/spa, horseshoe pit, large kids playground, dog friendly fenced in K9 Camp! It's got it all and will definitely be back!
- Justin Harrison on Google

Avila / Pismo Beach KOA
Open All Year
7075 Ontario Road
San Luis Obispo, CA 93405
Check-In/Check-Out Times
RV Sites
Check-in: 1:00 pm, Check-out: 11:00 am
Accommodations, Cabins
Check-in: 3:00 pm, Check-out: 11:00 am
Get Google Directions

© 2020 Kampgrounds of America, Inc.