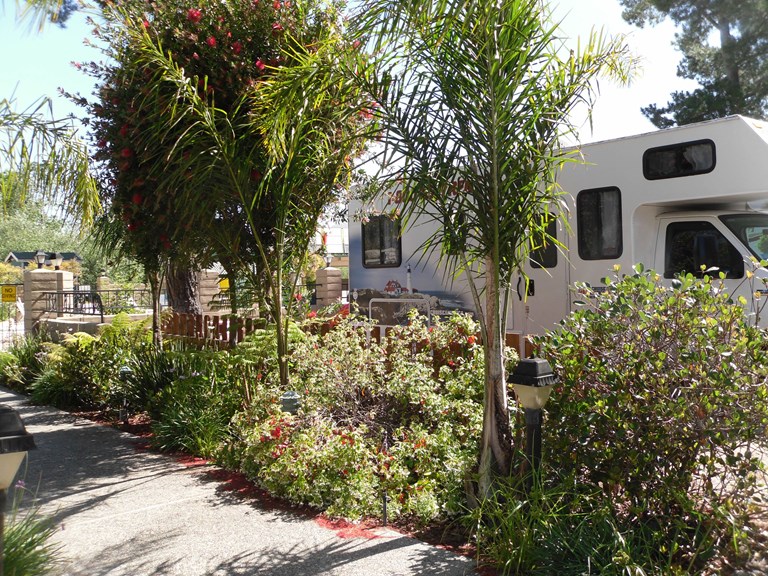 Avila / Pismo Beach KOA Reviews
Directions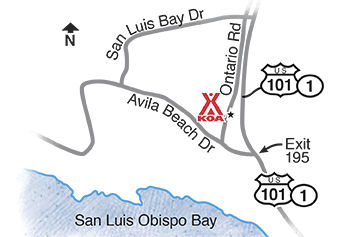 This campground is just off Exit 195, Avila Beach Drive: Turn right onto Ontario Road. This KOA is 5 miles north of Pismo Beach, 3 miles from Avila Beach and 5 miles south of San Luis Obispo.
Get Google Directions
Jul 03, 2020
Avila is awesome, everything super clean and the KOA staff very friendly. Love that the Bob Jones Trail is right there for biking/walking. Super tight camping spots made for a bit of a challenge with getting the camper in and maneuvering around the trailer. Would love a bit more elbow room and to not be so packed in like sardines!
Jul 03, 2020
The staff was friendly and helpful. It was our first KOA stay, and we will return.
Jul 01, 2020
Super clean with Great Amenities. The employees were super friendly and kept the place running smooth. We also loved walking the Bob Jones Trail and to Avila Barn. Thank you.
Jul 01, 2020
Friendly & fun KOA employees. Close to the beach and the Barn.
Jul 01, 2020
We had a great time. Everyone is very helpful and friendly. Nice spots with fire pits and bbqs and picnic tables.
Jul 01, 2020
Great family getaway. Plenty of activities for the kids. Staff was very friendly. Can't wait to come again.
Jun 30, 2020
too close together and the freeway noise ruins an otherwise perfect record. Grounds p/ facilities were clean and hosts were friendly. will be returning.
Jun 30, 2020
Staff were very nice and helpful! I will be coming back! Our space Was very tight getting into but, one Of the staff escorted us to our space and helped me park my trailer in our Space! We ended up with space 3!
Jun 30, 2020
Would like to pick my own rv site
Jun 30, 2020
Nice clean park. The staff was very nice and helpful, however the spots are very close together. I was not able to put my awning out.
Jun 30, 2020
The checkin staff was friendly, we enjoyed the escort to our site & help with backing in. Public showers & restrooms were clean. The pool is great & nightly movies were a plus! Everyone had a great time!
Jun 29, 2020
COVID measures in place but not too intrusive. Restrooms are always clean but obviously being given more frequent attention due to COVID which is still a good thing. Sites are still very close and cramped for parking maneuvers unless you get a site adjacent to an intersection. Park was full this time which added to the cramped feel, but love this park and already have future reservations.
Jun 29, 2020
This is the first time we have stayed at the park where the entire place was booked. It was very obvious this stay how small and narrow the spaces are.
Jun 29, 2020
We loved it, with the exception of our space #72. You should discount that space, and let the patron know, because your on top of 3 sewers�...very, very stinky!
Jun 29, 2020
Spaces too close together. People walking through others campsite. Over crowded. Staff was very polite, kind and helpful.
Jun 29, 2020
Enjoyed are stay Avila beach and pismo beach Not to far from here I would stay again
Jun 28, 2020
Very clean. Great amenities.
Jun 27, 2020
Sites are way too close together. The staff was great, Don was the best! Really helpful. Store was great. Just don't like being on of ech other.
Jun 27, 2020
Great place! Close to beach at Avila and not as crowded as Pismo. Will differently stay again.
Jun 27, 2020
Space 81 is not fit for a large fifth wheel - had to drive into a bush just to get the trailer to fit - tree on other side prevented awning to come out Plus would have been nice to know that the spot backed up to freeway - was loud all the time
Jun 27, 2020
Clean and close to the beach are positives. When we arrived, there was no picnic table So we reported it to the gal other office. She said she would get one to us the following day. we never received a table for our site. We informed management again. Internet was unreliable. Upon checking out, we still had no table. Office staff apologized profusely but no financial reparations were offered.
Jun 27, 2020
The park is nice but site spaces r small. Ask about the larger spaces and was told they save those for larger rigs. I see it if u can rent a spot u should instead of it being empty.
Jun 27, 2020
Som staff werevery rude and unfriendly. No customer service at all. The entire place smelled of sewer. We weren't sure if it came from other sites, the stream behind park or what? But it was awful! Sites are tiny! The pool was fun except when our kids came home crying about pain in their legs and back. We think the pool had a fiberglass bottom and little shards were in our kids skin. Awful!
Jun 27, 2020
Overall good. Two negative points: our boys were covered in fiberglass slivers after swimming in pool for about an hour. Spent over an hour trying to get them out of pain with duct tape. Had to buy new swim trunks. People directly behind us were having an R-rated verbal fight outside until 12:30 at night. Disappointed with response when we called. Kept up for another hour.
Jun 26, 2020
Campgrounds way too close together. Too bad could be a nice place. Very disappointing to have another RV backed in 5 ft from us
Jun 26, 2020
Excellent. The recreation facilities were a great touch, the entire grounds, bathrooms etc.were very very clean. Covid protocol very well handled for every ones safety. Very little night time noise and the campground was full. A staff member assisted with each trailer move-in. Everyone was helpful with questions asked and appeared to really care about the guests. Just a great class act here.
Jun 25, 2020
It is a great place to stay, although getting in and out can be a challenge with the small lanes.
Jun 23, 2020
There was very little space between units, we were within 3feet of the unit behind us. The bathrooms were clean..
Jun 23, 2020
Weather was great. Sites too close
Jun 22, 2020
Pros: extremely friendly staff, cute general store, location (close to Avila Beach), very family friendly KOA. Cons: extremely loud freeway noise, very tight spots and our neighbors (Thank goodness they were very nice) were so close to us - It felt like we were all camping together �) If you're ok with the cons, give this KOA a try. Avila Beach sunsets are amazing. � �
Jun 22, 2020
We were here a week and thoroughly enjoyed our time. The restrooms and showers were spotless. The staff is very friendly and helpful. We'll definitely stay here again.
Jun 22, 2020
The staff was not friendly and it felt like they were agitated with everything and everyone. The sites are small. The landscaping is beautiful around the park. And fun amenities for kids. I think it could be a really nice park but some of the staff need training in customer service and hospitality. It really affects the tone of the park.
Jun 22, 2020
For our first camping trip with our trailer, this was a perfect place to stay. We love the full hookups. The camping spaces were a bit tight but we managed. The staff was very friendly and helpful. We weren't able to utilize all the amenities due to COVID-19 so we look forward to going back when restrictions are lifted. Thank you for a wonderful stay.
Jun 22, 2020
Wonderful stay, thank you
Jun 21, 2020
Jodi and Jim are the best managers I have encountered at KOA's. The grounds are clean, everything works, and all the workers are friendly and helpful!!!! Great place to enjoy Avila/Pismo Beach!!!!
Jun 21, 2020
We had a great stay, very friendly and helpful staff. My only complaint is we felt packed in like sardines. Tight spaces and not much room for hanging out outside if your vehicle is parked at your site.
Jun 20, 2020
Appreciated the escort and assistance guiding me into the site. Property was very clean, including the bathrooms and showers. Yes, the sites are narrow, but you rarely saw your neighbors, unless you wanted to. The gravel, in my opinion, was great. My trailer stayed clean. You can't walk barefoot but I'm okay with that! No smell, like other reviews mentioned.
Jun 19, 2020
Great campground. Tight spaces so make sure you know how to back your rig! Place is very clean. Awesome pool. Staff in office courteous & friendly. Some noise from the 101. Great walking path just a 1/2 block away. �
Jun 19, 2020
More, higher fencing/greenery between spaces would improve privacy. Clean grounds, nice store. Woman directing parking especially courteous. No smoking policy REALLY appreciated. First day very hot & windy-when Avila fire broke out-not your fault, but we won't forget that excitement! Letting our friends move spaces to be behind us made a big difference for our stay. Great farm stand close by.
Jun 19, 2020
Rudest employees I have ever met at a campground.
Jun 19, 2020
Very friendly and helpful staff. They make you comfortable and at home. We really enjoyed it. It was our families first RV trip. A staff member who worked at the store even remembered me mentioning zip ties for a wire harness. She brought it to our site on her break. Nice job!! Highly recommend KIA. Many amenities. Like a private oasis or resort
Jun 29, 2020
Great place to stay. Helpful staff
- Matt Furrer on Google
May 13, 2020
Amazing location with tons of amenities! There is even an outdoor screen for movies when its nice out! Pool/spa, horseshoe pit, large kids playground, dog friendly fenced in K9 Camp! It's got it all and will definitely be back!
- Justin Harrison on Google

Avila / Pismo Beach KOA
Open All Year
7075 Ontario Road
San Luis Obispo, CA 93405
Check-In/Check-Out Times
RV Sites
Check-in: 1:00 pm, Check-out: 11:00 am
Accommodations, Cabins
Check-in: 3:00 pm, Check-out: 11:00 am
Get Google Directions

© 2020 Kampgrounds of America, Inc.