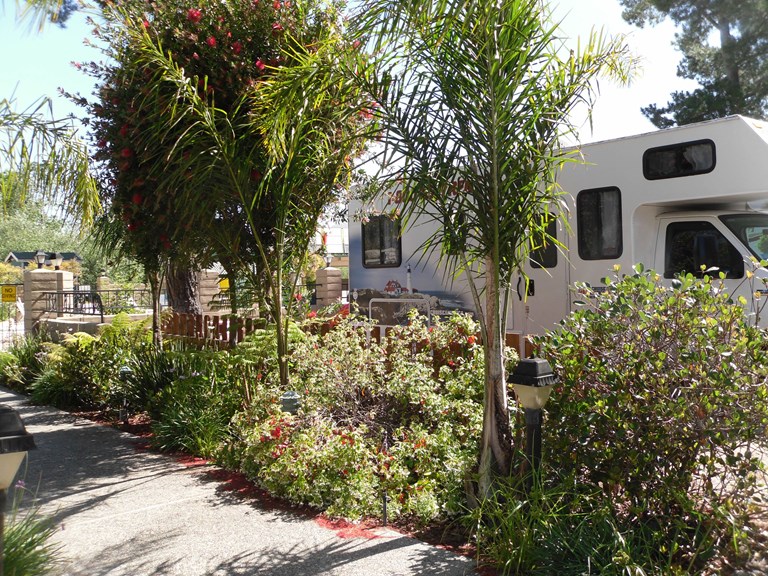 Avila / Pismo Beach KOA Reviews
Directions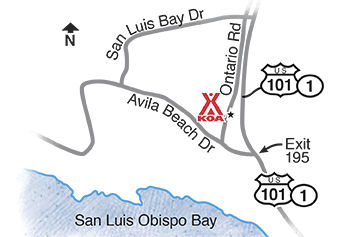 This campground is just off Exit 195, Avila Beach Drive: Turn right onto Ontario Road. This KOA is 5 miles north of Pismo Beach, 3 miles from Avila Beach and 5 miles south of San Luis Obispo.
Get Google Directions
Mar 29, 2020
Last nights in my camper für this trip. Following the directives of the government of the states and my government I had to return home. A strange situation - a big campground with 4 or 5 campers Staff was very friendly - the place is beautiful...
Mar 21, 2020
The only complaint is we were charged full price but no facilities were open due to the Corona virus. Since the only thing we had access to was the rv slot, we should not be charged full price. I emailed the rv park but haven't heard back.
Mar 19, 2020
Dirty and full of ants
Mar 17, 2020
Clean,quiet! Totally relaxing
Mar 16, 2020
We love this park, but just spent 3 days listening to a dad yell at his kids, 2 German Shepard's, and anyone else who got within earshot. Couldn't use jacuzzi because it was full of small yelling children. There were lots of vacancies, please put us old folk away from noisy neighbors. First time this has happened. Thank you.
Mar 15, 2020
Too much freeway noise. Otherwise it was nice for our short stay.
Mar 15, 2020
Everything was so clean and the staff super friendly. Can't wait to come back in June and this time we are bringing friends! Thank you!
Mar 12, 2020
It was a great stay especially with the Dog Run. All I would like is more privacy. Thank you for our amazing stay.
Mar 12, 2020
One of the guys on the golf cart was rude regarding how we were parked and about the list of rules on the last page of the pamphlet. We had no guidance or instructions upon arrival at 4:30 pm as the office was closed. Took us quite a while to find our packet with our space assignment. Nice place and well maintained though.
Mar 10, 2020
Very peaceful, the campground is very clean and everybody is friendly.
Mar 10, 2020
We stayed in one of the spots on the north side of the park. They were very narrow. The showers/facility were very well maintained. Managers were helpful and pleasant.
Mar 10, 2020
Awesome as always!
Mar 09, 2020
sites and the pool was good, I would liked to have a bigger site but it was ok.
Mar 09, 2020
The spaces are tight , not many pull through options ... watched many arrivals getting frustrated at backing into such small spaces . We weren't allowed to check in 30 min. early even with reservations and having elite KOA membership . Aside from that the campground and bathrooms were clean and amenities good .
Mar 07, 2020
Park is very clean. Friendly staff. Only negative is Wi-Fi is terrible.
Mar 06, 2020
Cant wait to return
Mar 05, 2020
This was a very nice place the property was well kept and the staff was super friendly. I have been telling my friends and family how much I loved it there and that will definitely be returning and hope they check it out as well.
Mar 04, 2020
Wonderful location, incredibly helpful staff, very clean restrooms
Mar 03, 2020
Enjoyed the location and space 81 as it was a bit wider than most.
Mar 02, 2020
Nice, clean park with friendly staff. Quiet except for some highway noise which didn't bother us at all. Level, gravel sites. A little more grass around each site would be nice. Loved being so close to Pismo and Avila beaches. Lots of nice restaurants and beautiful scenery.
Mar 02, 2020
Love this place, very convenient location, have stayed here before and will definitely return :))
Mar 02, 2020
It was clean quiet and I will be coming back
Mar 02, 2020
Sharon & Rob were excellent and very accommodating!
Mar 02, 2020
Pros: Clean bathrooms and shower Playground and pool are great Close to trails outside of the park Cons: No fire pits One staff was a bit confrontational Too strict on rules made our stay less enjoyable (no visitors in pool, parking, fence rules)
Mar 01, 2020
It seemed like there was more maintenance going on, people always working and keeping things spotless! It has always been nice, but we could see a difference. We have always enjoyed our stays and love coming over there. The sitting area to the right as you drive in looks great too. Everyone was helpful and we have met a lot of nice people there as well. Thank you!!
Mar 01, 2020
So clean, organized, very friendly helpful staff. We hope to return for a longer stay next time.
Feb 29, 2020
A clean and comfortable campground. Just the noise of 101 is disturbing...
Feb 28, 2020
This is a lovely park. Centrally located to great restaurants and sightseeing. Great dog park, too.
Feb 28, 2020
I liked the jacuzzi.
Feb 25, 2020
Site was small and sites are close together. That being said, the KOA was very clean and the staff friendly. We would definitely stay there again, but would try to chose our site.
Feb 24, 2020
Very friendly and accommodating - we really enjoyed our stays.
Feb 24, 2020
Staff was VERY friendly! This was our very first stay at a KOA and we'll definitely be back!
Feb 24, 2020
Beautiful location and Close to bike trails.
Feb 24, 2020
Avila/Pismo Beach KOA was the first stay in our new trailer and we had a great experience. The staff were kind and super helpful. The store had a great selection of local wines, campground was very clean and amenities were excellent. We will be back in the future and would recommend to friends/family.
Feb 23, 2020
Totally relaxing and enjoyable. And even better mid-week without being crowded tightly together! We'll be back!
Feb 23, 2020
Great place very friendly and clean . Enjoyed going to the beach and shopping.
Feb 22, 2020
Loved our site. The owners were very nice. They led us to our site and directed us to the site. It was great weather and. A great two days.
Feb 21, 2020
This is a very nice clean campground with a friendly staff. There are only a couple things that bothered me. First, is the freeway noise and they can't do much about that, except move the freeway. Possibly plant more shrubs, build a higher sound wall or an earthen berm. Second I thought it was too restrictive to keep kids out of the spa. It's February and cold. Let them in to warm up.
Feb 21, 2020
Nice property, lots of amenities. A bit of noise due to HWY 101 being so close.
Feb 21, 2020
Really enjoyed our first time stay! We will be back. The only thing we would like to see improved is the internet.
Feb 20, 2020
We attended our 1st vintage trailer rally at the KOA. We had a wonderful time. The campsites were well maintained & the bathrooms were very clean. The store had a very good variety of foods, soft drinks, beer, & wine. The gift shop/wine tasting room was really nice. Kudos to managers.
Feb 19, 2020
Great people, very helpful. Very clean park including the restrooms

Avila / Pismo Beach KOA
Open All Year
7075 Ontario Road
San Luis Obispo, CA 93405
Check-In/Check-Out Times
RV Sites
Check-in: 1:00 pm, Check-out: 11:00 am
Accommodations, Cabins
Check-in: 3:00 pm, Check-out: 11:00 am
Get Google Directions

© 2020 Kampgrounds of America, Inc.