Directions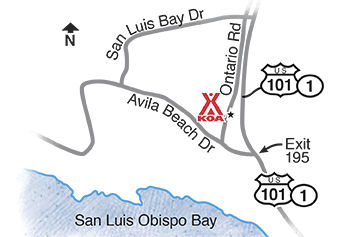 This campground is just off Exit 195, Avila Beach Drive: Turn right onto Ontario Road. This KOA is 5 miles north of Pismo Beach, 3 miles from Avila Beach and 5 miles south of San Luis Obispo.
Get Google Directions
Jun 19, 2021
Nice, but the the spaces are so close together.
Jun 19, 2021
The hosts were very welcoming. Ed helped us get in and Albert(?) was helpful getting propane so we could cook dinner. We really enjoyed the pool and the hospitality and Avila Beach is fun.
Jun 19, 2021
PROS: Friendly staff, beautiful surroundings, clean campground, toilets and showers. HOWEVER, the spaces are very close together and the roads quite narrow. This makes getting into your site (and enjoying it once you're there) quite challenging. If you have a small RV and only plan to sleep in it at night while you explore elsewhere during the day, then this is a good choice.
Jun 18, 2021
Nice park. A little close to the freeway but clean and great amenities.
Jun 18, 2021
Nice park, small but nice.
Jun 18, 2021
I have been staying at this campground for years. I enjoy the proximity to many area activities but their price has gone up so much not unlike most KOA's. It has no longer become an affordable family vacation spot! That is sad.
Jun 17, 2021
Very Helpful and friendly
Jun 17, 2021
Loved the quiet, clean environment. Our first time there and we were very pleased.
Jun 17, 2021
Nice place, pool was nice. Bathrooms had a few issues with paper towels not isable and shower stalls did not lock. Also choose spot wisely as some spots in direct heat. The person that guided us into spot was extremely helpful.
Jun 16, 2021
This review has been removed by KOA due to profanity.
Jun 16, 2021
It was great! The only thing I wish could change is to be able to pick out the spot we would like to stay at as a member of KOA.
Jun 16, 2021
Most of the staff is very friendly however the Manager is horrible. He was so rude to us regarding our extra car and started to yell at our daughter to move her car. We would have happily agreed to move it if he approached us in a more friendly way instead of immediately yelling at us. Also the spaces are ridiculously small. Because of these two issues, we will never go back.
Jun 16, 2021
Some staff were very nice, but some were grouchy about things!
Jun 16, 2021
We have stayed here 6 or 7 times now and love it. The staff in the office and grounds are great. This time we did have an issue with parking and the staff was very accommodating however the manager did not want staff to let staff help us find open places to park. I asked to speak to the manager and he was very condescending and made me fell very unwelcome. He also was very rude to another camper.
Jun 16, 2021
We enjoyed our time. Sites are a bit tight but the park is very clean and well maintained. Kids enjoyed the heated pool and the Saturday night movie!
Jun 16, 2021
This is by far one of the Best KOAs we've been to. The location is great for so many activities! Beach, hiking, biking, Avila mineral spa and swim pool next door for $10 all day pass for seniors......plus the Koa has everything such as pool, spa, mini golf, cabins, trailers to rent and space for RVs. The canyon location keeps the marine fog at bay. We're definitely coming back!
Jun 15, 2021
Friendly staff. Clean premises. Perfect location and reasonably priced.
Jun 15, 2021
the staff was fabulous. they were helpful, and concerned! We really liked their smiles:-) However, the park spaces are way too small...our little 23 ft trailer was shoved into what we consider "one space" size for another park, with another RV. There was absolutely no way that we could park our truck safely off the road without encroaching on another space. We had to weave in around our vehicle
Jun 15, 2021
One of our favorite KOAs. We come as often as we can ��� Super friendly staff and very clean grounds. We brought 3 grandkids on this trip. They loved movie night, swimming and the pancake breakfast. But their favorite thing was chasing lizards lol.
Jun 15, 2021
Spaces are too close. Cost too much !maybe OK for young families: found nothing for seniors
Jun 15, 2021
We loved it! We were greeted by kind, hospitable staff and served warm, delicious Otis Spunkmeyer chocolate chip cookies. The kids enjoyed swimming, playing miniature golf, the outdoor movie and popcorn!
Jun 15, 2021
Extremely clean and taken care of campground. The adjacent freeway noice can be a little loud if you are at the rear of the park as we were.
Jun 15, 2021
Great cabins maintained grounds
Jun 15, 2021
This place is AWESOME!! Great check-in procedures. Friendly staff! Clean and functioning restrooms! The general store and pool area were great! We highly recommend this Kampground! Thank you for all you did to make our stay a great one!
Jun 15, 2021
Nice park close to trail to the beach and highway. Secure nice little store . Would come back
Jun 14, 2021
great experience for are first time there and new to the whole camping world. there park is great ,clean they have alot of activitys for kids ,playground,heated pool movie night, free fire pits , pet friendly .parking the rv/guys onsite to help you with that.they also have a little store there , cindy was great and the whole crew there. the avila beach short drive .will back soon..
Jun 14, 2021
First time staying in the cabins it was great the only issue was that cabin did get very stuffy and the bed was uncomfortable
Jun 13, 2021
Love this place. The staff was incredible
Jun 13, 2021
The staff was very nice. The toilets were clean. We won't be RV "camping" ever again but if you like that kind of closeness this is a clean, nice and centrally located KOA.
Jun 13, 2021
Campsite was clean, spacious and private. Only issue was the bathroom code wasn't on our paperwork and we had to find another camper who knew what it was.
Jun 13, 2021
Friendly and helpful staff. Road noise from the highway is loud, hard to sleep during the night.
Jun 13, 2021
I rented a deluxe studio cabin. It was at the end of the row and the pool was in my 'backyard'. The cons: the cabin was terribly dusty as if no one has vacuumed the blinds or the ceiling. The accumulation of dusty was disgusting; I attempted to open the window and got a face full of dust. Other than that it was clean enough. Camping for 5 days prior, so not that picky. Not enough room for pro
Jun 12, 2021
Really nice park. Enjoyed the playground and pool. Site had a lovely patio with propane grill and fireplace. Right near playground. Perfect for my sun. Enjoyed day trip to Avila Valley Barn.
Jun 11, 2021
Good location. Spots are tight, but the amenities are very nice.
Jun 11, 2021
It was great.... all your staff were friendly and professional.
Jun 11, 2021
This is a small park with even smaller spaces. This is the most we paid anywhere for a spot $75 a night and I expected better. We could hardly squeeze our 21' camper and truck into the space, and once we did we could hardly open the camper door because the truck was so close. When I told the woman in the office she couldn't care less and made excuses.
Jun 11, 2021
The sites are to small. This campground has become a parking lot. So sad.
Jun 10, 2021
Perfect location. Beautiful pool!
Jun 09, 2021
Overall it was a good stay. Your site is way too compact making it difficult to park towed vehicle, pulling vehicle at assigned space. Parking vehicle at assigned space eliminates 2/3 of open space. Restrooms could use new tile, beginning to get dingy in showers.
Jun 09, 2021
Best campground we've ever been to. Had everything we could ask for - even a dog park. Super friendly staff.
Jun 08, 2021
The proprietors were very friendly and quick to respond to any need. The campground was very clean, the amenities were wonderful, and the camp store was outstanding, with a great wine collection!! Outdoor theatre was great for the kids! The location was "in the woods" . . . but close to the beach! We have stayed here before, and we will be back.
Jul 26, 2021
Stayed here during the summer mid week Tues to Fri with 2 kids. Had a nice time. As some reviews note, the campsites are tight, but if you get there during business hours they have guys to help guide you in your spot. Pool was great. Putting green was nice. Wish the game room had longer hours beyond the office and store hours. Would condmsider staying here again.
- Adam Riffe on Google
Jul 19, 2021
Always a fun place, really loving all of the fire pits scattered around the campground. Kids have enjoyed playing pool, fuse ball and all the other games. We've gone to the spa and pool, pleased to know they are open till 9. My son enjoyed playing basketball with my husband same with the teather ball. This was our second visit here, and hopefully we will be back soon in the near future!
- Charlene Sousa on Google
Jul 18, 2021
Let's start with the staff. Such a great group of folks, friendly helpful and generally happy to work here. Great amenities and activities. Yes, some sites are pretty tight but as long as you didn't expect seating for 8, its quite doable. Especially given how close we were to the many places we planned to visit. The dog park is a decent size and clean. Can't wait to go back to this one!
- Carol Takakura on Google