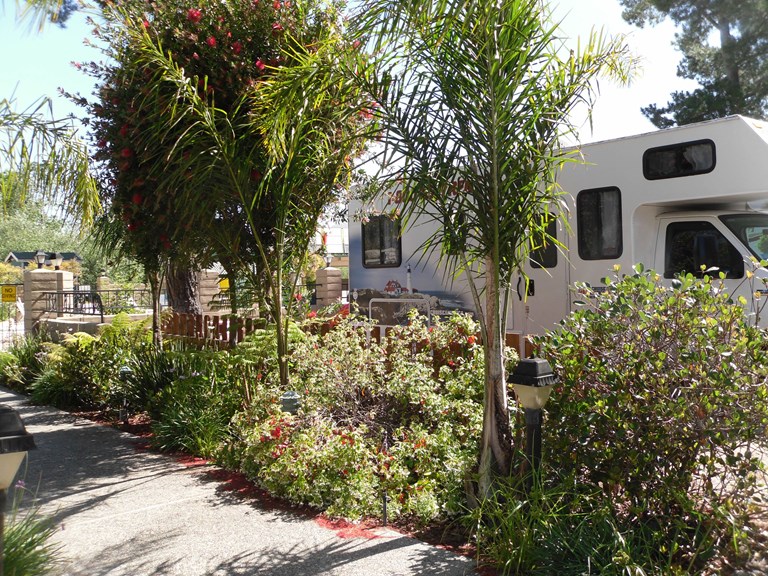 Avila / Pismo Beach KOA Reviews
Directions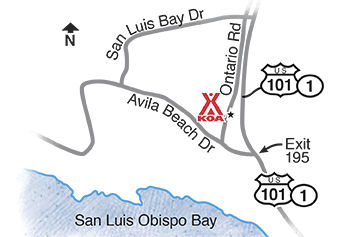 This campground is just off Exit 195, Avila Beach Drive: Turn right onto Ontario Road. This KOA is 5 miles north of Pismo Beach, 3 miles from Avila Beach and 5 miles south of San Luis Obispo.
Get Google Directions
Sep 22, 2020
Very nice stay. The pool is wonderful. Check-in was easy. Like the "escort" to our spot and there was always an employee riding around in a golf cart offering help with anything. We did see several wood fires burning at night even though they aren't allowed. The gravel isn't very pretty but neither are concrete pads, although concrete is easier to walk on. Will stay again.
Sep 22, 2020
Great staff, location, weather and we enjoyed our member appreciation day very much. Thank you!
Sep 22, 2020
The spaces were a bit small and poor internet. Very clean facility and friendly staff. We will be returning
Sep 22, 2020
Spots were tight and you do hear highway noise, but the park was clean and well kept. The pool, playground, mini golf were available and fun. We loved the movie nights on Fri and Sat! Everyone working seemed nice and on top of their jobs of keeping the place clean and fun. It was also really nice that you get an escort to your spot and they guide you backing in - so helpful!
Sep 22, 2020
When we arrived the staff greeted us with smiles and excellent service they were very efficient. The park was very well maintained.
Sep 22, 2020
The location was good for us, but we found the campsites to be way too small - and we are a small unit. If we had been lucky enough to get one of the sites around the perimeter, it would have been a bit better. We did meet some lovely people who had our same type of trailer. We have enjoyed a lot of KOAs in the past, but this one won't be repeated.
Sep 22, 2020
Very clean bathrooms, friendly staff, well stocked and gifts in the store.
Sep 21, 2020
Nice clean campground, staff and hosts were very friendly, very tight spots, pay extra for a pull through and not a back in.
Sep 21, 2020
This is the perfect place to stay if you are retired and go to bed at 8:30 pm. And don't you dare make any noise before 8AM. - And make sure when you pack not to bring your electric toys to ride. They are not welcome at this KOA, not allowed !! Great location
Sep 21, 2020
Very small sites
Sep 21, 2020
Facilities were clean, and well maintained. Lots were spacious and level for our 16ft trailer. All staff wore masks. We had a problem with our trailer tire on the day of our checkout and the KOA team and in particular, Cecilia and Joe, were truly amazing. They went above and beyond to help get us back on the road again. Thank you!
Sep 21, 2020
Staff is very nice and helpful. Great location with nice views.
Sep 21, 2020
1st time at KOA. Enjoyed our stay and will book it again. Friendly staff made us feel welcome and gave us plenty of information to enjoy our sty.
Sep 21, 2020
Great get-a-way. Accommodations were clean. Staff super friendly. Lots to do in the area - beaches, farm, bike/walking path.
Sep 21, 2020
We had a wonderful weekend here. I was very surprised how close this location was to a lot of the "things to do" like Avila Beach, Pismo, trails etc. we will be back hopefully after COVID to enjoy all the extra things this KOA has to offer (swimming pool, game room)
Sep 21, 2020
I loved our cabin ��. The staff was great had no issues. This K.O.A is minutes for everything. But the only thing is everyone is on top of each other along with the vehicles. im glad we had a cabin parking was just a challenge and they tell you if you can't fit you have to park out in front overflow so I wouldn't bring our trailer but indeed rent a cabin again ��
Sep 21, 2020
Awsome place we loved it
Sep 21, 2020
Great place. Friendly staff, very clean facilities.
Sep 20, 2020
We enjoyed our stay here. Good facilities and very clean. The caretaker goes around, and helped as well with free popcornus park when we arrived. The rest room and laundry house is well maintained. They have movies nights as well with free popcorn. I would go back again and recommend it to my friends.
Sep 19, 2020
When we checked in a KOA representative toke us to our site and helped guide our RV into place, this was great. Also, our site had a portable propane fire pit that made the nights enjoyable. The only negative is the sites where tight but it did work. Thank you.
Sep 19, 2020
Traveled with friends and stayed for 3 nights. Great location, close to tons of beaches, and things to do. The spots are very narrow and close, but the pay off for being near Pismo and Avila Beach is worth it!
Sep 19, 2020
Amazing customer service and kind staff at the check in desk
Sep 19, 2020
Great staff, clean facilities, warm pool, and the fireplace are ready to use. The staff is sanitizing the facility often. Thank you for a great stay. Site like this make me a lifelong KOA Member. - Lizzandro
Sep 19, 2020
The grounds are very clean and well-tended. I guess the only downfalls, besides being sandwiched in together (to be expected) is the traffic noise from the highway.
Sep 19, 2020
It was great
Sep 18, 2020
Horrible customer service. On the 13th i extend my reservation for 1 night. On the 14th I asked the receptionist if i could stay in the same site. I was told to come back the morning i was leaving to see if same site was available. That morning the same person told me we needed to move to the next site for one day. She was rude and was not willing to help us stay in our site. I canceled last d
Sep 17, 2020
No dish washing liquid no hand soap a toilet and a shower is not a full bath it should have a sink and a mirror so you can shave 160$ a night is too much for a cabin like this the floor and the bed squeaks too much
Sep 17, 2020
Cabins are to expensive for a small bed with just a toilet and shower with no sink or soap to wash your hands. The bathroom smelled like urine that's been there for a long time.
Sep 17, 2020
My in-laws rented the cabins and they were very disappointed. They had to take out their own trash, the showers were too small, the beds were like rock.
Sep 17, 2020
Loved it and would recommend to everyone! Staff was great and friendly!!
Sep 17, 2020
Your managers Jim and his wife are amazing, don't lose them! I only say 4 on the stay is due to the freeway. So not your fault.
Sep 17, 2020
Nice place and people. The freeway noise is the only down side.
Sep 17, 2020
Nice folks, clean facility; will be back
Sep 16, 2020
We had a great time and would come back.
Sep 16, 2020
Jodi and the staff were very helpful when I asked to extend our stay for 3 days (we were on evacuation advisory from the Creek Fire), and responded quickly when the noise next door got out of hand. But . . . I have never been in an RV park, KOA or not, that was as cramped as Avila! Our 10 (yes, TEN) neighbors crowded around their outdoor TV and whooped well past Quiet Time. Won't be back, ever
Sep 16, 2020
Beautiful campground! Very well maintained and super helpful staff! Spots are a bit close together but other than that it was fantastic!
Sep 15, 2020
Nice clean campground. Some sites are tight. Request a pull thru if you want a little more room. Great bike path to the beach
Sep 15, 2020
very friendly staff, and clean facility.
Sep 15, 2020
Great! Welcome. Very helpful when guiding us to our camping spot.
Sep 15, 2020
Good people clean facility helps you guide rv in will be returning
Sep 15, 2020
It was our 2nd camping trip after bought our travel trailer. It was wonderful. Park is clean and is at good location.
Sep 14, 2020
This was my maiden trip in my very first trailer, and you guys made it a very positive trip. You all worked very well as a team. My only complaint is the tight spacing in the interior spaces in the park. I will be reserving the single spaces along the exterior of the park in the future.
Sep 14, 2020
We loved our stay. The employees were very nice and helpful. We are already on the waiting list to go again as soon as possible!
Sep 21, 2020
Great location with nice views. Staff is nice and extremely helpful.
- monica mitchell on Google
Aug 31, 2020
KOA is a very nice Campground close to Avila Beach Indians very friendly host helpful clean restrooms pulling sites are very clean
- Robert ceballos on Google
Aug 31, 2020
Home away from home visiting my beautiful familia Perez!! Thank u Tio Stanley, Prima Rachael and primito Ray!! Great to see primo Dewayne and his beautiful family!!
- Pamela Luera on Google

Avila / Pismo Beach KOA
Open All Year
7075 Ontario Road
San Luis Obispo, CA 93405
Check-In/Check-Out Times
RV Sites
Check-in: 1:00 pm, Check-out: 11:00 am
Accommodations, Cabins
Check-in: 3:00 pm, Check-out: 11:00 am
Get Google Directions

© 2020 Kampgrounds of America, Inc.