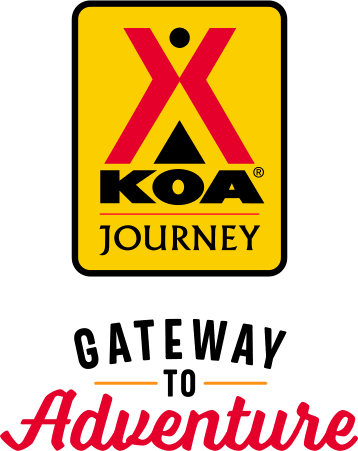 KOA Journey Campgrounds
KOA Journey campgrounds are the perfect oases after a day on the road. Whether it's along the way or a quick getaway, they've got you covered. Located near the highways and byways of North America with long Pull-thru RV Sites, they deliver convenience to the traveling camper. Pull in, ease back and take a load off.
KOA Journeys Feature:
Pull-through RV Sites with 50-amp service
Premium Tent Sites
Well lit after hours check-in service
Directions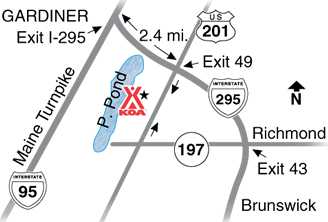 Traveling North on Maine Turnpike (I-95): around Portland take I-295 North to Exit 49, left off exit go 2 1/4 miles.
Traveling South on Maine Turnpike (I-95): take I-295 South, then Exit 49, right off exit go 2 1/4 miles.
GPS info: Latitude / Longitude 44.15111, -69.8675, 44 degrees 9 Ft 4" N, 69 degrees 52 Ft 3" W.
Get Google Directions
May 27, 2018
Friendly accomodating staff! Quiet & great for a quick getaway!
May 14, 2018
We had a great time staying here. The Millers were wonderful and helped us switch to a cabin with no problem at all. Very accommodating and helpful.
Nov 06, 2017
We could not have been happier with our stay. The new owners are so kind and accommodating. The campground was really well kept and our cabin was amazing. We will undoubtedly be staying again, given the value. We highly recommend this campground!!
Oct 22, 2017
Kabin in "the woods" was great. Having its own bath was a huge plus. Friendly staff too.
Sep 20, 2017
Fabulous owners who are extremely pleasant and care for their customers! They go out of their way to make sure your stay is amazing. I camped about a month ago with the previous owners, Patty and Henry and my stay was absolutely horrendous. As soon as Becky and Jayar took over they went out of their way to fix the previous owners rude behavior. I will be staying here again with my family!
Sep 13, 2017
We really enjoyed our stay! We were so thankful for the kindness of the owners and the staff. We arrived very late in the evening, due to flying from California, they had our cabin all prepared with fresh linens and ready for a good sleep! They camp grounds and cabin was very clean and well equip for our stay. We felt so blessed, they offered up a grand fireworks over Labor Day! Highly recommend!
Sep 04, 2017
Very nice location. Very friendly people. Remember that you can never clean/organize too much (rec. room). We'll definitely be back.
Aug 23, 2017
We had great time staying in cabin K-2. The children enjoyed the playground, mini golf and Frisbee golf. We also had a great time swimming at Peacock Beach. Everything at the KOA camp was easily accessible and clean. We will certainly be back.
Aug 07, 2017
The front staff was friendly. The sites are so close together, K1 & K2 porches face each other which made for awkward staring. There is no privacy at all, not even a screen door on K2 making the kabin muggy & stale smelling & a 2.5 gap under the door letting rain flow in. The playing field is part of your site = kids and adults will walk through your site like it or not. Owners refused to help.
Jul 31, 2017
Very friendly, Great with the kids. My grandson loved the way the adults interacted with him.
CAMPGROUND RESPONSE / COMMENTS:
We do enjoy to see kids getting outside doing things, and especially like it when we see either the grandparents or parents out with them making memories. That to us is what camping is all about!
Jul 17, 2017
Great Campground, very clean and the staff were wonderful and we really appreciated the extra effort put in by them to make our stay nice.
CAMPGROUND RESPONSE / COMMENTS:
Thank you for noticing, and thank you for your business! Hope you get a chance to come back again this season!
Jul 16, 2017
We had a great time! The campground was very clean and well maintained. The staff was extremely friendly and helpful. Would differently stay there again!
CAMPGROUND RESPONSE / COMMENTS:
It was great having you all with us, we'll be looking forward to you return! We always enjoy having folks like you with us!
Jun 27, 2017
This is the second year we stayed at the Augusta/Gardiner KOA. The cabin Is always clean. The people are the greatest. So friendly and always including my Grandson in any of the activities at the campground. We love camping there and hope to go back again next year.
CAMPGROUND RESPONSE / COMMENTS:
Thank you for such nice words, your grandson is a fantastic child we enjoy having him with us. Oh, and you guys too !! Looking forward to having you all back !!
Jun 02, 2017
We all had a great time as always. Looking forward to our next visit.
May 30, 2017
Very clean quiet ..we had a very nice cabin #2 great spot ...
CAMPGROUND RESPONSE / COMMENTS:
So glad you enjoyed our Rustic Cabin #2 with your family right at the edge of our playground, it was a perfect fit for you guys! Looking forward to having you camp with us again!
Sep 26, 2016
They are amazing. I was awesome to see the support from them at the uswdg championship also.. Amazing people. Definitely will be back next year.
CAMPGROUND RESPONSE / COMMENTS:
Thanks Jamie, for the kind words! Great job on the Win of the Novice Division. Pretty sure you're on the way to pro's!
Sep 20, 2016
Patti and Henry very friendly and accmodating it's our 4th stay
CAMPGROUND RESPONSE / COMMENTS:
Thank you again Pam! We value and appreciate your continued business!
Sep 08, 2016
Cabin was clean and comfortable. Staff was very friendly and helpful and grounds are quiet and peaceful. Had lots of activities planned throughout our stay. ( Labor Day weekend )
CAMPGROUND RESPONSE / COMMENTS:
Thanks for choosing to stay with us James! And thank you for the compliments. The two of you were great campers! We invite you to come visit our park anytime.
Sep 06, 2016
We were only there evenings and mornings, but the staff were great and our cabin was nice! Thanks a million!
CAMPGROUND RESPONSE / COMMENTS:
Randy, no thank you a million! You were great campers who appreciate and respect how we operate our business. So glad that you four had such a good time in the area while staying at our park! If people plan ahead they can find more to see and do then they'll have time for in one trip like you guys
Aug 29, 2016
Had a great time. .Dave was great with keeping us informed of all the activities going on. Had a lot of laughs.
Aug 13, 2016
We live locally and just needed to get away for the weekend. So glad we had chosen this KOA. We really appreciated how much effort they put into their campers comfort & safety.
CAMPGROUND RESPONSE / COMMENTS:
Thanks for noticing what we do! With so many campgrounds here in Maine we are always very happy to have local people come give us a try, we know that many will return once they have found us, in fact might not even want to leave!
Aug 02, 2016
Can't wait to come back next year!
Jul 31, 2016
From our arrival to leaving we enjoyed every moment.We were given info of area pkaces to visit, direction on how to get there. Beautiful landscaped sites with Day lillies and other plants thru out park.Ready for our next visit....
CAMPGROUND RESPONSE / COMMENTS:
Thanks for staying with us!
Jul 30, 2016
The only thing that didn't sit well with me is the smell of the water from the faucet in our cabin. It smelled like sewer so we didn't use it.
CAMPGROUND RESPONSE / COMMENTS:
The smell was sulpher which is a naturally occurring and harmless compound in our well water. We have flushed the system and changed the water filter which has eliminated the issue. Thank you and only wish you had alerted us while you were here. Not saying it was your issue. It's on us!
Jul 25, 2016
Cabin was nice. People were friendly. The water, however, smelled like sulfur and made showering impossible.
CAMPGROUND RESPONSE / COMMENTS:
Thank you for staying with us. We only wish you had advised of the water issue so we could have attempted to address it. Our well water does have naturally occurring minerals and a new filter may have made a difference. Thanks again.
Jun 28, 2016
My daughter, grandson and I spent Friday night and Saturday night at the Augusta/Gardiner, Maine KOA. We had a great time there. The owners were so helpful and always kept us informed about what was happening at the campground. My grandson played lazer tag twice and hunted for candy with flashlights and had a ball. We will definitely recommend this KOA to all our friends. Great Job!
CAMPGROUND RESPONSE / COMMENTS:
Thank you for the wonderful words. Campers like you guys are why we got into this industry to begin with. We hope you come back soon and bring more friends & Family!! This is what camping should be all about: Making great memories that will last a lifetime!!
Jun 27, 2016
Quiet out of the way. Clean and peaceful
Jun 27, 2016
I hope to bring the boys back before the end of summer. We loved cabin #2 it was perfect for our needs. Thanks, Sherry
CAMPGROUND RESPONSE / COMMENTS:
Thank you for choosing our KOA Sherry, we are so glad that you guys liked the Cabin. We do hope to get to have you with us again this season.
Jun 07, 2016
We had a wonderful time. Very friendly staff; and lots of fun activitys. Always enjoy our time here.
CAMPGROUND RESPONSE / COMMENTS:
We appreciate your continued business year after year and always look forward to having you back!
Sep 15, 2015
We had a great visit. The area was clean and well kept. The only thing we would have changed was the sound of maintenance using the Weed Wacker for a long period of time. Everyone was friendly and welcoming our family will be back.
CAMPGROUND RESPONSE / COMMENTS:
Thanks for being with us!!
Sep 09, 2015
Staff was very friendly and helpful. Campground is clean in all areas. Bathrooms are immaculate whenever you go in. Plenty of activities for kids and adults. If there is a problem, Henry and Patty have someone working on it as soon as possible and it is fixed right away too. I would come again to see Henry and Patty and all the staff!
CAMPGROUND RESPONSE / COMMENTS:
Thank you for your kind words, we know that you travel a long distance to be with us. We want you to know that we truly appreciate your business.
Sep 02, 2015
The kampground was clean but we were handed about 4 pages of rules to read and sign when we checked in. They are too over zealous for me! Wi-fi was terrible and they restricted what you could and could not do with it (streaming).
CAMPGROUND RESPONSE / COMMENTS:
We have not sure what these folks were or were not reading the list of our park rules has 24 of them ( It is one sheet ). Our rules/policies are really no different then any where else, we just have people follow them. The only thing this person had to sign was their receipt at check in. FREE wifi
Aug 25, 2015
The people at KOA, including owners Henry & Patti, Dave and Tina, etc. are all like family and are super people! If campers come in being friendly and nice then that's what you get in return. For the people that go in with bad attitudes and think they can do what they want, I think that this family at our KOA does a great job at keeping the rest of it's campers safe, and doing the right thing.
CAMPGROUND RESPONSE / COMMENTS:
You guys are great! You get what we are doing having our business being a family oriented park that has policies for everyone's safety & comfort. We respect and appreciate campers like you who come here with the proper camping etiquette, rather then showing up with bad attitudes.
Aug 24, 2015
The staff was very friendly and nice
Aug 17, 2015
Staff was very helpful and friendly. There were several activities for the kids and it is a very clean campground.
Aug 16, 2015
The cabin was nice and clean. But there wasnt much room outside. Privacy was poor. The lady at the desk was a bit rude.
Aug 15, 2015
We enjoyed the location very much--one of the nicest KOAs that we have stayed in.
Aug 06, 2015
Everyone was great. especially the maintenance man Dave.He was very pleasant and nice to talk to. Very clean and quiet for a campground. Would go again in a minute. Thanks everyone :)
CAMPGROUND RESPONSE / COMMENTS:
We thank you and so does Dave. He is a great guy who cares about this park almost as much as we do as the owners. Hope to see you guys back soon, we'll have the limo waiting, LOL
Sep 18, 2021
Awesome family camp! Owners and staff very friendly and helpful! Would highly recommend!
- Ashley Otis on Google
Aug 24, 2021
It is beautiful and wooded, peaceful and quiet. It's the first Campground I've been to where I haven't been blinded at night by everyone's porch lights and LEDs, it's nice and dark so if you want to look at the stars you can. The staff is very friendly and very helpful. I really liked it here
- Allison Cook on Google
Aug 23, 2021
This is our second year camping and second time visiting this campground. Quiet, clean, with a friendly atmosphere. Our grandchildren love the playground and trail through the woods hopefully the weather will cooperate next time so we can use the cute clean pool 😆 . Our site was large with a table and chair set, grill and fire pit. Will be back next month and years to come. Thank you to the hard working owners and staff that kept things flowing. 😂
- Jacquie Wilks on Google