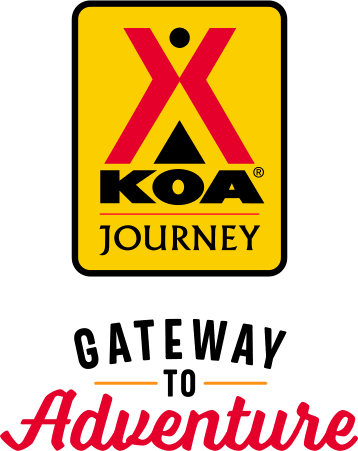 KOA Journey Campgrounds
KOA Journey campgrounds are the perfect oases after a day on the road. Whether it's along the way or a quick getaway, they've got you covered. Located near the highways and byways of North America with long Pull-thru RV Sites, they deliver convenience to the traveling camper. Pull in, ease back and take a load off.
KOA Journeys Feature:
Pull-through RV Sites with 50-amp service
Premium Tent Sites
Well lit after hours check-in service
Directions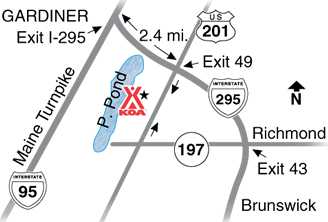 Traveling North on Maine Turnpike (I-95): around Portland take I-295 North to Exit 49, left off exit go 2 1/4 miles.
Traveling South on Maine Turnpike (I-95): take I-295 South, then Exit 49, right off exit go 2 1/4 miles.
GPS info: Latitude / Longitude 44.15111, -69.8675, 44 degrees 9 Ft 4" N, 69 degrees 52 Ft 3" W.
Get Google Directions
May 13, 2019
The weather was poor but site was great. Outstanding folks running it.
May 13, 2019
After two weeks of campgrounds where gravity was called water pressure, I had a life affirming shower at this place. Also, it was gorgeous and perfectly situated for the Maine lobster roll hunter.
May 08, 2019
Very happy with Park and staff. It was very wet and our RV got stuck, staff was so helpful digging us out and helping us get going. Very pretty too!
May 03, 2019
Great location and friendly staff! This could be a nice park but needs lots of cleaning up and work. The roads are awful and need some serious attention, best of luck to the new owners.
CAMPGROUND RESPONSE / COMMENTS:
We total hear you on the roads. We are in Maine it is mud season and we had some heavy rain that washed parts of the road out.
Apr 30, 2019
Qucik over night visit while travelling. Everything was fine.
Apr 04, 2019
The owners are very nice and try hard to provide everything to make stay enjoyable.
Nov 15, 2018
Great place to stay. Owners were very nice. I would highly recommend this campground.
Nov 09, 2018
enjoyed the hospitality and enthusiasm of new owners.
Nov 08, 2018
Great! The new owners are very accommendating. Extended our stay several times.
Nov 06, 2018
Nice campground. Good fall color and quiet. We think this would be a better campground for a summer stay.
Nov 06, 2018
Had a great staff very helpful, kept the water on in very cold and snowy weather just for a few campers, great job.
Nov 06, 2018
Had a great staff very helpful in very nasty cold weather,
Nov 05, 2018
We had an awesome stay here! I was worried about arriving late at night but the night registration was great. The cabin was perfect, we really loved the swing on the porch. The campground overall was also very nice and clean. Wood bought from their store was brought right to the site for us, which was much appreciated. The Miller family was very kind and welcoming. Thank you for a great weekend!
Oct 30, 2018
Super nice, attentive, and kind staff. Had a couple of very minor issues & they addressed them right away. Looking forward to next year. Thank you!
Oct 27, 2018
Good sites. Great owners. Requested a propane fill at a certain time and Jayar made sure he met me at the tank at that time.
Oct 23, 2018
the campground is very rustic, we arrived after dark and thankfully the host was available to help us find the site. The sites are very uneven, and had a difficult time leveling the 5th wheel; in the end we just said forget it as we were only there for one night. Would rather sleep in a parking lot than return to this one...needs updating and lighting.
Oct 21, 2018
This was my first time in the campground. Sites were not very level No CABLE TV
Oct 19, 2018
Very friendly staff. Bathrooms very clean. Very nice campground
Oct 18, 2018
We stayed here twice this year. In June we stayed for 4 nights, making it a base of operations for my son's wedding nearby. Then we stayed for one overnight in October, toward the end of a 3-month road trip. In both cases, we were welcomed with courtesy. We're impressed with how well the campground is run. Everything works, everything is clean, and the setting is lovely.
Oct 17, 2018
We stayed the entire season and loved every minute of it. The owners and staff treat their campers with the utmost and sincere care. This was our first time staying anywhere for an entire season, and we were more than happy with our lifelong memories made at KOA Journey Augusta/Gardiner.
Oct 16, 2018
Great hosts. Very helpful and accomodating. Laundry facilities were clean and working. Would highly recommend.
Oct 15, 2018
Hot water in cabin was a bit funky seeing it came from the cabin next door. But after a long wait it was fine and plenty
Oct 14, 2018
Thank you Millers. They were so friendly helpful and very gracious towards my son. Thank you for a wonderful stay. The fall colors were so beautiful this year and your hospitality made it even better. Our first trip to Maine was also made better because of your kindness.
Oct 11, 2018
Very peaceful and relaxing. Jayar and Becky very friendly hosts. Second stay this year and was just as nice as the first. Have been a rewards card member since 1989. KOA is the best.
Oct 10, 2018
Hosts are very pleasant and helpful. Campground is clean and tidy with lots to do. Sites are on terraced hillside, but pretty level with easy entry and egress. We were just there for one night, but it would be fine for a longer stay.
Oct 09, 2018
Very friendly staff and very helpful. Nice campground at a reasonable price. Would go back.
Sep 27, 2018
Great camping experience, fun for everyone.
Sep 27, 2018
The owners of this site are AMAZING!!!!
Sep 27, 2018
Owners were very congenial, campground kept well, quiet and met our needs.
Sep 25, 2018
The hosts were extremely accommodating! We needed firewood late (after the office was closed) and one of the owners came to our site and helped us out.
Sep 24, 2018
Friendly staff. Nice clean restrooms.
Sep 21, 2018
Motorcycle camped at this KOA in 1977. Much change. Well maintained, clean and professional. Had a medical incident with a feral cat and the KOA folks were very responsive and helpful. Will return if in the area.
Sep 20, 2018
Roads are not good. They need grading with potholes filled. Sites are small and not always level. Overpriced for the amenities offered I thought Wood bought there was good, we'll seasoned and the fire starter was excellent too Did not realize it was so far from Augusta when making reservations. Would have tried to stay closer to town
Sep 19, 2018
The owners were like extended family
Sep 19, 2018
Very clean and well maintained campground. Sites are set up nicely. Everything you need with plenty of room. We brought our boat with us and had plenty of room. Will definitely visit again.
Sep 10, 2018
Lots of older seasonal or permanent campers. Facilities could use some updating.
Sep 10, 2018
Very pleasant reception, clean restrooms, stayed overnight and left early without problems.
Sep 07, 2018
Everything there was perfect I never had a bad stay @ a KOA
Sep 06, 2018
Staff was very friendly and helpful. I did not give it a higher rating because the store, activity area and bounce house are filthy. My grandkids were excited to have the Bounce House however they refused to go in it because it was so filthy. They enjoyed the other activities
Sep 06, 2018
Worst Koa ever, and I have traveled across several times,,!!!!!
Aug 24, 2021
It is beautiful and wooded, peaceful and quiet. It's the first Campground I've been to where I haven't been blinded at night by everyone's porch lights and LEDs, it's nice and dark so if you want to look at the stars you can. The staff is very friendly and very helpful. I really liked it here
- Allison Cook on Google
Aug 23, 2021
This is our second year camping and second time visiting this campground. Quiet, clean, with a friendly atmosphere. Our grandchildren love the playground and trail through the woods hopefully the weather will cooperate next time so we can use the cute clean pool 😆 . Our site was large with a table and chair set, grill and fire pit. Will be back next month and years to come. Thank you to the hard working owners and staff that kept things flowing. 😂
- Jacquie Wilks on Google
Aug 07, 2021
Great place for families! Quiet, shaded, and clean, with a lot for kids to do.
- Christine Cabral on Google