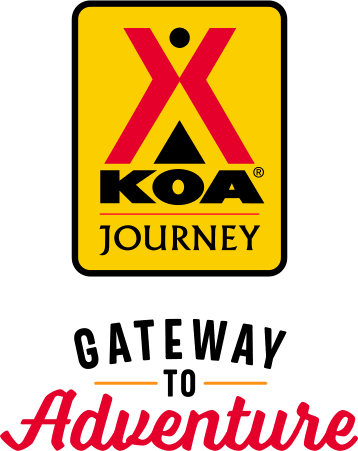 KOA Journey Campgrounds
KOA Journey campgrounds are the perfect oases after a day on the road. Whether it's along the way or a quick getaway, they've got you covered. Located near the highways and byways of North America with long Pull-thru RV Sites, they deliver convenience to the traveling camper. Pull in, ease back and take a load off.
KOA Journeys Feature:
Pull-through RV Sites with 50-amp service
Premium Tent Sites
Well lit after hours check-in service
Directions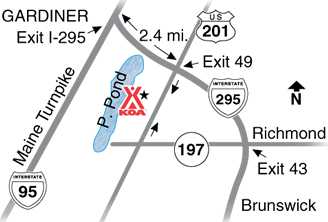 Traveling North on Maine Turnpike (I-95): around Portland take I-295 North to Exit 49, left off exit go 2 1/4 miles.
Traveling South on Maine Turnpike (I-95): take I-295 South, then Exit 49, right off exit go 2 1/4 miles.
GPS info: Latitude / Longitude 44.15111, -69.8675, 44 degrees 9 Ft 4" N, 69 degrees 52 Ft 3" W.
Get Google Directions
Jul 30, 2019
We gave it 4 stars only due to the grading on the sites. It took quite a while for us to even get somewhat level. Work needs to be done to level sites better. Beyond that, we love your park!
Jul 28, 2019
Didn't enjoy this stay much. The spot we were placed in was almost impossible to get our small camper in. We had to try several wats but with a ditch across we couldn't get backed easily. It was also the farthest away from bathroom, we don't have a bathroom so it was very inconvenient. We also tried to do dishes in the camper sink close to our camper but found clogged and usable. Unhappy 4th!
Jul 27, 2019
Place was spotless. very friendly . We were only an overnight guest.
Jul 25, 2019
Les propriétaires sont bien avenants malgré la panne de courant!
Jul 25, 2019
This KOA IS OUTSTANDING at every level. We are looking forward to our return trip to see everyone again.
Jul 25, 2019
Very quiet smaller campground. nice small pool..Relaxing
Jul 25, 2019
Ok place for over night stay but the water smells horrible. We assume sulfur but not sure.
CAMPGROUND RESPONSE / COMMENTS:
We have well water. It is a natural smell. The water is safe to drink and is tasted by the state four times in the camping season.
Jul 23, 2019
Handy on and off from the Interstate hwy. 50 amp service worked well on a hot day.
Jul 23, 2019
We stayed one night on our way to Bar Harbor and this KOA was in the perfect location for us. We did not use the rest room, showers, mini-golf or pool, therefore I can not provide comments on them except that the people I saw in the pool area seemed to really enjoy it. Our was in a good location and fairly and appeared fine to us. The staff was friendly and wanted us to enjoy our stay & we did.
Jul 23, 2019
KOA should have inspected this campground before the new owners took over. This park is not up to a KOA standards. The voltage was so low it ruined our surge protector. At one point we had to use our generator to have power.The owners are trying to make improvements but they have a long was to go. Price is way to high for what you get.
CAMPGROUND RESPONSE / COMMENTS:
During extreme heat, campers using move than one a/c unit caused two fuses to blow around 6PM. We had power company confirm, went and got new fuses and park up and running by 9PM.
Jul 22, 2019
They lost all power to the campground on Saturday night. I have to give them a lot of credit for working diligently to get I back up and running in a timely manner.
Jul 21, 2019
This is one of the great KOA's! The staff was very friendly and helpful. And even though it was a gravel site, it was perfectly level side to side! Kudos for that. There weren't any negatives, so we'll definitely stay here on our next trip to Maine!j
Jul 20, 2019
We had a very Pleasant time. And they were very accommodating for us to spend another night.
Jul 17, 2019
Jaya and Beccy are great host. Very friendly, helpful and knowledgeable about the area. The campground is on a hill, so you have expect Mother Nature to take her toll on the grounds. Maine winters are brutal on roads. The sites are on the hill, but the sites are relatively level.
Jul 15, 2019
Nice clean cabin. Will stay there again.
Jul 15, 2019
Ok but need better walking path to get to restrooms!!
Jul 10, 2019
The campsites were bigger than most, shady, in a tree filled campground. The owners were the nicest we've met. We needed a campsite on a holiday weekend due to issues at another KOA and they not only accommodated us, they upgraded our site. We wish we had chosen that KOA first. When we're back in Maine, we will choose that KOA. We wish the owners much luck in their upgrades.
Jul 09, 2019
We stayed twice on the front and back end of our journey to the Canadian Atlantic Provinces. It's a great KOA. Staff is super friendly - sites are reasonably spaced. Plenty of places to walk our dogs, too.
Jul 09, 2019
Very well campground with a very helpful team running it. Fireworks for the 4th July were very good.
Jul 07, 2019
friendly people nice surroundings would not mind staying again hill side sights a little tricky but good time
Jul 07, 2019
A very pretty place but the roads are terrible.
Jul 06, 2019
Very old and it looks it! They have a lot of upgrading to do. Roads need to be paved to prevent washing out from rain. Nice dog park.
Jul 05, 2019
Nice place with very helpful staff. Seriously overpriced...
Jul 03, 2019
Absolutely awful roads, unlevel sites, old power pedestals. Over priced.
Jun 29, 2019
My site was good, location of the campground was good. Employees were very friendly and helpful. Restrooms and showers were very clean.
Jun 29, 2019
Place was a little rough. Because of all the rain it was very muddy. Not like most KOA's that we stayed at around the US and Canada. A little disappointed in this KOA.
Jun 29, 2019
Only stayed overnight- the owners were friendly and very helpful when we had a camper maintenance issue directing us to rv repair service.
Jun 28, 2019
Great overnight place - super friendly hosts, very clean bathrooms, dog friendly & very convenient to highway and close to Hallowell & Augusta for restaurants and shopping. We have booked another night for our return trip from Canada.
Jun 26, 2019
The washed out roads made if very difficult to get in and out of the park. Most of the sites are along the hillside. Although the sites were level, the roadways were very difficult to travel. My husband has a bad back and it caused him great pain being rocked back and forth in the car and motorhome. The staff were very friendly and helpful, this was the best part of the park.
Jun 25, 2019
It was a quick stay but very welcoming!
Jun 24, 2019
It was nice but a lot of hills the building you call a reach hall is sad needs some tender loving care. The employees were very nice thank you
Jun 16, 2019
This was out first ever camping experience at at KOA campground and it was awesome. The whole family had a great time. The facility was clean and the staff was very friendly. We will defiantly be coming back to a KOA campground soon.
Jun 15, 2019
The sites are not level. Internal roads are only fair.
Jun 11, 2019
Great camping! On the ocean,very friendly staff! Lots to do and great for family's! We drove from Oregon and had a wonderful stay!
Jun 10, 2019
This was my first KOA stay. I was very impressed with the landscaping, the cleanliness of everything and the owners are very sweet. I LOVE the K-9 fenced area. I don't know if it was a fluke, but I'm an early to bed, early to rise person and it was totally quiet by 9PM. I couldn't have been more pleased with my stay. I will be back soon!
Jun 08, 2019
Staff helpful and friendly. Park is very old and in need of updating. Bathrooms weren't cleaned according to schedule posted, perhaps not daily. Roomy sites and quiet location. Laundry facilities worked fine.
Jun 04, 2019
Becky is a blessing! One of the most wonderful woman I've met in my life.. Her and her family are so accommodating and go up and above the call of duty. To make your stay.. A five star campground. You feel at home. The campground is in beautiful shape.. Lots to do and look at.. They work so hard.. I could be happier.. Thank you.. � The Wymans
May 29, 2019
Great staff very helpful. Park needs a little road and pad work, spring was hard on it. Would stay here again. We were in a 29 ft 5th wheel.
May 26, 2019
Very nice family atmosphere. The owners aim to please. Nice quiet setting.
May 24, 2019
Everything was great. Site nice and level, no mud considering the amount of rain this spring. Nice relaxing stay. Wish it could've been longer. Thanks.
May 17, 2019
The owners were great. My only complaint was the wicked mud - but it would be difficult to correct. My site was really soggy, though. I'll have to return in better weather.
May 16, 2019
Ladies room needs to be updated but lots of hot water. Friendly staff, quiet and pretty.
May 15, 2019
OK park with GREAT hosts. Early in the season so the ground was wet but no major puddles. sites are not too close together easy to get in and out of. steep hills but level sites. stayed in a 5th wheel. Very dog friendly.
May 14, 2019
We enjoyed our stay very much. It worked out perfect for a base camp to explore from. We will be returning for sure !
Aug 24, 2021
It is beautiful and wooded, peaceful and quiet. It's the first Campground I've been to where I haven't been blinded at night by everyone's porch lights and LEDs, it's nice and dark so if you want to look at the stars you can. The staff is very friendly and very helpful. I really liked it here
- Allison Cook on Google
Aug 23, 2021
This is our second year camping and second time visiting this campground. Quiet, clean, with a friendly atmosphere. Our grandchildren love the playground and trail through the woods hopefully the weather will cooperate next time so we can use the cute clean pool 😆 . Our site was large with a table and chair set, grill and fire pit. Will be back next month and years to come. Thank you to the hard working owners and staff that kept things flowing. 😂
- Jacquie Wilks on Google
Aug 07, 2021
Great place for families! Quiet, shaded, and clean, with a lot for kids to do.
- Christine Cabral on Google