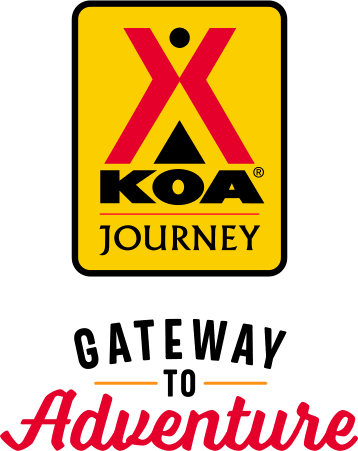 KOA Journey Campgrounds
KOA Journey campgrounds are the perfect oases after a day on the road. Whether it's along the way or a quick getaway, they've got you covered. Located near the highways and byways of North America with long Pull-thru RV Sites, they deliver convenience to the traveling camper. Pull in, ease back and take a load off.
KOA Journeys Feature:
Pull-through RV Sites with 50-amp service
Premium Tent Sites
Well lit after hours check-in service
Directions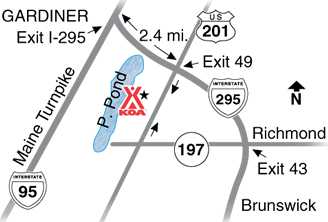 Traveling North on Maine Turnpike (I-95): around Portland take I-295 North to Exit 49, left off exit go 2 1/4 miles.
Traveling South on Maine Turnpike (I-95): take I-295 South, then Exit 49, right off exit go 2 1/4 miles.
GPS info: Latitude / Longitude 44.15111, -69.8675, 44 degrees 9 Ft 4" N, 69 degrees 52 Ft 3" W.
Get Google Directions
Sep 09, 2019
The hosts are wonderful people and very accommodating and helpful. .The layout is great hidden well in the woods
Sep 06, 2019
What a great staff! We had a bit of an electrical problem the night we showed up and they came right out and helped us out. It was pitch black out and they got us up and running! Big shout out to "Indiana Dave" thanks again. Aimee and Dave
Sep 05, 2019
This place was amazing..friendliest owners and probably one of the best KOA's we've stayed. They assisted us in every way to help us get our dogs back after they ran away. Luckily Becky's quick Facebook post brought them home to us. We're even considering a seasonal site there, but will definitely be back next year. Again one of the best KOA's out there.
Aug 30, 2019
WE LOVE IT!!!
Aug 27, 2019
The bathrooms & pool extremely clean...awesome. The owners are working on the interior roads. We like the Journey because we do not want to pay $50.-60.00 a night. We expect some problems with the roads. They are working on the roads and they are much better than last year. Owners are awesome people!!! KOA Corporate keep the prices lower...we are retired! Thank you.
Aug 24, 2019
Staff was very good. Our reservations were a special request and we were very satisfied with our campsites. The garbage area was a bit messy looking and the landscape needed to be attended to. We didn't use public restrooms or pool but the laundry was fine. Owners seemed to be working to improve conditions. We wouldn't hesitate to book again.
Aug 22, 2019
The staff was super, the RV site was clean and functional. We did have a problem with TV reception, too much shade for dish antenna. No cable. Hilly campground with dog run at the bottom of the hill, made it hard on my knees. Most people would like the peace and quiet because of its seclusion, a quality we liked during our stay.
Aug 22, 2019
Campground not bad. Terraced sites. Hills are very steep. Hard to walk.
Aug 22, 2019
One of the quietest campgrounds we'be ever stayed in. Too many lights on main building at night. Can the ones on campsites side be on a motion sensor, or dimmed down after 10 p.m.? The mini-golf course needs a complete overhaul, or removal / relocation. Basketball was flat. Dog yard is too small for large dogs. Pool was good: clean and water toys provided. Good: no extra charge to play games.
Aug 20, 2019
The stay was pleasant, no complaints.
Aug 19, 2019
Nice campground on a slope. Sites are level and large. Lots of shade. Friendly staff. All connections are good.
Aug 19, 2019
It is a very nice campground.
Aug 19, 2019
Always enjoyable. But the walkway from far sites to the restroom could be a little more user friendly.
Aug 18, 2019
Owners were very helpful.
Aug 17, 2019
Our stay was fine, but picnic table seat, the nails are sticking up about an inch and someone could get hurt on them.
Aug 17, 2019
This was my third stay with the new owners in charge. Jayar and Becky are a welcoming couple with positive attitudes to make all campers feel like family. I will definitely try one or two more times this year. The improvements they have made are great, new showers, road grading and graveling, doors, store fixtures and many more. The staff is friendly and willing to help when asked. Great Job!!!!!!
Aug 17, 2019
Very nice place and people.
Aug 16, 2019
Nice people. Clean place. I liked it.
Aug 16, 2019
We had a good stay at your campground
Aug 15, 2019
Nice park. Level site and easy to get in and out.
Aug 14, 2019
sites level and love that rv's were drive thru and didn't need to back in.
Aug 12, 2019
We had a great stay it was quite, peaceful and just wonderfully relaxing. The fireworks were awesome.
Aug 11, 2019
Nice place to relax. Pool was clean and comfortable. The new owners continue to make improvements to the property. The seasonal campers are very nice.
Aug 11, 2019
Best part was the large playground and number of activities for young kids.
Aug 11, 2019
Easy in easy out for a one night stopover. Goo facilities
Aug 09, 2019
Stay here once a year a one night stay This campground has improved every year. Lots are are more level and the roads are better
Aug 09, 2019
Great place. Clean restrooms Nice people
Aug 08, 2019
Great place to relax & enjoy!
Aug 07, 2019
Very nice place. Sewer hookups where a little far away but manageable. Office staff was very helpful with local information.
Aug 06, 2019
Excellent as always, only issue was the sewage smell. JR and his wife understand the concept of customer service.
Aug 05, 2019
It was nice and quiet. They are on their way to a great campground - basic but nice. The bathrooms were spotless!
Jul 31, 2019
Excellent staff!
Jul 30, 2019
Great as always - 10 years coming here to stay so I can go to the Maine Quilt Show. Looking forward to Seeing you next year!
Jul 30, 2019
Friendly hosts. Working on upgrading roads and campsites.
Jul 30, 2019
We gave it 4 stars only due to the grading on the sites. It took quite a while for us to even get somewhat level. Work needs to be done to level sites better. Beyond that, we love your park!
Jul 28, 2019
Didn't enjoy this stay much. The spot we were placed in was almost impossible to get our small camper in. We had to try several wats but with a ditch across we couldn't get backed easily. It was also the farthest away from bathroom, we don't have a bathroom so it was very inconvenient. We also tried to do dishes in the camper sink close to our camper but found clogged and usable. Unhappy 4th!
Jul 27, 2019
Place was spotless. very friendly . We were only an overnight guest.
Jul 25, 2019
Les propriétaires sont bien avenants malgré la panne de courant!
Jul 25, 2019
This KOA IS OUTSTANDING at every level. We are looking forward to our return trip to see everyone again.
Jul 25, 2019
Very quiet smaller campground. nice small pool..Relaxing
Jul 25, 2019
Ok place for over night stay but the water smells horrible. We assume sulfur but not sure.
CAMPGROUND RESPONSE / COMMENTS:
We have well water. It is a natural smell. The water is safe to drink and is tasted by the state four times in the camping season.
Jul 23, 2019
Handy on and off from the Interstate hwy. 50 amp service worked well on a hot day.
Jul 29, 2021
Becky and her husband run a great camp ground. They both are friendly and accommodating. Support this camp ground 👍
- Richard Link on Google
Jul 22, 2021
Nice campground grate for kids and pets
- Sean Hazard on Google
Jul 18, 2021
This place is THE BEST. The owners are awesome caring people who take pride in this campground and it shows! Pools even heated lol ;-) if you're in the Richmond area looking for a campground, COME HERE!!!! you will not be disappointed! Love the RV community thanks for everything and making it feel like home for us!!
- Tracie Perow on Google