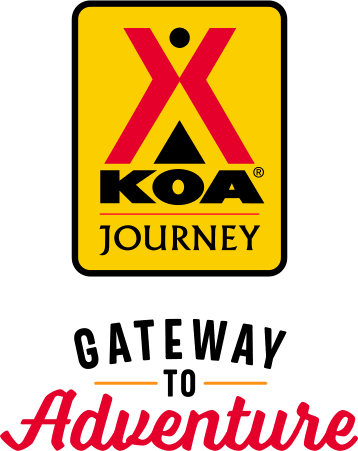 KOA Journey Campgrounds
KOA Journey campgrounds are the perfect oases after a day on the road. Whether it's along the way or a quick getaway, they've got you covered. Located near the highways and byways of North America with long Pull-thru RV Sites, they deliver convenience to the traveling camper. Pull in, ease back and take a load off.
KOA Journeys Feature:
Pull-through RV Sites with 50-amp service
Premium Tent Sites
Well lit after hours check-in service
Directions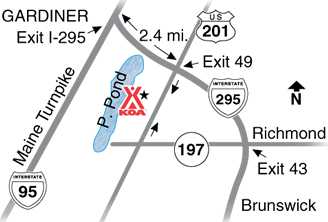 Traveling North on Maine Turnpike (I-95): around Portland take I-295 North to Exit 49, left off exit go 2 1/4 miles.
Traveling South on Maine Turnpike (I-95): take I-295 South, then Exit 49, right off exit go 2 1/4 miles.
GPS info: Latitude / Longitude 44.15111, -69.8675, 44 degrees 9 Ft 4" N, 69 degrees 52 Ft 3" W.
Get Google Directions
Jul 06, 2020
This was our first trip to Maine. We were not disappointed. The owners of the Campground were very kind, we felt very welcome there. The sites where level and made an easy set up.
Jul 06, 2020
Great people, helpful and kind. Enjoyed the activities for the kids. Did not like the metal water for the showers. If water was better. I would be here all the time. Great hospitality
Jul 06, 2020
We had a wonderful weekend. Great clean, quiet campground. Owners were very friendly and helpful. Kids had a ball with all that was offered
Jul 06, 2020
Best staff that I have ever had the pleasure of meeting. Extremely kid friendly, and accommodating. Best camping trip to date!!!!!
Jul 05, 2020
Excellent customer service, excellent clean bathrooms, very friendly owners, cabin was great, very accommodating. Thinking about going there every year
Jul 05, 2020
Water smelled and tastes like metal. High levels of iron or zinc.
Jul 01, 2020
We've stayed with you several times and always enjoy it. Very friendly staff and clean bathrooms. I did notice that it might be time to update the shower stalls. Just a suggestion. Thanks for a great stay!
CAMPGROUND RESPONSE / COMMENTS:
Thank for your suggestion. We did put new showers in the men's room last year. We just put new shower heads and handles in the women's. We have the women's showers on our list to redo the women's soon
Jun 29, 2020
Everything was great about our stay. The only down fall was all the jagged rocks on our tent lot we stayed at. I do know that due to Covid-19 and places trying to open and make money as soon as possible i didnt put up a stink about it. we were in need of a place to stay and it was convenient. I rebooked for a a different lot. Nice clean friendly!!
Jun 29, 2020
The restrooms were really kept clean!! We were a little disappointed in our site as it was super tiny and didnt seem to be raked up at all but we scoped out other sites we would prefer for another trip. Cost was affordable and staff friendly.
Jun 27, 2020
This was our first stay at a KAO and I'm officially a big fan!! We had a fantastic stay at this site, everything was really clean (not a single spiderweb In the cabin) and staff was very helpful! Would definitely stay again. I recommend it to all!
Jun 24, 2020
Staff was very friendly and accommodating. They seem invested in guest satisfaction and continuing to make improvements in facility
Jun 13, 2020
Amazing hospitality. The staff went above and beyond in multiple occasions to make sure I had everything I need even though my stay was a little unconventional. Would return and recommend to anyone in a heartbeat.
Jun 13, 2020
What a great place to stay! The hosts, Ms. Becky and her husband are wonderful. The park is beautiful. Nestled into a beautiful, woody area. Just the right mix of trees & no pine trees or sap! Very quiet park, day or night. Easy to get to, on and off the freeway. Wish we could stay longer.
May 26, 2020
Courteous and helpful staff. Always make us feel welcome
May 26, 2020
Had a wonderful time. Becky and Jayar are great and wicked friendly. Already made plans to come back ��
Apr 25, 2020
Very nice campground.
Apr 25, 2020
Great secluded, peaceful campground. Owner was super accomadating as we stayed so early in the season. Would love to come back and stay.
Apr 19, 2020
Management was super friendly and helpful. Made our stay pleasant considering we were traveling during difficult times. Greatly appreciated!
Nov 14, 2019
Quiet, but nice get away! We stayed during their final weekend, but the place was well kept and met our expectations.
Nov 07, 2019
Well managed and verynckean
Nov 02, 2019
The camp hosts were very helpful and polite. Couldn't ask for more.
Oct 29, 2019
Came in late, after dark, because this was the only camp still open. Very helpful pleasant manager was still up and ready to accept customers in person at 8P. The site was large and level even though perched on a terrace of a pretty steep big hill. It poured all night but the site did not get muddy or unstable. Did not have reason or opportunity to use any amenities, but the site was very good
Oct 28, 2019
Really terrific hosts. Campground is nice, we enjoyed our stay.
Oct 26, 2019
Nice well--maintained campground. Showers and amenities were clean and readily available. I would definitely come again.
Oct 22, 2019
Older KOA..clean restrooms but had to wait on hot water to Flo. No paper towels in rest rooms. Poor WiFi and no cable. Host very nice.
CAMPGROUND RESPONSE / COMMENTS:
New shower fixtures, paper towels, have been placed in the restrooms
Oct 21, 2019
We used this campground as a base and it was late in the season so we didn't use the amenities
Oct 20, 2019
Staying here has always been a great experience. Our last stay in September was no exception. The owners are very friendly and caring people. The campground is very well maintained, all facilities are clean and inviting. Even though we live only a few miles from here we enjoy staying here and are looking forward to many more times in the future!!
Oct 15, 2019
Great staff and KOA! Loved the location. Very clean facilities! We greatly enjoyed our 2 night stay!! Thank you for everything!!
Oct 14, 2019
Had a great experience! The staff was so nice and helpful!!! Thank you!
Oct 08, 2019
This was a good central location from which to explore the Maine Coast!
Oct 07, 2019
Nice park great people. My biggest problem was with the club house. I wouldn't want to sit in there.
Oct 07, 2019
Woodsy, quiet, accessible, well laid-out and maneuverable spaces.
Oct 03, 2019
Nice naturetrail
Oct 03, 2019
Ok for an overnight stay. This campground is on a hill and the gravel roads are rough. We had full hookups, but the septic was a little uphill from our motorhome, so emptying was a little challenging.
Sep 30, 2019
It is very clean and the staff is very friendly!
Sep 28, 2019
Friendly, helpful staff!
Sep 24, 2019
Very rustic. Lots of trees. Quiet. Great for kids. Lots of places to explore.
Sep 22, 2019
It was only one night, but very pleasant
Jul 29, 2021
Becky and her husband run a great camp ground. They both are friendly and accommodating. Support this camp ground 👍
- Richard Link on Google
Jul 22, 2021
Nice campground grate for kids and pets
- Sean Hazard on Google
Jul 18, 2021
This place is THE BEST. The owners are awesome caring people who take pride in this campground and it shows! Pools even heated lol ;-) if you're in the Richmond area looking for a campground, COME HERE!!!! you will not be disappointed! Love the RV community thanks for everything and making it feel like home for us!!
- Tracie Perow on Google