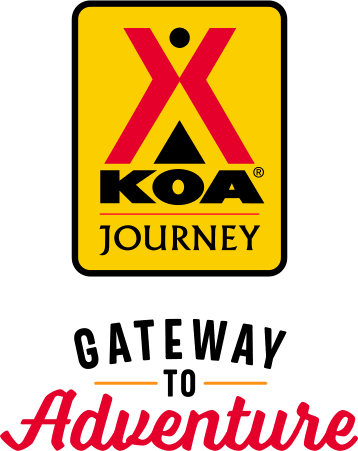 KOA Journey Campgrounds
KOA Journey campgrounds are the perfect oases after a day on the road. Whether it's along the way or a quick getaway, they've got you covered. Located near the highways and byways of North America with long Pull-thru RV Sites, they deliver convenience to the traveling camper. Pull in, ease back and take a load off.
KOA Journeys Feature:
Pull-through RV Sites with 50-amp service
Premium Tent Sites
Well lit after hours check-in service
Directions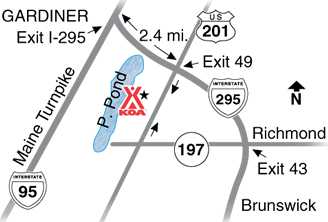 Traveling North on Maine Turnpike (I-95): around Portland take I-295 North to Exit 49, left off exit go 2 1/4 miles.
Traveling South on Maine Turnpike (I-95): take I-295 South, then Exit 49, right off exit go 2 1/4 miles.
GPS info: Latitude / Longitude 44.15111, -69.8675, 44 degrees 9 Ft 4" N, 69 degrees 52 Ft 3" W.
Get Google Directions
Sep 01, 2020
The sites were well kept and clean. We used the pool, showers and bathrooms and they were clean and well kept. The hookups were all easy to use and worked well. We felt the sites were to close together, and being on a steep hill had its problems.
Aug 25, 2020
Very relaxing
Aug 24, 2020
Friendly and clean. Sites did not match descriptions on web site. The pull through site had sewer connect at the end of the site. That meant you had to disconnect your TOAD. We picked pull thru to avoid this. You can not back up with a TOAD Overall needs some TLC on the grounds and with the seasonal camper sites
Aug 23, 2020
The campground was clean and well kept. The sites are layered on a hill, so you have a bit more privacy with the trees. The campground has all country trees at the sites so it is shadier than most, so satellite TV won't work. Good cellular connection.
Aug 21, 2020
Our stay was just what I planned on, axcept the cabin was a bit smaller than anticipated. Very comfy bed though...
Aug 19, 2020
loved the location but my family are all older and couldnt take climbing the hill! people there were very nice..no complaints!
Aug 18, 2020
The location was good. The water was horrible. Tasted, smelled could even see the iron it. Nasty. The site was really tight, almost triangular, with a three foot drop/ledge to the neighboring site. Very difficult to maneuver around. Won't go back. Very unlike a KOA.
Aug 17, 2020
Very nice cabin and the owners are super nice
Aug 17, 2020
It is understandable that certain things would not be available due to COVID, however this KOA Journey was quite stripped down and raw. The pool was quite dirty, sites were sloped and uneven, recreational amenities were aged and lacked proper upkeep. We still had a great time, but not our typical KOA experience.
Aug 16, 2020
Great place to stay! The owners of the campground are so nice and treat you like family!
Aug 16, 2020
Becky and hher family were lovely , welcoming, and charming, the campgrounds were immaculate, lots of activites to do for families, amd located by Augusta, iking trails, river walks, restaurants, brewerys, dog parks lakes, it was FANTASTIC Also it was chill quiet and mellow Perfect Thak you , will viist again Colleen
Aug 16, 2020
Great grassy campsite, very quite and peaceful, very welcoming.
Aug 15, 2020
Very nice and accommodating owners. Went above and beyond expectations. Thank you so much.
Aug 13, 2020
We stayed for 3 nights from Aug 9th to 12th. The couple who runs the place were fantastic. They were very nice and helpful. The husband was very accommodating by opening the store even after it closed, so we can buy some ice and firewood. He brought us the firewood straight to our cabin. The cabin was clean and was spacious for 4 people. We will 100% stay here again.
Aug 12, 2020
Owner Marlene and David were wonderful and I enjoyed staying there.
Aug 10, 2020
From the minute I walked through the office door I felt welcomed and knew we were going to have a great stay. Nice people running the KOA. The most peaceful campground we've stayed at in a long time. Very clean and well kept grounds as well. Thanks for all you do to keep us safe Augusta/Gardiner KOA :)
Aug 10, 2020
We were invited by friends to join them for the weekend. We liked the campground and staff so much we decided to try seasonal next year with them. The grounds are in some need of upgrades and it appears the new owners are doing that currently. We found the owners and staff very friendly and accommodating. We look forward to next year!
Aug 10, 2020
Staff was helpful & kind. Other campers were friendly. Cabin was clean and had everything they needed. Look forward to staying there again in the Fall!
Aug 10, 2020
Quite and peaceful. Wish the lot was a bit bigger.
Aug 05, 2020
My stay its self was fine. Location of my fire ring was almost in the road! Site 40. And the price per night was way too high. I stayed at the Birches in Litchfield , site on the water and it was only 45 a night.
CAMPGROUND RESPONSE / COMMENTS:
Always ask when you are here; we can move the fire ring.
Aug 03, 2020
It was average for a campground. Wifi was not available which was disappointing. Staff was friendly. The owner stopped by and introduced himself. Seemed very nice! Sites were clean. The campfire pit in the site beside us felt like it was a little close, the smoke came right into our camper. Picnic table at our site had seen better days, maybe an upgrade?
CAMPGROUND RESPONSE / COMMENTS:
Always ask when are here; we can move the fire ring.
Aug 02, 2020
Cabin 1 was beautiful. The fan was a nice touch.
Jul 28, 2020
Very nice hosts, very relaxed atmosphere.
Jul 28, 2020
The grandkids had a wonderful time, thank you!!
Jul 25, 2020
The site was excellently prepared and easy to set up considering it was our first time out with new camper. The bathrooms were spotlessly maintained!!! Unfortunately the swimming pool was having an algea boom and the kids couldn't swim.
Jul 19, 2020
Great overnight on our way to bar harbor. Clean bathrooms and friendly staff. Everything you need!
Jul 18, 2020
Great time! Easy to book and comfortable environment!
Jul 17, 2020
Very thoughtful staff
Jul 16, 2020
Staff was very sweet and helpful... they kids loved the pool and playground. There is a beach around the corner and a restaurant that was featured on diners dives and drive ins on food network close by we went to on a Rainey day.
Jul 13, 2020
Super friendly and kind owners. I can't imagine being a family-owned business amd trying to get up and running after all the Covid craziness. I hope the owners have a good season, as Becky and JR seem to be wonderful people. Nice camp store. Great location. Quiet, peaceful, wooded area which is what Maine is about.
Jul 12, 2020
Had a great stay. It was so nice to camp in the trees. Thanks!
Jul 11, 2020
Great place for the family and the owners were great
Jul 10, 2020
Camp has possibilities; needs upgrading, which is in progress (electrical). Our site was littered with cigarette butts. Sites should be cleaned after patrons leave. Swimming pool filter was not working, water green. Staff was friendly and communication was excellent!
Jul 10, 2020
This was our first stay at this KOA. I made my reservation over the phone and the lady that handled my call was pleasant , knowledgeable and made it easy. When we arrived our sign in was easy and fast. The drive thru site we had was great. It's one of the most level sites ever. Thanks to all the associates we interacted with. We will be back.
Jul 10, 2020
Great campground ! Bathroom where super clean and everyone in the office was super friendly and helpful . Hoping to come back soon.
Jul 06, 2020
This was our first trip to Maine. We were not disappointed. The owners of the Campground were very kind, we felt very welcome there. The sites where level and made an easy set up.
Jul 06, 2020
Great people, helpful and kind. Enjoyed the activities for the kids. Did not like the metal water for the showers. If water was better. I would be here all the time. Great hospitality
Jul 06, 2020
We had a wonderful weekend. Great clean, quiet campground. Owners were very friendly and helpful. Kids had a ball with all that was offered
Jul 06, 2020
Best staff that I have ever had the pleasure of meeting. Extremely kid friendly, and accommodating. Best camping trip to date!!!!!
Jul 05, 2020
Excellent customer service, excellent clean bathrooms, very friendly owners, cabin was great, very accommodating. Thinking about going there every year
Jul 29, 2021
Becky and her husband run a great camp ground. They both are friendly and accommodating. Support this camp ground 👍
- Richard Link on Google
Jul 22, 2021
Nice campground grate for kids and pets
- Sean Hazard on Google
Jul 18, 2021
This place is THE BEST. The owners are awesome caring people who take pride in this campground and it shows! Pools even heated lol ;-) if you're in the Richmond area looking for a campground, COME HERE!!!! you will not be disappointed! Love the RV community thanks for everything and making it feel like home for us!!
- Tracie Perow on Google