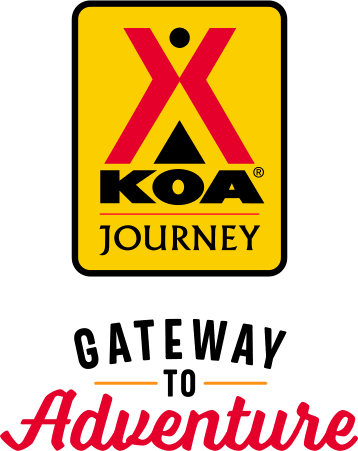 KOA Journey Campgrounds
KOA Journey campgrounds are the perfect oases after a day on the road. Whether it's along the way or a quick getaway, they've got you covered. Located near the highways and byways of North America with long Pull-thru RV Sites, they deliver convenience to the traveling camper. Pull in, ease back and take a load off.
KOA Journeys Feature:
Pull-through RV Sites with 50-amp service
Premium Tent Sites
Well lit after hours check-in service
Directions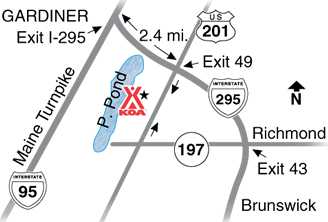 Traveling North on Maine Turnpike (I-95): around Portland take I-295 North to Exit 49, left off exit go 2 1/4 miles.
Traveling South on Maine Turnpike (I-95): take I-295 South, then Exit 49, right off exit go 2 1/4 miles.
GPS info: Latitude / Longitude 44.15111, -69.8675, 44 degrees 9 Ft 4" N, 69 degrees 52 Ft 3" W.
Get Google Directions
Jul 26, 2018
Warm and friendly greeting and very convenient. The site was dry and easily accessible. The bathroom facilities were fair but getting old. One shower stall was out of order and there were cleaning materials hanging around so that it appeared that the work was in progress BUT that was not in fact so as there were still there the next day.
Jul 25, 2018
Only one night but the facility and staff were great.
Jul 24, 2018
Friendly staff but unfortunately at the time of our stay, there was no ice available but it was their suppliers problem.
Jul 24, 2018
This is obviously and older KOA. The infrastructure needs some work and replacement. Some hook ups were in some inconvenient locations, had to change sites after the first site assigned was not workable.
Jul 22, 2018
Drove in and my stuff was all packed up because they thought I had left?
Jul 21, 2018
The host was very helpful and friendly. We arrived on the 4th of July and the owner/operator put on a fireworks show for the campground which was very nice. It is a clean and well kept campground.
Jul 21, 2018
Quiet. Clean, friendly campground. Would go again
Jul 20, 2018
Pleasant, comfortable, accommodation
Jul 20, 2018
Nice level sites. Roads were hilly and no cable TV. Enjoyed our one night stay.
Jul 18, 2018
JR and Becky are very hospitable and the campground is a joy. Check out JR's walking sticks, they're unique.
Jul 16, 2018
Super great folks! We will be back!!!!
Jul 14, 2018
I spent 4 nights in a deluxe camping cabin with my kids. Love Augusta/Gardiner KOA! Cabin, bathrooms, showers, pool, all very clean and well maintained. Have stayed at this KOA 3 times now, and plan to stay again each summer as long as they're open. Beautiful woodland surroundings, with lots for kids to do. Owners are super helpful. Great facility for a reasonable price. Excellent value!
Jul 14, 2018
It was just one night, but only because we were passing through. Looks like a place I'd like to bring the family for an extended stay.
Jul 10, 2018
Overnight stay on way home from PEI. Nice staff. Only issue was location of sewer pipe. Very high above ground and at the very back of the site. Had to back up motorhome to make connection in the morning. Other than that, a very pleasant place.
Jul 10, 2018
I'm rating it a 3 ONLY because some of the roads in the park are pretty rough. But they just bought it last year and it is evident that they have worked really hard on the improvements. The owners are really helpful and welcoming. It is easy to access with no road noise. Really pretty area. We only stayed one night and didn't explore the surrounding area, but Augusta is only a few minutes
Jul 10, 2018
A pleasant campground. Looks like the new owners are working hard to make improvements. Road is rough coming in, and throughout the CG, but they do have some sort of grooming equipment to try to keep it under control. We would stop there again if passing through the area.
Jul 10, 2018
Stay was fine because w3 were there for grandsons baseball games outside the park. Thought it was was expensive mainly because most parks charge these prices and they include cable TV. WiFi was not he greatest. It wa# an OK Campground.
CAMPGROUND RESPONSE / COMMENTS:
WiFi is at the highest usage when you where here. Our WiFi is meant for email and searches with limited streaming.
Jul 09, 2018
Entire campground could use some updates. No cable. Otherwise the staff was very helpful and professional.
CAMPGROUND RESPONSE / COMMENTS:
We are working updates, we just purchased the park in August 2017.
Jul 09, 2018
It was a fine place to stop for the night and we enjoyed the pool, though the place could definitely use some upkeep.
CAMPGROUND RESPONSE / COMMENTS:
We are working on making updates. We just purchased the park in August 2017.
Jul 04, 2018
Pleasant stay courteous staff enjoyable sites quiet peaceful and relaxing
Jul 04, 2018
Relaxing and fun
Jul 02, 2018
Good, quiet, site was level and easy to access, camp ground staff friendly.
Jul 02, 2018
Not impressed. The door on our cabin did not fit right and there was a huge gap under it. All sorts of critters could get in. The air conditioner filter was VERY dirty. The cabin needed a little TLC. The owners were friendly. They need an early check out box for keys.
CAMPGROUND RESPONSE / COMMENTS:
Thanks for your feed back. As new owners we are working on each cabin one at time. We have added the gap issue to our maintenance team log to be addressed ASAP. We have a slot in our night registration for keys to be place if checking out before the office opens.
Jun 29, 2018
Just needed some time away from the house to relax. Also was a good time to make sure everything in the camper still works. Even with the packing up in the rain was enjoyable. Watched movies and drank coffee, for me that's a great way to relax. Last time at this KOA was 2014. I liked the improvements that Jayar and Becky have made. Extra pull-thrus next to the road. The roads are better too,Thx
Jun 27, 2018
Site was narrow to open awning but the facilities and grounds were clean.
Jun 27, 2018
Campground was clean and well-cared for. Staff was friendly and helpful. My only beef was I thought $5 / person charge for our guests that came for a couple of hours was steep. We had no problem getting into our site. The staff delivered firewood to our campsite which was nice, and the firewood was nice and dry (this is not always the case).
CAMPGROUND RESPONSE / COMMENTS:
Thanks for your feedback. I understand that you feel $5 is steep for visit fee. We are new owners and we reached out to various KOA to see what their charges to see if we are over charging. $5 is the norm. We do not charge is visitor is here for less than 1 hour.
Jun 22, 2018
First time visit we would return. Nice and friendly place to stay.
Jun 21, 2018
Excellent friendly staff, nice clean campground, quiet, showers and restrooms clean and well maintained. Would definitely stay here again!
Jun 19, 2018
The neighbors on the first night were a little belligerent, I know that has nothing to do with the Gardner family and they did offer to relocate us if they continued there stay! It wa as great place! Extremely family friendly and quiet. Will absolutely return!!!
Jun 17, 2018
Very friendly owners! Clean facilities. Family oriented. Great place to stay.
Jun 13, 2018
Very nice place, friendly staff, though we only stayed one night on a journey north. Pretty setting!
Jun 07, 2018
VERY FRIENDLY AND HELPFUL STAFF. WE WERE JUST PASSING THROUGH SO DID NOT UTILIZE ALL THE AMENITIES. PRICE WAS SOMEWHAT HIGHER THAN I WOULD LIKE, BUT LOCATION WAS CONVENIENT FOR OUR NEEDS.
Jun 07, 2018
We were just passing through and staying one night. Reception was great. We left early the next day
May 27, 2018
Friendly accomodating staff! Quiet & great for a quick getaway!
May 16, 2018
Very friendly owners, very quiet, and clean.
Oct 12, 2021
Very friendly owners and other campers. Always have a great time. Grandkids love the playground and indoor pavilion to do crafts and write on a huge white board. Will be back next season.
- Jacquie Wilks on Google
Oct 10, 2021
Definitely a relaxing atmosphere. Grandkids visited on weekend. They were entertained and enjoyed the experience. The bathrooms were clean, along with the showers. There are stools if you need to use them in the shower. Pets are welcome, nice well kept area. Good value at landry mat and dryer work well. All around great experience, will definitely return.
- Gail Geissler on Google
Oct 04, 2021
We had a very good time there. The staff that works there are fantastic.
- Ozzie Hart on Google