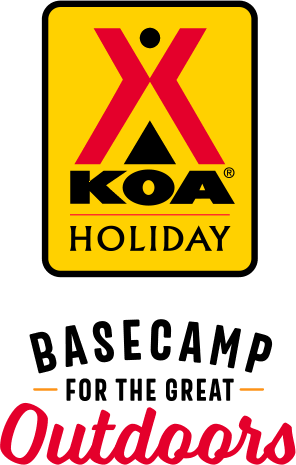 KOA Holiday Campgrounds
Whether you're exploring the local area or hanging out at the campground, KOA Holidays are an ideal place to relax and play. There's plenty to do, with amenities and services to make your stay memorable. Plus, you'll enjoy the outdoor experience with upgraded RV Sites with KOA Patio® and Deluxe Cabins with full baths for camping in comfort. Bring your family, bring your friends, or bring the whole group – there's plenty of ways to stay and explore.
KOA Holidays Feature:
RV Sites with a KOA Patio®
Deluxe Cabins with full baths
Premium Tent Sites
Group meeting facilities
Directions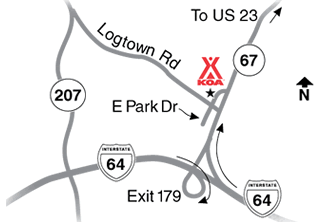 From I-64: Take Exit 179, go 3/4 mile, turn left on Eastpark Drive.
From Hwy 23: Turn south on Industrial Pkwy (Hwy 67). Go approximately 12 miles, turn right on Eastpark Drive. Go 1/4 mile.
GPS: N38.376216, W82.820477
Get Google Directions
Oct 03, 2020
Wonderful and helpful workcampers!
Oct 03, 2020
Stayed for only an overnight, but enjoyed our stay. Clean and well kept. Friendly staff. Say Hello to Olivia the one eyed kitten.
Oct 02, 2020
Nice, well maintained. Gravel mostly level sites. No shade. Nice hike path, our Site B7 had grassy area behind which our dog loved zooming around (she's well trained, friendly, & there were only 3 campers on that side). Bathrooms and laundry clean & nice. Owners friendly and helpful. Had few campers and they spaced us out. Had long term campers in a different area, which is better for all.
Oct 02, 2020
Even after calling at the last minute to inform of a late arrival, everything went very smoothly.
Oct 02, 2020
firewood and supplies were great
Oct 01, 2020
Lovely place, great for RVs . Cabins cute, clean, bed comfortable, but please treat the whole of the cabins for bed bugs. I found the bedspread to be riddled with bed bug droppings....tiny but visible. Be prepared to isolate all your clothes and bedding etc in plastic and take to a laundry mat wash on hot water then dry on a high heat. Owners please treat the wood and beds 2 weeks, till gone.
Sep 30, 2020
Internet was awful. Basically non existent. Otherwise great site our second stay here
Sep 30, 2020
Camp ground did not have our reservation in the night box even when I added comment to reservation that we would be a late checkin. No one answered calls or emails. Just drove around and picked an empty spot for the night in pouring rain. Never heard from campground, even though we left messages and sent an email. Left in early morning. Sites were nice and wide for large rv.
Sep 29, 2020
Everyone was nice. Bathrooms was clean
Sep 29, 2020
The people were very friendly, Stay at the top campgrounds, very nice and quite.
Sep 28, 2020
We had a wonderful stay, the staff is always nice and the campground is always so clean everytime we visit, we always have a good time when we stay
Sep 28, 2020
Arrived 09-26-2020 after driving for some time. This campground was very clean and quiet. We enjoyed a nice evening with our 4 yorkies before heading out again for home. Good job Ashland/Huntington KOA.
Sep 22, 2020
loved the site and the owners.
Sep 21, 2020
Great. Peaceful area that was clean and well kept. The store was well stocked and prices were reasonable. Firewood was all kindling.
Sep 21, 2020
Friendly staff. Spacious pull thru. Great for our over night stay.
Sep 21, 2020
So very clean and neat in appearance. Owners were extremely friendly and helpful. One of the best we have stayed out for the last few years. Will return.
Sep 21, 2020
Only stayed overnight , but nice clean well kelp campground.
Sep 21, 2020
Staff was great. Friendly and accommodating. It was a little close to the road with road noise. Actually a lot of Road noise. But the campground itself was immaculate. Well kept and really nice. I'll definitely go back.
Sep 20, 2020
My husband and I have stayed here several times and it is always a very pleasant stay. We will keep coming back. Love this place and the people.
Sep 20, 2020
It was just an overnight stay for us. We'd been there last year. Very clean and with the COVID, very well spaced out.
Sep 19, 2020
Easy access off the highway, The hosts are very friendly and the place was very clean. I will stop there in the future when heading out that way.
Sep 18, 2020
This was a short sleep over for us coming from Missouri going to Virginia. We are new to camping and did not know KOA had sites close to the interstate like this. The staff was very friendly here and we will be using this stop on our return trip from Virginia to Missouri. We will also use another KOA in Graysville, Il on our return. THANKS
Sep 17, 2020
Very nice campground.
Sep 15, 2020
Was very clean and had all amenities we needed for a one night stop, they had propane fill up, laundry, and even a mini golf and pool for kids. We would stay again.
Sep 14, 2020
Great stopover for the local areas. Clean, Friendly staff.
Sep 14, 2020
In and out overnight stay but a very clean campground and super friendly staff
Sep 14, 2020
Loved it even though it was a quick overnight! We will stay there again if in the area.
Sep 13, 2020
Overnight stay nice campground
Sep 12, 2020
The camp site was nice, but the people were not very friendly.
Sep 12, 2020
Great start to our recent trip.
CAMPGROUND RESPONSE / COMMENTS:
Glad you enjoyed yourself. Hope to see you again soon.
Sep 11, 2020
Great service and friendly staff.
CAMPGROUND RESPONSE / COMMENTS:
Glad you enjoyed yourself. Hope to see you again soon.
Sep 09, 2020
We had a great time. The campground is beautiful.
Sep 09, 2020
I arrived after the office had followed. A map was left for me by name of where my tent spot was, Quiet campground and the facilities were very clean.
Sep 09, 2020
Very friendly. Our first stay at this campground and the first night of a 7-week trip we had planned for many months. We were later than planned getting to the campground and discovered we had several problems with out motorhome when we arrived. It was a Holiday. The owner, Charles, was extremely helpful providing information for available resources and even offered to help diagnose our problems.
CAMPGROUND RESPONSE / COMMENTS:
Thank you for the kind comments. We strive to help all our guest needs while here.
Sep 08, 2020
Spacious sites, beautiful setting, and great amenities. Lots of grass for kids and pets to play on. Quiet and well-run facility.
Sep 08, 2020
Nice Place. Quiet. Despite the KY Governor's stupidity regarding pools, there are no complaints and the pool is not the campgrounds fault. I will be back
Sep 06, 2021
A little tight in some spots, but a really nice little park.
- Bryan Myers on Google
Sep 01, 2021
I stayed there more than once, in deluxe cabins. It was nice, quiet and relaxing, convenient to stop on my cross country trips. I had no issues with the cabin, except the gas grill didn't work - they need to give attention to the grills. There's a nature trail right there in the campground, with and an option for walking steep hillside for exercise. It's a green rural area with no neighbors. Definitely would stop again.
- MountShasta011 on Trip Advisor
Aug 19, 2021
Quiet comfortable spacious. Sits on a hilltop with more of an expansive view than most rv parks. An enjoyable respite during our summer travels.
- Don Van Wormer on Google