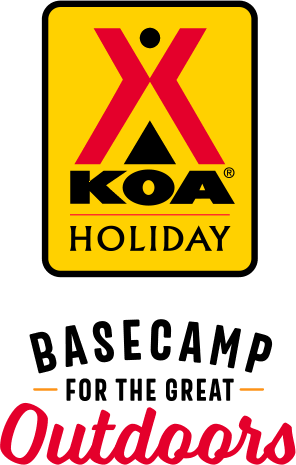 KOA Holiday Campgrounds
Whether you're exploring the local area or hanging out at the campground, KOA Holidays are an ideal place to relax and play. There's plenty to do, with amenities and services to make your stay memorable. Plus, you'll enjoy the outdoor experience with upgraded RV Sites with KOA Patio® and Deluxe Cabins with full baths for camping in comfort. Bring your family, bring your friends, or bring the whole group – there's plenty of ways to stay and explore.
KOA Holidays Feature:
RV Sites with a KOA Patio®
Deluxe Cabins with full baths
Premium Tent Sites
Group meeting facilities
Directions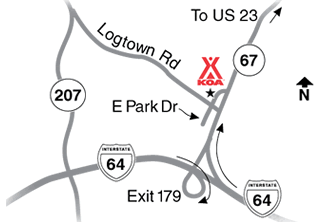 From I-64: Take Exit 179, go 3/4 mile, turn left on Eastpark Drive.
From Hwy 23: Turn south on Industrial Pkwy (Hwy 67). Go approximately 12 miles, turn right on Eastpark Drive. Go 1/4 mile.
GPS: N38.376216, W82.820477
Get Google Directions
Nov 30, 2020
Easy access to the highway
Nov 22, 2020
Great. Had everything we needed and staff was very accommodating. Will be staying again.
Nov 20, 2020
Very well kept place. Neat, clean, well laid out. The campsites are a little small but workable. Very level and long enough for large campers. We will definitely be going back at some time.
Nov 13, 2020
gets better every time we stay. A lot of updates since we were there over a year ago.
Nov 10, 2020
Very well kept, staff and owners are great. When I left this KOA I got to my next setup l realized I had forgotten a splitter I use on my water connection. Also had forgotten an anchor I use to attach my dog's leash to outside. I made a call back to the Campground office and explained my mistake. They retrieved them for me and I picked them up the next day. Very impressed and appreciated.
Nov 10, 2020
It was a very nice campground. Everything was so clean and so peaceful. Thank you for a very nice and relaxing weekend.
Oct 31, 2020
Easy in / out. Good gravel interior roads. Shower clean with hot water
Oct 30, 2020
our stay was an overnight stop. Check-in was very easy. Park is beautiful! Sites are fair size, however we have a big rig and getting in and out was a little tight, but doable. Sites were very nice & level w/gravel and an area for placing an awning mat without being on the grass portion of the site.
Oct 29, 2020
Enjoyed bbq!
Oct 26, 2020
Great place for our overnight adventure. The park was very nice!
Oct 26, 2020
This is a very nice KOA, close to the interstate and local shopping. We took advantage of the free mini-golf on this trip and the course is great. Nice dog play area. Everything is clean and maintained well.
Oct 26, 2020
Very quiet and restful.
Oct 25, 2020
It was just what we needed which was a spot to spend the night and nothing more. I don't know the area and there weren't very many amenities around to make it worthwhile to stay there for an extended period .
Oct 23, 2020
Looked as if cabin hadn't been cleaned. Food left in cabinets, mouse poop under sink and dirt in cupboards, stove top burned food under burner, huge cob webs with spiders in them all over the cabin, refrigerator and bathroom dirty. Had to get own linen from office minutes before office closing. Drove 15 hours to get there to have to clean cabin myself. Very disappointed for the money paid.
Oct 21, 2020
Very accommodating. Went out of their way to provide a space for us on short notice. Nice clean park.
Oct 19, 2020
Very nice campground. Clean!! My only issue was the poor wifi. My RV router could not connect so I could not do my work and had to take an uneccessary vacation day from work because I could not use the wifi. Easy fix if the campground would add their own boosters, which are CHEAP.
Oct 19, 2020
Very nice, clean campground. We stayed in the upper section. Sites are spacious and plenty of space in between campers. Staff is friendly and polite. We will be coming back to stay in the near future. Definitely recommend camping here.
Oct 19, 2020
Great site a little too cool to enjoy outside but maybe next time
Oct 17, 2020
Easy in and out, clean and professional.
Oct 17, 2020
Very nice, clean and spacious. The host are very friendly and helpful. I will always choose this KOA when in the area.
Oct 17, 2020
Nice place. Everything well maintained, clean and like new. Very quiet. No highway or railroad noise. Would stay here again.
Oct 16, 2020
The managers are very nice and keep the grounds in pristine condition. This is the second time I have stayed here and will stay again.
Oct 14, 2020
Beautiful quiet setting. Nice grounds and facility. Friendly people . Peaceful setting.
Oct 12, 2020
Very nice staff and facility , well maintained and clean !! Loved the nature trail , little bit challenging . Definitely will go back.
Oct 12, 2020
Clean and quiet!
Oct 12, 2020
There was an electrical problem with our site. They tried to fix and was unable to. Immediately moved us to another site which was perfect for us. Enjoyed the hiking trail
Oct 12, 2020
Very friendly staff. Easy in and easy out for the overnight stay.
Oct 08, 2020
Friendly staff, well maintained sites, clean shower rooms. Easy access from I-64 for overnight stay.
Oct 06, 2020
Good place for a quick stop over. Close to the highway but not much around. Lots of big motor homes came in at all hours of the night and left very early. Staff was wonderful and recommended a great restaurant
Sep 06, 2021
A little tight in some spots, but a really nice little park.
- Bryan Myers on Google
Sep 01, 2021
I stayed there more than once, in deluxe cabins. It was nice, quiet and relaxing, convenient to stop on my cross country trips. I had no issues with the cabin, except the gas grill didn't work - they need to give attention to the grills. There's a nature trail right there in the campground, with and an option for walking steep hillside for exercise. It's a green rural area with no neighbors. Definitely would stop again.
- MountShasta011 on Trip Advisor
Aug 19, 2021
Quiet comfortable spacious. Sits on a hilltop with more of an expansive view than most rv parks. An enjoyable respite during our summer travels.
- Don Van Wormer on Google