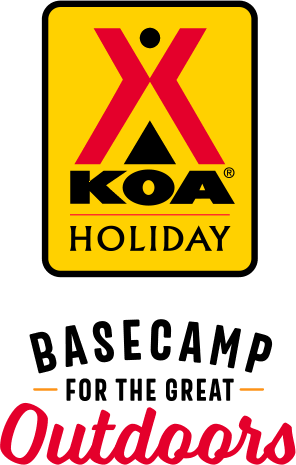 KOA Holiday Campgrounds
Whether you're exploring the local area or hanging out at the campground, KOA Holidays are an ideal place to relax and play. There's plenty to do, with amenities and services to make your stay memorable. Plus, you'll enjoy the outdoor experience with upgraded RV Sites with KOA Patio® and Deluxe Cabins with full baths for camping in comfort. Bring your family, bring your friends, or bring the whole group – there's plenty of ways to stay and explore.
KOA Holidays Feature:
RV Sites with a KOA Patio®
Deluxe Cabins with full baths
Premium Tent Sites
Group meeting facilities
Directions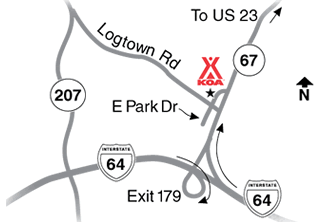 From I-64: Take Exit 179, go 3/4 mile, turn left on Eastpark Drive.
From Hwy 23: Turn south on Industrial Pkwy (Hwy 67). Go approximately 12 miles, turn right on Eastpark Drive. Go 1/4 mile.
GPS: N38.376216, W82.820477
Get Google Directions
May 31, 2021
We were a late check in SITE B10. If we didn't have help from our neighbors it was difficult to know the end of our site and the hill. There was no guardrail. There wasn't enough room from our camper door to the hill for us to use the site safe with our little kids. If I the hookups would have been moved up and a guardrail it would give the camper more room before the hill. We had a 23ft campe
May 29, 2021
We were a quick stop on the way to Indiana. We got I late and left fairly early. Our info was on the board when we got in. Our site was real close to the front. Easy in and out. We have stopped here before. It is always so clean and the staff is friendly. We have seen the campground grow and expand over the years and it is always a great place to stop in!!
May 28, 2021
This KOA is just so quiet and well kept. Not a big place and the staff are super friendly. I have stayed here three times when passing through the area. I have been there twice in fifth wheel and recently tent. The views of the sunrise and set as well as the evening sky's are very nice. Will be my go to when traveling through. Thanks!!
May 28, 2021
Great overnight stop, very clean and quiet.
May 27, 2021
As in most cases, it's the people who run any business. Thelma is absolutely marvelous! Accommodations are very good and well maintained. First rate, family friendly facility.
May 26, 2021
Shared connections
May 25, 2021
We had verygood service the bathrooms were clean. very much appreciated
May 25, 2021
Staff was polite and pull through site was level and nice for a quick overnight. The bathrooms were clean and well kept. I was not able to get the wi-fi to work with the code given and the grass around my site needed cutting. Otherwise I would have given a 5
May 24, 2021
Great KOA.. Very friendly staff...
May 24, 2021
Lot untidy and not mowed. No recycle or trash receptacles. Unfriendly check in. Noisy location. Placed by extremely noisy and unattended children. Facility was not being policed or managed by anyone. One person in store. We have been to many mom and pop campgrounds that were constantly checking on things. We did not get this feeling here at all. We couldn't leave fast enough. Won't be
May 23, 2021
Our site wasn't maintained. The whole site area grass was very tall, the fire ring actually had grass about two feet tall in it. The water hookup had a large deep puddle all around it, almost as if a line was busted under it or something. Also around the fire ring there was a lot of mud. The putt putt is needing maintenance. However, the sites are spacious and easily accessible.
May 22, 2021
Cabin was just ok. Simple stay. Didn't not have adequate dishes. No dish soap. Towels were nice. Bed was adequate but not super comfy. Futon mattress was really worn and had a plastic cover so not super comfy. Fire pit, grill and patio with table and chairs was very nice. Very open campground in the front with very few trees. Pool not open even though website says open on 5/8.
May 21, 2021
We have stayed here several times over the years. Will not be going back. Bugs - ants - were terrible. Told them about it several times. One small can of ant spray did not fix the situation. We finally had to go buy a sprayer and chemicals and spray ourselves. On an extended trip in new rig and didn't want to take them with us.
May 19, 2021
A good stop through but no conveniences close by. Campground area is spread out and there is a huge hill down to a bottom area that separates the campground. Showers were clean but no bench. Bathroom soap dispensers were filled with hand sanitizer.
May 19, 2021
The rustic tent area is below average. Too much "junk" located in the area. Need to correct. Very convenient and super nice otherwise. Mini golf course neglected.
May 19, 2021
Peaceful setting. Campsites need sprucing up. Could have used a guide for site.
May 18, 2021
This was our 4th stay and we will be back.
May 17, 2021
Nice spacious spot, Friendly staff and clean facilities. This KOA is convenient to the interstate and 5 miles from a very clean Walmart. We camped in a 40 foot fifth wheel
May 17, 2021
We like Ashland KOA due to location. However I find it rather odd that when we inquire about specific sites we are told they are reserved and are given another site. We sit there all weekend and the site we wanted is unoccupied the entire time. This has happened the last 2 times we have camped there. This may have been our last time staying due to this issue.
May 17, 2021
Quiet and peaceful. Very clean.
May 13, 2021
Really convenient, but a bit tight in regard to roads. Just cleared lot #28 marker post when pulling out of #27. Couldn't get any wider swing. Really good people. We only stay one night here when passing through on our way to our final destination, but definitely would do an extended stay if the situation reuired. Neat, clean and well organized.
May 12, 2021
Very friendly and involved staff. A little tight for a 45ft big rig, but all in all a great campground.
May 12, 2021
Just stayed overnight. Clean and friendly.
May 11, 2021
As usual this KOA park is clean and well cared for. Not a lot going on there as far as activities, a perfect place for a night or two. There is a beautiful Veterans cemetery next door.
May 10, 2021
Perfect cabin for a quick break from driving on the road with 3 canine companions. EZ parking next to cabin, lots of green space, hot water, great shower...only issue was intermittent passing of some unpleasant smells...likely from industrial park? Will stay again enroute to or from NC to upper midwest!
May 09, 2021
Our stay was brief this time, but we enjoyed the Kampground very much!!
May 09, 2021
Great park, will be back. Cheyenne is an excellent staff member.
May 08, 2021
Staff was indifferent, which is usuals for a KOA. Not great wifi. Clean shower house and toilets.
May 07, 2021
Although the campground has a very good setting the maintenance was problematic. There was a lot of grass clippings and clumps of cut wet grass on the site particularly where we set up. This led to a real problem of tracking it in the RV. Also, the fire pit had not been maintained - it had pop cans and lots of cigarette butts - disgusting. Restrooms and showers were clean and nice
May 06, 2021
Good place to pull off the highway for the night. Wasn't there long enough to say much about it except that it was easy to get in and out.
May 05, 2021
Nice place to spend the night just off I-64 in eastern Kentucky. Quiet, well maintained, full hook ups, nice dog park--everything you need for the night while passing through. We will stay here again in the future. mw
May 05, 2021
We only there for one night but this day was great
May 03, 2021
Very friendly staff. Clean shower house and restrooms. Excellent place to stay.
May 01, 2021
Just overnight, but still it was GREAT.
Apr 30, 2021
Attitude of the Manager is horrible. We checked in and were told to go to a site that only had 30 amp service. I parked where told and set up. Using a 30 to 50 amp adapter. ( no big deal as mild temperatures would have us not using over 30 amps ) I checked my reservation and found I originally made reservations for 50. The manager flipped out at my wife and made flipped out and made us move.
Apr 29, 2021
We love this KOA! Love the country setting, super quiet!! We stayed here a couple nights to get rested. Level sites, all the amenities (full hook up, good WiFi and cable TV) We didn't play the free mini golf this time, but did use the dog park which was grassy and adequate size. Friendly staff. Recommend this KOA. Big rigs stay on one side in pull-thru sites, smaller rigs are on other side.
Apr 29, 2021
Such nice shower area. Could be improved by putting stick on soap holders in the tile showers. There was no place except the floor.
Jul 16, 2021
Beautiful,clean and friendly super kind owner working the office ❤ been 2 times now qnd wouldn't hesitate to stay again!
- Natalie Reese on Google
Jul 11, 2021
We stayed here for night on the way back home to Virginia. The campground was very clean. The sites were very level especially for being in a hilly area. Nice K9 area for our dog and the staff was friendly. Great place to stop for our last night on the trip home.
- Rick Bosarge on Google
Jul 06, 2021
We stayed in June 2021 on work related travel for 4 nights. Staff were friendly at check in, and called us prior to arrival to give some special directions because of the site we were in. We were in the upper sites near the office. Everything was clean and open. We didn't have any issues.
- TrailRdrs Outdoor "Aftermarket Electric" on Google