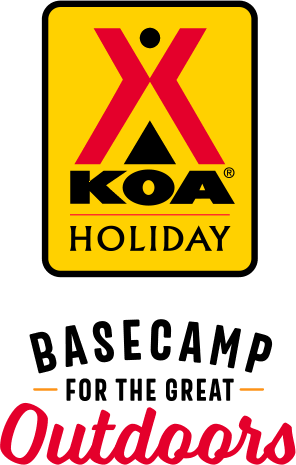 KOA Holiday Campgrounds
Whether you're exploring the local area or hanging out at the campground, KOA Holidays are an ideal place to relax and play. There's plenty to do, with amenities and services to make your stay memorable. Plus, you'll enjoy the outdoor experience with upgraded RV Sites with KOA Patio® and Deluxe Cabins with full baths for camping in comfort. Bring your family, bring your friends, or bring the whole group – there's plenty of ways to stay and explore.
KOA Holidays Feature:
RV Sites with a KOA Patio®
Deluxe Cabins with full baths
Premium Tent Sites
Group meeting facilities
Directions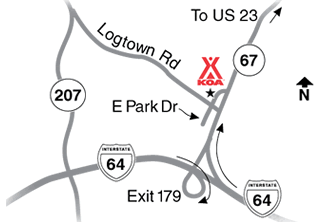 From I-64: Take Exit 179, go 3/4 mile, turn left on Eastpark Drive.
From Hwy 23: Turn south on Industrial Pkwy (Hwy 67). Go approximately 12 miles, turn right on Eastpark Drive. Go 1/4 mile.
GPS: N38.376216, W82.820477
Get Google Directions
Jun 20, 2021
Asked for pull thru site was told there was none available. But there were 5 that set empty the entire time we were there.
Jun 20, 2021
Je me suis bien amusé!
Jun 18, 2021
We had a great time!
Jun 15, 2021
Very nice park, good location and spaces easy to pull through
Jun 15, 2021
Your park was wonderful and beautiful! Everyone was so helpful and nice! Thank you!!
Jun 14, 2021
Stayed 2 nights. Friendly. Nice campground
Jun 14, 2021
Very busy place pool was overcrowded and bandaids were in the pool… bathrooms were nice but dirty by the time we rolled in. Told the person who signed us in and she said she doesn't do that cleaning.. Everything was clean by the morning but we were checking out…Kentucky was beautiful and the campgrounds were nice but understaffed
Jun 14, 2021
Enjoyed my short stay there.
Jun 14, 2021
Just stopped for 1 night, friendly staff, campground and facilities were very clean and quiet. We had stopped the previous week and it was nice enough to want to stop on the way back
Jun 13, 2021
Grass wasn't cut Trash kept overflowing into our campsite from the dumpster that never got emptied Ant infestation on our camp pad
Jun 12, 2021
Easy access from freeway and to site. Friendly staff. Quiet. Well kept grounds.
Jun 11, 2021
The amenities r there but showed a need for maintaining. Miniature golf need painting and some repairs to fabric. Roads r narrow for big rigs as r the approaches resulting in ruts in the grass in both. Setting is fantastic and staff r very helpful.
Jun 11, 2021
Peace and Quiet
Jun 11, 2021
Stayed in a cabin. Very clean and comfortable
Jun 10, 2021
Nice place friendly staff. Clean and open.
Jun 10, 2021
Beautiful, quiet place. Nice dog park. Nice patio accommodations. Very clean pool. We didn't get to play mini golf but the course looked fun!!!
Jun 09, 2021
Short overnight stay. Friendly and helpful staff
Jun 07, 2021
Stray Cats running everywhere got into my cousins Rv fan and when he started it well you can say it was a nasty mess so we had to spend two hours washing the radiator and then I I had to hook my travel trailer back up so we could move to another site down from where we was already set up at so we had to break everything down to move was not very pleased.
Jun 06, 2021
We stop here for overnights
Jun 06, 2021
Very accomodating
Jun 06, 2021
Great staff, nice location. Always stay there when visiting grandkids and will continue to do so,
Jun 05, 2021
I just lost my husband to Covid and I wanted to get away!!!! We were going to do some camping this spring. I decided on a cabin so I could still feel like I was camping but would be safe on my own. It was a lovely park and quite peaceful. You can hear noise from I-64 but it really is not that bad!!!!
Jun 04, 2021
Quiet and peaceful campground. Clean bathrooms. The grounds were well-kept. Lots of grass for the pups and a nice dog run. Bonus: Veterans memorial is about 1/4 mile away.
Jun 03, 2021
Great place to stay a night on our travels. Restrooms where clean & the campsites are very friendly. We normally travel with our 5ver. But we were moving 1 of our young adults kids. So we were tent camping. Space was big enough for 2 4 to 6 man tents with electrical & picnic table. Nothing at exit to eat, so if looking for dinning. There is food at Highway exists before & after.
Jun 03, 2021
My tent sites we're supposed to b together but ended up on opposite sides of campground. No shade, we're used to national park settings
Jun 02, 2021
Very nice place and very friendly owners
Jun 02, 2021
Great place to stay!!!
Jun 02, 2021
Well maintained Campground on the "Upper" part; "Lower" part appeared to be your "seasonal" campers & your "party-goers" & not as maintained as the Upper area. Sites all appeared to be a good size & had variable sizes. We were provided site B7 which was an accessible site, we didn't need an accessible site; this site's down fall was the fire pit being at the back away from the sitting area.
Jun 01, 2021
It was really nice and beautiful and great service!!!
Jun 01, 2021
It's a nice campground. The miniature golf needs repairs/updated and we thought there was a place to kayak but the pond is too small for that. Unfortunately the weather was very cold and wet so we didn't get to enjoy outside much at all. If we are able to make it back there, hopefully we will have better weather and be able to take advantage of the pool �
Jun 01, 2021
Campground is conveniently located near Highway 64, was clean, and worked well for our group. Upgrades need to be made to the "free" wifi where most times it rarely worked or worked slowly.
May 31, 2021
For a quick one night stay, awesome! Quiet and nice staff!
Jul 16, 2021
Beautiful,clean and friendly super kind owner working the office ❤ been 2 times now qnd wouldn't hesitate to stay again!
- Natalie Reese on Google
Jul 11, 2021
We stayed here for night on the way back home to Virginia. The campground was very clean. The sites were very level especially for being in a hilly area. Nice K9 area for our dog and the staff was friendly. Great place to stop for our last night on the trip home.
- Rick Bosarge on Google
Jul 06, 2021
We stayed in June 2021 on work related travel for 4 nights. Staff were friendly at check in, and called us prior to arrival to give some special directions because of the site we were in. We were in the upper sites near the office. Everything was clean and open. We didn't have any issues.
- TrailRdrs Outdoor "Aftermarket Electric" on Google