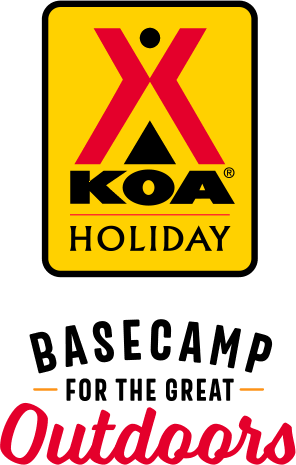 KOA Holiday Campgrounds
Whether you're exploring the local area or hanging out at the campground, KOA Holidays are an ideal place to relax and play. There's plenty to do, with amenities and services to make your stay memorable. Plus, you'll enjoy the outdoor experience with upgraded RV Sites with KOA Patio® and Deluxe Cabins with full baths for camping in comfort. Bring your family, bring your friends, or bring the whole group – there's plenty of ways to stay and explore.
KOA Holidays Feature:
RV Sites with a KOA Patio®
Deluxe Cabins with full baths
Premium Tent Sites
Group meeting facilities
Directions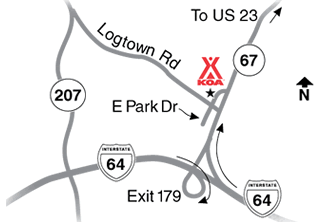 From I-64: Take Exit 179, go 3/4 mile, turn left on Eastpark Drive.
From Hwy 23: Turn south on Industrial Pkwy (Hwy 67). Go approximately 12 miles, turn right on Eastpark Drive. Go 1/4 mile.
GPS: N38.376216, W82.820477
Get Google Directions
Jul 06, 2021
Great campground with very friendly staff. Clean and well kept
Jul 06, 2021
Positives: Friendly staff and great fireworks for the 4th of july. Pool. Negatives: Bees were terrible because grass needed to be cut. Wifi is terrible we were located right behind the office and could never connect to the internet. No planned activities. We were told they were waiting on the ok from the state and county due to Covid . Other campgrounds in area were already doing activities
Jul 06, 2021
This was our 4th stay at this KOA. Things were really nice and the only little thing I have any issue with was the campsite we had was kinda tight for camper and truck this time. Will be sure to reserve a bit larger site next time....and there will be a next time! Good folks there and nice area. Bob and Zee
Jul 06, 2021
Wonderful new KOA. Convenient to interstate but situated so nice and quiet. Great spaces and fabulous view. Not much close by but that adds to the ambience….overnight or just for a few days…
Jul 06, 2021
Great fireworks but sites are to close and no shade. Not a lot to do
Jul 06, 2021
This was our 2nd time in a month staying at this campground. We love your campground. We got 2 cabins this time, so my sister and brother-in-law could experience your campground. They are going to sign up for membership. Very clean and the staff are wonderful. Hope to go back in a few weeks.
Jul 05, 2021
Just an overnight stay but they put on a great, unexpected fireworks show on July 3rd.
Jul 05, 2021
Great campground!
Jul 05, 2021
Great site and friendly staff. Wish the pool furniture was out.
Jul 05, 2021
The facility was very clean and nice. The staff were helpful and friendly. The location is ideal for getting away and still within a reasonable drive time if a trip to a store or gas station is needed. The only downfall was some of the "extended stay" campers. They tended to migrate through others camp sites. We did not have any issues or anything come up missing. Over all it was a great weekend.
Jul 04, 2021
Nice and clean not alot of shade everyone was nice I would stop for a night again
Jul 03, 2021
Absolutely beautiful and mint condition!
Jul 03, 2021
the sites were very unlevel
Jul 01, 2021
Passing through nice place to stay and restrooms were very clean.
Jul 01, 2021
Very clean and quiet,
Jun 30, 2021
Great camping experience! Loved the host!
Jun 30, 2021
Nice campground. Check in was easy and we were greeted with a friendly helpful staff. They worked with us to get an extra day added to our stay. Dog Park was large and grassy. Bath house was clean. Only issue was our site was not level side to side and it was hard to get the trailer level side to side.
Jun 30, 2021
We called when we were about an hour away, hoping they'd have an opening for one night. We hadn't made reservations in advance of our trip (from VA to MI) because we weren't sure how far we'd get the first day. Thankfully, they had a pull-thru site close to the entrance that could accommodate our trailer. We were very happy to have a safe, clean place to stay for the night!
Jun 30, 2021
Fairly clean (campsite could have been picked up a little more), very considerate neighbors and community, nice pool, quiet. Loved the pavilion with the hot/cold water sinks -- they made it easy to eat in the shade and do dishes. I wish the pool were open after 7pm, but I understand it's illegal.
Jun 29, 2021
It was sooo nice to be able to count on the classic features we like about this and all other KOAs; level site, full hook-ups, clean grounds and facilities, washer dryer, great swimming pool and very friendly hosts.
Jun 29, 2021
The place was beautiful and the bathrooms were fine. My complaint was that the tent sites (RU area) were miniscule. There was so much open area in the campground. Why were these sites so close together. We had noisy campers on both sides of us and it was really difficult to get a good night sleep.
Jun 29, 2021
The campground was not convenient to anything. The campgrounds were well kept. COVID had the pool limited. We were in the handicapped hookup, which was nicely level. We were only there one night. I asked for help getting my propane tank filled and was flatly refused. I had my placard, they knew I was in the handicapped site and explained I was unable to lift the tank. No accommodation made.
Jun 29, 2021
Friendly staff. Clean campground. We just stayed overnight (arrived at 11:30pm and leaving at 10am) would definitely stay here again if in the area.
Jun 28, 2021
The putt putt course was rotted, nails sticking out, some holes caved in, broken wood etc. small playground slide had a big hole cracked in it enough for a small child to fall through. No WiFi. Pool extremely crowded. The fishing pond looked like a ses pool. No planned activities. Plus side-staff was friendly and bigger playground was nice.
Jun 28, 2021
We always have the best time here the staff is top notch. The sites are up to date and very clean lots of things to do for the entire family by far our favorite
Jun 28, 2021
We stayed overnight, as a pit stop stay. The staff was very friendly and helpful! They had a cute dog park that our pup loved. The campground was very well kept, clean and nice. We would definitely recommend it.
Jun 27, 2021
Very quiet, lots of space. Kids enjoyed the play ground
Jun 26, 2021
Very relaxing staff was very accommodating
Jun 25, 2021
Pool needs to stay open one hour longer
Jun 24, 2021
This is our favorite place to stay when traveling 64 to or from Virginia. Stay overnight or a week, this campground has it all. Easy on and off the expressway. Plenty of pull through for big rigs like ours. Staff is always friendly and helpful.
Jun 24, 2021
Had a one night layover at this KOA and can happily give it 5 stars! Easy in- easy out, nice spaces and super friendly staff!
Jun 24, 2021
Easy in and out. Good for an overnight stay. Clean restrooms, fairly level site, convenient to the freeway. No cable tv and little over the air. No trees so satellite is good. Will use again as a stop over.
Jun 24, 2021
Our overnight stay at Ashland/Huntington West KOA was most pleasant. We were in the patio site and took full advantage of the grill and comfy Adirondack chairs. Thanks for a great stop.
Jun 23, 2021
Traveling west clean and convenient. Sites level stayed connected.
Jul 16, 2021
Beautiful,clean and friendly super kind owner working the office ❤ been 2 times now qnd wouldn't hesitate to stay again!
- Natalie Reese on Google
Jul 11, 2021
We stayed here for night on the way back home to Virginia. The campground was very clean. The sites were very level especially for being in a hilly area. Nice K9 area for our dog and the staff was friendly. Great place to stop for our last night on the trip home.
- Rick Bosarge on Google
Jul 06, 2021
We stayed in June 2021 on work related travel for 4 nights. Staff were friendly at check in, and called us prior to arrival to give some special directions because of the site we were in. We were in the upper sites near the office. Everything was clean and open. We didn't have any issues.
- TrailRdrs Outdoor "Aftermarket Electric" on Google