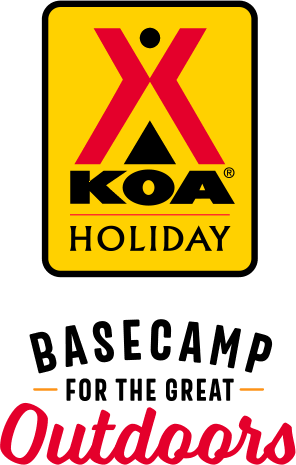 KOA Holiday Campgrounds
Whether you're exploring the local area or hanging out at the campground, KOA Holidays are an ideal place to relax and play. There's plenty to do, with amenities and services to make your stay memorable. Plus, you'll enjoy the outdoor experience with upgraded RV Sites with KOA Patio® and Deluxe Cabins with full baths for camping in comfort. Bring your family, bring your friends, or bring the whole group – there's plenty of ways to stay and explore.
KOA Holidays Feature:
RV Sites with a KOA Patio®
Deluxe Cabins with full baths
Premium Tent Sites
Group meeting facilities
Directions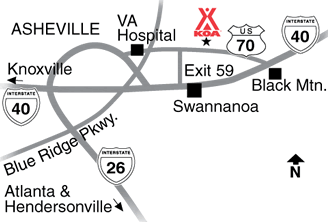 I-40 10 miles east of Asheville. Exit 59 go north 1 block to signal (US 70), turn right, go 2 miles.
Get Google Directions
Dec 26, 2020
The Camping Lodge was exceptionally clean, warm and ready for us when we arrived. The staff were very courteous and polite. We look forward to staying again.
Dec 25, 2020
This is my favorite campground! I love the atmosphere and how relaxing and quiet it is.
Dec 23, 2020
wonderful, a kind staff and great cabin
Dec 22, 2020
Great campground! Very peaceful place.
Dec 21, 2020
Lovely campground and lovely staff. I'm sorry that it was winter because we didn't get to do all the fun, outdoor activities that are available when it's warm out. We did take a walk around the lake to enjoy the beautiful setting.
Dec 21, 2020
The campsite was very difficult to get into, too tight. Upon arriving outlet in power box didn't work. Called office & manager quickly arrived and fixed the issue but was extremely and unnecessarily rude. Customer service means everything so talk nicely to your customers. Campground is very clean and well maintained.
Dec 19, 2020
We Love KOA Camping Ground , All Staff is Very Friendly and Helpful , Very Clean Rest Rooms and Showers , Very Clean Laundry Room, Very Quiet and Relaxing Place With Family By River and Campfire..All Landscape In Very Pretty .. Very Happy Customers Will Continue Going To KOA In Swananoa ..Thank Y'all So Much
Dec 19, 2020
Very nice staff. Grounds are keep really nice. New bathhouse is fantastic.
Dec 18, 2020
Being newbies to rving the staff worked it out for us to be beside our friends which was wonderful
Dec 15, 2020
The staff was very friendly. The cabin was clean as well as the bath houses.
Dec 15, 2020
The back in river site was absolutely amazing.
Dec 14, 2020
Wonderful spot, great staff. Our kids had a blast all weekend.
Dec 14, 2020
Enjoy It as always!
Dec 13, 2020
The staff here is amazing!! They were so friendly and helpful. So grateful to Charlie, who helped us with our anode on the hot water heater!! This will be a campground we visit quite often! So much to do around it, too! Black Mountain is a great little town that is 3 miles away. The Blue Ridge Parkway is 6 miles away and the hiking in Montreat (4 miles away) is second to none!!
Dec 10, 2020
The facilities are a bit run down and need to be updated. I would not recommend the location during the winter as they don't allow you to hook up to the water in fear of breaking. Will try the Spring there since the site was great.
Dec 08, 2020
The campground is beautiful and very very well kept and has so many amenities. The staff are friendly and helpful. One of the nicest campgrounds we have been in and I would highly recommend it to anyone. We are planning on coming back in the early spring for a week. Donna Williams Greenville SC
Dec 07, 2020
Very nice peaceful place.
Dec 07, 2020
This review has been removed by KOA due to profanity.
Dec 07, 2020
We had the worst experience. From checking in during a downpour to the extreme rudeness of the staff, the only pleasant part of our stay was the time we spent with family.
Dec 06, 2020
Super chill, scenic options right on the river, and very friendly staff!
Dec 06, 2020
First, I have to say that we love this KOA. However, the COVID prevention measures need to be improved. All people entering enclosed spaces (office, bathrooms) should be required to wear masks to prevent the spread of this deadly disease. When I went into the office area, there were several guests who were not wearing masks. That is a big No No in Asheville.
Dec 05, 2020
Whoever the guy is that parks the rvs doesn't need to use the language he used..we will never be back. Felt very uncomfortable to stay here.
Dec 04, 2020
This was our first time camping at a KOA and we will definitely be back! The campground offers so many amenities - full hook-up, cable, WIFI, swimming pool, etc. at a great nightly rate. The location is lovely with two lakes and the Swannanoa River running right through it and it's convenient to all the great things Asheville has to offer. The staff were all very friendly and helpful.
Dec 02, 2020
We are VERY disappointed about the notification of water turn off. There were no signs at the campground, we did not receive a call, and as of 12:30 pm there was no notice on our camper. The weather had been predicted for DAYS. We left at 12:30 and returned at 5:30 at which point the water was off. We did not get a chance to fill our tank and were left with NO water. VERY POOR SERVICE!
Dec 02, 2020
Campground was nice and clean. It was a beautiful place, our first time there. A staff person was very rude, he upset our day with his rude hateful attitude. He said he was the owner, I would hope the owner would not be rude and hateful! He was not a nice person! We enjoyed our family time together despite how rude and hateful he was being.
Dec 02, 2020
Every KOA that I have been to has been consistently good. The Asheville east KOA was exceptional. The care the owners and staff take makes the difference. The were an active presence and it showed. ALL facilities were impeccably clean and well maintained.
Dec 02, 2020
Very clean and enjoyed the lakes.
Dec 01, 2020
Clean and quiet
Dec 01, 2020
Enjoyed so much have booked a week next year
Dec 01, 2020
Absolutely hands down the most uncomfortable bed I've ever slept on in my life. Bath house not heated! Several nights it was below freezing. Hot water in the bath house was barely luke warm which made bathing very uncomfortable!! I will not stay there again. I informed the girl in the front office how bad and uncomfortable the beds were and she rudely replied "next time bring a mattress toppe
Dec 01, 2020
People working there were nasty and didnt know anything. The campground was nice and clean. Need a fence by the play area where the kids play ball ball went to road and some kid will eventually get hit with a car. Cars come into entrance to fast to see kids running after ball.
Dec 01, 2020
Excellent! Very relaxing and we had a great time.
Nov 30, 2020
Had a very quiet and restful time. We plan on returning in the future. I do disagree some with the $5 fee for visitors I think that is a little high
Nov 30, 2020
Beautiful campground! We got a spot on the pond and with the free honey wagon service it made the trip even less stressful.
Nov 30, 2020
The campground was spotless and trash was picked up multiple times during the day. Beautiful scenery, nice laundry facility. Bath houses were clean and store was well stocked. Not really a complaint. But..I wish during the holidays activities would still occur for the kids. The fire pit in front of the store would have been nice to have been in in the evenings. Bundles of wood very green.
Nov 30, 2020
We had a wonderful Thanksgiving celebration with our friends!!
Nov 30, 2020
Super clean, awesome walking trails around the ponds. We enjoyed our Thanksgiving!!!
Nov 30, 2020
We really enjoyed it
Nov 30, 2020
Stayed on E on the pond. It was great having little friends every morning, countless ducks and geese to feed. Bathrooms were very nicely tiled and clean.
Apr 09, 2021
Great campground for families. My kids love both the parks and the games areas. Camper spots are well sized, recommend getting a spot on the river in the A section if you can.
- Jarrett Hunt on Google
Apr 06, 2021
Terrific KOA campground. The staff was very nice and helpful. The rest rooms were clean. The kids had fun playing on the banks of the small river. Definitely recommend.
- Melissa Fleck on Google
Apr 04, 2021
Great atmosphere. Friendly
- Natalee Bryant on Google