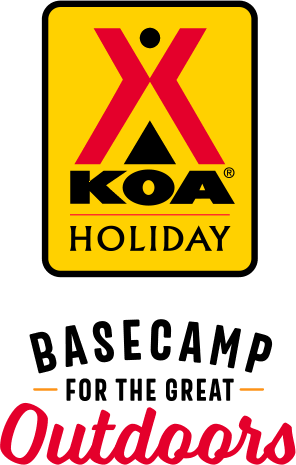 KOA Holiday Campgrounds
Whether you're exploring the local area or hanging out at the campground, KOA Holidays are an ideal place to relax and play. There's plenty to do, with amenities and services to make your stay memorable. Plus, you'll enjoy the outdoor experience with upgraded RV Sites with KOA Patio® and Deluxe Cabins with full baths for camping in comfort. Bring your family, bring your friends, or bring the whole group – there's plenty of ways to stay and explore.
KOA Holidays Feature:
RV Sites with a KOA Patio®
Deluxe Cabins with full baths
Premium Tent Sites
Group meeting facilities
Directions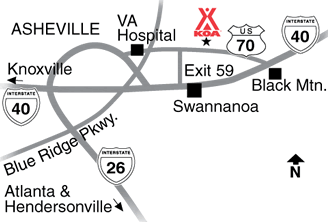 I-40 10 miles east of Asheville. Exit 59 go north 1 block to signal (US 70), turn right, go 2 miles.
Get Google Directions
Feb 12, 2021
Great campground on the swannanoa river. It has everything you need in life.
Feb 09, 2021
Outstanding customer service. They worked hard to ensure out stay was hassle free.
Feb 09, 2021
Cool and crisp, but so refreshing. We explored the camp and will return, selecting even more interesting sites. Staff is friendly and accommodating.
Feb 02, 2021
As always.,, it was so awesome! We love it there and is our favorite spot!!
Feb 01, 2021
We usually love this KOA. This time our cabin was dirty and the lady at the front desk was rude. I was charged $60 more than what my reservation was made for. The woman told me it was because their pricing went up that month ( I made the reservation two weeks prior). After I repeatedly explained my reservation and showed her what the cost should be she madly said she would fix it "this one time".
Feb 01, 2021
It was a short stay but the staff and grounds folks all were very nice and accommodating. We will definitely be back.
Feb 01, 2021
Very clean facilities. Friendly staff. Very nice playground for kids. Absolutely beautiful scenery. It snowed while we were there and our kids had an absolute blast!
Jan 30, 2021
A wonderful place with a great staff! Thank you �
Jan 26, 2021
The staff are so friendly. The grounds are clean and manicured beautifully. The campground is tucked right in between 2 mountains and they have 2 lakes. They keep the cabins and bathrooms extremely clean. Absolutely recommend this campground!
Jan 25, 2021
Very beautiful scenery with the river and lakes. Nice amount of activities for families and a convenient location for more activities in the area. The only room for improvement would be the bath house connected to the office. It was clean but it is in need of updating. The ceiling has holes and stains in it and the fixtures are old and hard to adjust the water flow. Water was plenty hot though.
Jan 24, 2021
Nice relaxing peacefull
Jan 20, 2021
FANTASTIC Location, very clean and beautiful and the entire staff was friendly and very helpful. Love feeding my new duck friends. I can't wait to come back when there is no snow. Charlie was the best, he just made me stay in a cabin so I wouldn't freeze outside and helped me with strarting my fire. So nice to know there are still GOOD PEOPLE in this world. :-) Lynnett Diane
Jan 19, 2021
A- sites entirely too close together , picnic tables almost on top of sewer connect of next site . Rest of location was nice and clean , very helpful and friendly staff . Nice dog park as well .
Jan 19, 2021
A fantastic winter retreat! The River RV site is a must! The staff was welcoming and informing. Very clean and well kept. The camp store is well stocked with necessities and extra. The site has a lot to offer for kids enjoyment. The cabins are super cute. Near the charming and quaint downtown of black mountain. Easy drives to Asheville, Chimney Rock and Blue Ridge Parkway!
Jan 19, 2021
The cabins were clean and well maintained. The bathrooms were nice and clean and water pressure was great. The grounds looked great and upkept. Staff was very friendly.
Jan 18, 2021
Absolutely beautiful campground and so convenient for lots of activities
Jan 18, 2021
The manager or head lady in the office is just rude and hateful. All employees when they drive around every 30 minutes looks at you like you've stole something. The cabins are nice but needs updating badly. We didn't have hot water in the kitchen sink. But had hot water in the shower and bathroom sink. The shower knob moves around if you barely touch it. The shower head barely put water out.
Jan 17, 2021
We stayed one night on our way to see our newborn Grandson in Charlotte. To avoid any Covid exposure we requested contactless check in & Asheville East KOA was so very nice about it. They masked up & even brought our check in papers to our truck! We appreciated their care so much. Thank you Asheville East KOA!
Jan 11, 2021
It was extremely cold in Asheville on 11/8. The heat was not turned on in our cabin and took hours to warm up. It ultimately did not get over 60 degrees and we really had to bundle up to sleep there. Due to it being so cold in the cabin we left around 5:45am as it was uncomfortable. The heater may need to be replaced or serviced.
Jan 10, 2021
We always enjoy our stay at Asheville East, NC. It's beautiful and well maintained. Pet friendly.
Jan 10, 2021
Awesome family time thank you
Jan 04, 2021
Friendly staff, all smiles, clean, beautiful lake and river! Suggestions : make RV sites wider, they're Too close together and have more activities for kids. Other than that it's perfect!
Jan 04, 2021
The entire staff was so friendly & the facilities were very clean. Will definitely be returning!
Jan 04, 2021
We had a wonderful couple days here. The staff are truly wonderful. The property is fantastic. Great for kids and animals.
Jan 03, 2021
This KOA is beautiful and very well maintained and the owners and staff were very accommodating and nothing was too much for them to do!! The walking trails around the lakes were awesome and the pet park and pet friendly accommodations were great! Since it was our first time we took a smaller site but next time will take the beautiful site with a patio. We also felt very safe there! Thanks to all!
Jan 03, 2021
Great stay. Bathrooms very clean. Staff was very friendly and helpful.
Jan 03, 2021
We love the walks with our dog around the lake. Every employee was really nice and helpful. I will stay and summer next time and kids will enjoy the river.
Jan 03, 2021
Nice staff, nice property
Dec 30, 2020
We stayed on site A9 along the river. It was a wonderful stay. Everyone was friendly and the trails were fun!
Dec 30, 2020
This is a beautiful campground. Great staff.
Dec 30, 2020
My family and pups had a great time at our cabin. Great location and loved the water view!
Dec 30, 2020
Great area and very quiet although it was off season.
Dec 30, 2020
The staff was very helpful, and check in was a breeze. We stayed on a site by the water which was great. Plenty of room and a great view.
Dec 30, 2020
We enjoyed our time to get away and unplug. The campgrounds are well maintained and staff is informative. They also deliver firewood! I would definitely stay here again.
Dec 29, 2020
Bathrooms could have been cleaner.
Dec 29, 2020
Great location, plenty of clean bathrooms, loved the waterfront options.
Dec 29, 2020
One of the better koas. Even though the weather was very cold the staff was very helpful.
Dec 29, 2020
Very friendly and helpful staff with a clean Facility
Dec 28, 2020
Staff were excellent not thier fault but water in T6 cabin froze christmas night left n return later water running but no hot water rest of stay but awesome staff and enjoyed stay Thank You Steve Moretz
Dec 27, 2020
The parking lot could have had some salt out down due to the ice and snow.
Apr 09, 2021
Great campground for families. My kids love both the parks and the games areas. Camper spots are well sized, recommend getting a spot on the river in the A section if you can.
- Jarrett Hunt on Google
Apr 06, 2021
Terrific KOA campground. The staff was very nice and helpful. The rest rooms were clean. The kids had fun playing on the banks of the small river. Definitely recommend.
- Melissa Fleck on Google
Apr 04, 2021
Great atmosphere. Friendly
- Natalee Bryant on Google