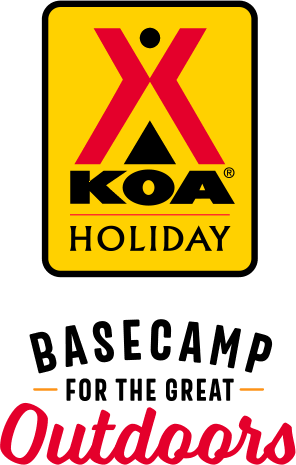 KOA Holiday Campgrounds
Whether you're exploring the local area or hanging out at the campground, KOA Holidays are an ideal place to relax and play. There's plenty to do, with amenities and services to make your stay memorable. Plus, you'll enjoy the outdoor experience with upgraded RV Sites with KOA Patio® and Deluxe Cabins with full baths for camping in comfort. Bring your family, bring your friends, or bring the whole group – there's plenty of ways to stay and explore.
KOA Holidays Feature:
RV Sites with a KOA Patio®
Deluxe Cabins with full baths
Premium Tent Sites
Group meeting facilities
Directions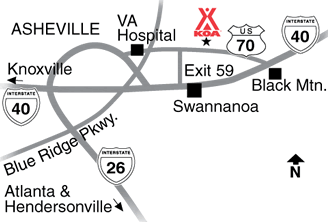 I-40 10 miles east of Asheville. Exit 59 go north 1 block to signal (US 70), turn right, go 2 miles.
Get Google Directions
Mar 17, 2021
Beautiful campground!!
Mar 16, 2021
Great views and very clean facilities!
Mar 15, 2021
Very recommend. I stayed almost 7 months there for work. Staff was very friendly and over accommodating!
Mar 15, 2021
We arrived on a Friday afternoon and they were ready for us. We checked in and they took us to our site. Sites are easily accessible and plenty of room. The whole camp ground was clean and people were friendly. Kids had fun playing on the playground and riding there scooters around the section we were in. Highly recommended and will be back again during warmer weather.
Mar 15, 2021
We thoroughly enjoyed our stay. The campground is nice and quiet. The premium site are very spacious and the staff was very pleasant. We will be returning!
Mar 15, 2021
We love East Asheville KOA it's clean beautiful staff is very friendly and helpful. It's a great place we live and will return. Can't say enough good things and I do recommend it to friends and on all my camping Facebook pages.
Mar 15, 2021
It was our first time staying at a KOA and in our camper. We had a great time!
Mar 14, 2021
Awesome time spent here; great location and the campground is superbly managed. We stayed in a Deluxe cabin (T3) and we are planning our next visit and hoping to stay in T4 or T2 as we'll be on motorcycles and the parking is better; no gravel drives. This trip was a reconnoiter and it turned out to be Awesome, Awesome, Awesome!
Mar 13, 2021
Everything went very well. Checkin was seamless, led to campsite, firewood was delivered, garbage picked up at campsite, saw ducks, grey heron & a groundhog. Only negative is highway & train noise.
Mar 13, 2021
We have made this a stop for several years. Love the river sites. Beautiful KOA. See you next year
Mar 13, 2021
Such a beautiful campground with friendly staff. We will definitely return!
Mar 13, 2021
The renovated bath house is so nice!
Mar 11, 2021
Very nice campground. Clean and the staff is extremely accommodating and friendly. Great location.
Mar 11, 2021
Enjoyed 1 night at this campground. Very well kept. The property is large and was nice to explore with our two pups. We were in the C area right on the lake. The ducks and geese provided plenty of entertainment. Will stay here again.
Mar 09, 2021
Really nice place, we stayed right on the river and the view was beautiful. We loved walking around the lakes and doing some fishing. The people were very friendly and it's so close to Black Mountain with lots of shops and restaurants.
Mar 08, 2021
Staff very friendly. Perfect weather and a great weekend.
Mar 08, 2021
Vibrant, well maintained site in a beautiful setting.
Mar 04, 2021
We had a very nice stay. The site was nice with the cement patio. I am not sure why we didn't have any patio furniture like some of the other sites. Both sites were deluxe patio. Beautiful walk around the lake.
Mar 03, 2021
We love this little hidden treasure. The lakes and streams are beautiful and the staff is so very kind. We are in love.
Mar 02, 2021
Very Peaceful And Quite Stay
Mar 02, 2021
Community bathrooms were very dirty and the beds in the cabin we're old and uncomfortable. Makes me want to stay in a hotel next time so I can get some sleep on a comfortable mattress I was in T2
Mar 02, 2021
Great campground and staff. Easy access to Asheville and Black Mountain.
Mar 01, 2021
Very nice stay, we had site riverside was great. Site are a little close but ok. We will be back very clean campground.
Mar 01, 2021
The new cabin on the lake is fabulous! It was stocked with everything that we needed to enjoy our stay. We had a great weekend in Black Mountain.
Mar 01, 2021
Had a great short stay. Facilities were clean, staff was friendly and location was perfect!
Mar 01, 2021
Great Place and Great Staff Good Times THANKS
Feb 28, 2021
Great place, friendly staff.
Feb 27, 2021
Very clean and staff is helpful and friendly. We will be back
Feb 26, 2021
The campground was super clean and nice. The staff was awesome and very helpful. The only thing was the price for off season was high.
Feb 23, 2021
Beautiful location. Kind staff. Extremely clean
Feb 23, 2021
Beautiful campground surrounded by the river.
Feb 22, 2021
Had a site backed up to the river. Fantastic. Owners and employees were all very friendly and helpful. Beautiful park. Have already recommended to a friend. Will have to go back when its warmer... that wind can be brutal.
Feb 22, 2021
Amazing. Great staff
Feb 22, 2021
We always enjoy staying with you guys!
Feb 18, 2021
Beautiful property, nice cabin and staff were great !! Lady named "L" and Management and all office staff were accommodating. We will be back soon
Feb 17, 2021
T1 cabin is super cute & more than accommodated my family. We were comfortable & had a pleasant stay. The cabin is also very clean. The toaster was broke, but did not dampened our stay. The staff is super friendly & we always enjoy our stay. Thank you.
Feb 16, 2021

Feb 16, 2021
It was a great stay... The staff was very accommodating to all my needs
Feb 16, 2021
Very clean and quiet. Nice folks
Feb 16, 2021
Facilities are good and the stay is effortless. But, like other KOA campgrounds, when it rains the place is a mess! These campgrounds are laid out well, but there must never have been a drainage plan. The roads are all mud.
Feb 16, 2021
Really nice and friendly too. Lots of natural beauty with a river and small lakes right in the camp.
Feb 15, 2021
Always have a great time. Staff are friendly and helpful
Feb 15, 2021
I have stayed at koa asheville east twice and both times have been really great!
Feb 13, 2021
Was only there a couple of days but we had no negative issues with the campground. Will return again.
Feb 13, 2021
First visit. Super Friendly Staff! Very pretty park. Our deluxe patio site was very roomy. Would definitely stay again if traveling that way.
Apr 09, 2021
Great campground for families. My kids love both the parks and the games areas. Camper spots are well sized, recommend getting a spot on the river in the A section if you can.
- Jarrett Hunt on Google
Apr 06, 2021
Terrific KOA campground. The staff was very nice and helpful. The rest rooms were clean. The kids had fun playing on the banks of the small river. Definitely recommend.
- Melissa Fleck on Google
Apr 04, 2021
Great atmosphere. Friendly
- Natalee Bryant on Google