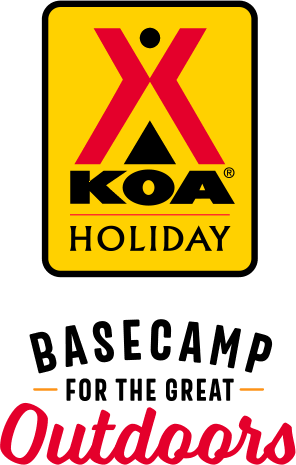 KOA Holiday Campgrounds
Whether you're exploring the local area or hanging out at the campground, KOA Holidays are an ideal place to relax and play. There's plenty to do, with amenities and services to make your stay memorable. Plus, you'll enjoy the outdoor experience with upgraded RV Sites with KOA Patio® and Deluxe Cabins with full baths for camping in comfort. Bring your family, bring your friends, or bring the whole group – there's plenty of ways to stay and explore.
KOA Holidays Feature:
RV Sites with a KOA Patio®
Deluxe Cabins with full baths
Premium Tent Sites
Group meeting facilities
Directions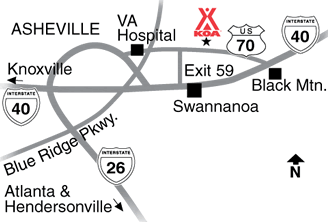 I-40 10 miles east of Asheville. Exit 59 go north 1 block to signal (US 70), turn right, go 2 miles.
Get Google Directions
Apr 06, 2021
We had a great time. This was our second visit and we will be back. Everyone is very professional and polite. Thank you.
Apr 06, 2021
We stayed in site A4 on the river. The grounds are nice and well kept. Loved having the path around the ponds to walk. The staff were friendly. The only downside is the river side sites were closer together than we like, and it was difficult to get in and out of our spot without having someone move their tow vehicle.
Apr 06, 2021
Greeted and checked in quickly by friendly staff. Nice stream side site with fire pit and picnic table. Walked and riode our bikes through the campground with great fishing river, ponds and stream. Sites are a little close, but would definitely stay again. Clean showers and bathrooms!
Apr 06, 2021
Great campground, we will be returning soon.
Apr 06, 2021
Extremely friendly and helpful staff. Park was clean and hook ups all worked perfectly. Bath houses are just very dated, undersized and not the cleanest.
Apr 06, 2021
I love staying at koa . The staff is super nice and I would recommend all my friends to stay here
Apr 05, 2021
Stayed in "A" section...sites are entirely too close! Our fire ring was 18" from the next sites connection point. Instructions paper forbids moving rings...we moved ours for safety reasons.
Apr 05, 2021
Was a cold weekend but had a great stay as always. Caught some trout and met some nice people.
Apr 05, 2021
Had a great time! Little crowded but it was Easter weekend. Next time we hope to be backed up to the river!
Apr 05, 2021
Great as always.
Apr 05, 2021
Stayed here multiple times. Great campground and location. As always, nice and clean bathrooms!
Apr 05, 2021
It was wonderful I would stay there every time I go on vacation staff is enough state where we stayed at was planning room enough I'm not neighbors were good and had no complaints
Apr 05, 2021
Loud highway. Couldn't sleep.
Apr 05, 2021
Great staff. Great campground.
Apr 05, 2021
Very accommodating!
Apr 04, 2021
Fantastic campground! Extremely clean and well maintained. Staff was very friendly and attentive. The site is beautiful!
Apr 04, 2021
Perfectly relaxing week despite the cold temps. Staff here are outstanding and everything was squeaky clean. Great access to Asheville and all it has to offer too.
Apr 04, 2021
LOVE THIS CAMPGROUND. WE HAVE STAYED AT OVER 100 KOA'S OVER THE LAST 10 YEARS AND BY FAR THE BEST. WE ACTUALLY STAYED HERE FOR THE FIRST TIME IN 2012 AND IT WAS NOTHING LIKE IT LOOKS LIKE TODAY. CAN'T WAIT TO GET BACK. NICE OWENR, NICE OFFICE STAFF AND GREAT SUPPORT THROUGHOUT THE CAMPGROUND.HIGHLY RECOMMEND!!
Apr 04, 2021
Nice place and location.
Apr 04, 2021
A little bit too close together with the sites
Apr 04, 2021
This was such a beautiful RV park. The site we had was right on the water so the view we had was calming and relaxing. The people were so nice and helpful. The bathhouses were clean and they had plenty washers and dryers. We want to return to this area and we would definitely stay here again.
Apr 03, 2021
It was clean had good wifi and cable tv .staff was friendly lot was level. Had a nice k-9 park, during the quiet times you could here some traffic and an occasional train but mostly the laughter of children playing in the background. we enjoyed it so much we made future reservations.
Apr 03, 2021
This was a stop through on our way home from NC and the campground was super clean, very friendly staff and the camp store had a lot to offer. My kids didn't want to leave. We especially liked the concrete pads, much easier and helps keep the camper clean. We would definitely be back on our next southern trip!!! Thank you to the family that owns this campground!!
Apr 03, 2021
Really nice place, would so stay again.
Apr 02, 2021
Impressed with the on going improvements. Grounds are nicely maintained. Enjoy going to koa Ashville east.
Apr 02, 2021
Very nice campground. Just need to stop the rain. lol
Apr 02, 2021
2nd visit. We will be back.
Apr 02, 2021
Nice clean facilities. The tent pad was nice and soft.
Apr 02, 2021
My 1st time and I would definitely do it again..
Apr 01, 2021
We had a wonderful time!! The campground is beautiful and well kept. The staff is so very courteous and always there for you!! We will definitely be back in hopes of getting one of those beautiful sites by the river!! Thanks to the KOA East and all its staff for making our stay awesome!!
Apr 01, 2021
Our site was right on the river and we loved it. Clean campground and friendly staff.
Apr 01, 2021
unbelievable place! We will be back anytime we can. great place....
Apr 01, 2021
My family stayed in 2 cabins that overlooked the lake. Beautiful views!
Mar 31, 2021
This is a great KOA. Shady. Beautiful river flows gently through the campground. Some sites are cramped, too close to the neighbor. Spaces that are more attractive cost more. Road noise from nearby US 70 and I-40 is apparent but not objectionable.
Mar 31, 2021
Nice Creekside site, helpful staff. Loved the nice hikes within park.
Mar 31, 2021
Very clean, very nice location, very friendly staff. Thank you to the folks that run this place.
Mar 31, 2021
All staff went above and beyond
Mar 31, 2021
Wonderful campground with an awesome location close to Black Mountain and Asheville!
Mar 31, 2021
We only stayed one night but loved the family activities! Had fun playing pool and riding bikes! Beautiful spot!
Mar 31, 2021
We love it here. So comfy and quiet. :)
Apr 20, 2021
It is a fantastic place to camp with your family a lot of fun for whole family
- Cheryl Hixon on Google
Apr 20, 2021
Beautiful spring day in the mountains! Lovely owners, make you feel at home. Highly recommend!
- Michelle Gardner on Google
Apr 20, 2021
Great campground, we were on the larger lake and loved it. The employees were helpful and nice. The site was level and comfortable. Definitely plan to visit often.
- Cat on Google