Directions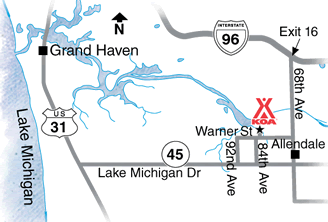 From Grand Rapids: Take 96 West toward Muskegon. Take Exit 16 toward CR B35/ Coopersville. Turn left onto 68th Ave. Turn right on Warner St to KOA. About 6 miles.
Get Google Directions
Sep 02, 2020
We stayed 2 months this summer. My 10 year old daughter said it was her favorite campground of all time. Owners are very nice, and lots are spacious. So much for the kids and family to do together.
Sep 02, 2020
What an amazing campground! Mohawk and family were the best owners we have come across in all of the years we have been camping KOAs. Truly caring that their campers were having a good time. Thanks so much for everything!! We will be back!
Sep 02, 2020
Excellent campground with clean facilities, friendly staff, and awesome activities for younger kids (ages 3-10). We've been twice this summer and will be back next year, if not in the fall.
Sep 01, 2020
Amazing hospitality and staff!!
Sep 01, 2020
I really enjoyed my stay! Everything was clean and we'll kept. The water balloon station was a hit with the kids! Thank you!
Aug 31, 2020
Great folks there. Sorry to say the camp could use some upgrades.
Aug 31, 2020
To close to people not a lot to do for adult
Aug 31, 2020
Very relaxing
Aug 31, 2020
Very hot with some interesting storms. Campgrounds, bathroom, and activities clean and good for kids. Liked the regular patrols by staff checking on campers and facility.
Aug 31, 2020
This is our third year coming back to this campground, so yes, we enjoy it there. The lots are spaced out properly, people friendly and showers and bathrooms very clean. I was extremely disappointed on one thing, though. No social distancing with the children rides this year. Covid has not gone away and to have all of those kids next to each other is asking for trouble.
Aug 31, 2020
When I went into the office to complete registration I was wearing a mask as required bo the governor's order but the lady behind the counter made no attempt to show the same courtesy. I understand I could have used my phone and completed contactless registration but I didn't expect to be greeted by someone showing complete disregard for my safety and her own. Overall, the campground was nice.
Aug 31, 2020
It was great! We rented the group tent site, which was very big and very well kept up. We only spent two nights but would love to come back and spend more time. The staff was friendly and they do a great job keeping the grounds looking good.
Aug 31, 2020
Great entertainment for the kids, they are excited to return. Staff was very accommodating and friendly, had a fun time!
Aug 31, 2020
Nice quite place to stay and not to far from any site to see.
Aug 31, 2020
Nice sites and pleasant people, but very poor water quality.
Aug 31, 2020
Loved the large lot we were on. Very clean. And the staff was very helpful!!
Aug 31, 2020
Owners were very friendly. There were many activities for children. We'll return next summer
Aug 31, 2020
Great campsite with great employees
Aug 31, 2020
no masks in the office, party tractor at 9:30 was pretty annoying. kids were sleeping in the tent.
Aug 31, 2020
Excellent sites, staff, and facilities. Wish we had known about this campground 10 years ago, or at least 3 when our daughter started at GVSU. Will definitely come back in the near future.
Aug 30, 2020

The owner was great. We had a fantastic stay
Aug 29, 2020
Great campground, we had fun. Would definitely go back. Clean, kids were happy, Mohawk and staff were friendly
Aug 29, 2020

It is kept up well, nice and clean place to stay while exploring the area.
Aug 29, 2020
Bathrooms/showers were clean. Our site was level gravel and shady. Nice fire pit at the back if it is cooler! Host was extremely friendly and helpful. A lot of activities for kids right there— playgrounds, hay rides, paintball, water balloons, a jump pad thing, sand volleyball, clean pool and more.
Aug 27, 2020
Great fun, great staff nice ammaties
Aug 26, 2020
We had a great time staying at this campground. Lots of activities, clean facilities, and a great on site store. My only disappointment was that they were booked up for our next planned visit to the area.
Aug 25, 2020
Love the variety of activities. Absolutely love the Water Wars, no other KOA we have been at have had this. Did miss the heated water in the pool this year. Friendly staff, clean campground, well stocked camp store. You need some shade for the jump pad part of the day. Easy to get to from Michigan 196. Thanks for a great campout!
Aug 25, 2020

Very upsetting that owner and workers didn't wear masks and didn't require campers to wear theirs And for a many times as I used the restroom or shower never once seen any one clean them Overall quiet and we did enjoy our stay
Aug 25, 2020
The Mohawk was super! The grounds were beautiful. The only suggestion we would offer is that the concrete going into the restrooms needs a bit of work. It was a bit scary with my wheelchair. 5 stars when that is done!
Aug 25, 2020
Clean facility great host!
Aug 25, 2020
What a fun KOA. Robert "The Mohawk" is full of energy and information. The week-end activities were so good for the children, who appeared to enjoy all of them. My husband and I especially enjoyed the beautiful wooded section that we were in.
Aug 24, 2020

Our cabin was great. The bathrooms at this KOA could definitely use an update. The showers were very rustic and a few sinks were not in working order. We also were surprised to see that masks were not required for staff or visitors in the general store. However, they do have contactless check in which is a great accommodation for those who are looking to be cautious during these times.
Aug 24, 2020
Wonderful people, activities, and huge campsites.
Aug 24, 2020
We had a great time at this KOA. Mohawk and the staff were very friendly
Aug 24, 2020
Robert and his entire staff do a great job of making everyone feel welcome. Plenty of things to do for the kids and close to both Grand Haven and Grand Rapids for other adventures.
Aug 24, 2020
Great place and better staff will for sure stay again
Aug 24, 2020
This is one of my favorite campgrounds. Lots of things for the kids, shabby sites, owners are very helpful and energetic.
Aug 24, 2020
The staff was great and the grounds were well maintained.
Aug 24, 2020
We really enjoyed our stay with all the kids activities. Our site was good but could of used some more shade but not a big deal. Bathrooms were the cleanest campground bathrooms I've seen. The entire staff was friendly
Aug 24, 2020
It was clean and quite, The camp operator / director "The Mowhawk" (Robert) was a very nice guy!
Dec 09, 2020
Love it
- Anne Nuttall on Google
Nov 07, 2020
Great place to camp.
- Sean Barr on Google
Oct 11, 2020
Staff very friendly, always like camping there
- Debbie Andree on Google