Directions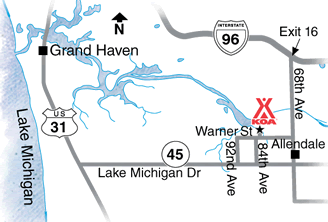 From Grand Rapids: Take 96 West toward Muskegon. Take Exit 16 toward CR B35/ Coopersville. Turn left onto 68th Ave. Turn right on Warner St to KOA. About 6 miles.
Get Google Directions
Oct 12, 2020
Owner had sign on office door saying he was not wearing a mask. He was a nice guy, young and I doubt a pre-existing mask exempt illness, but I am at risk and had to wait in line inside and then work with him to check me in while he was not wearing a mask. I believe that violates the Michigan current law. We didn't use the facilities so can't comment on them. Site was clean.
Oct 11, 2020
Rob was a great host, friendly and charming, and he runs a well maintained facility. The one metric I think you can always measure every establishment by is: "hows the bathroom?" Doesn't matter if it's restaurant, rest stop, convenience store, or or campground. The restrooms are a shared space, if either patrons or staff don't care, it's easily a mess. Rob has nice bathrooms, it
Oct 08, 2020
Campground was very clean and beautiful. Everyone was very accommodating, especially when we booked a site without sewer - they had no problem changing it for us. My only complaint - the very friendly young lady in the store when we checked in was not wearing a mask and was very talkative. We tried to get out of there as soon as possible. We had our masks on, but still a bit uncomfortable.
Oct 08, 2020
Beautiful campground
Oct 07, 2020
The site was very well maintained and had a great view of the woods. Staff was friendly and helpful. Nice location.
Oct 06, 2020
The sites were mostly quiet area and very large - which is great, however, the sewer hookup is ridiculously far from the parking area and directly next to the next plot's fire pit. Horrible WiFi connection, even worse cable connection. If the services don't work, don't advertise that they are included. We won't be back to this place.
Oct 06, 2020
This realy is one of the Best KOA's in Michigan! Very clean, friendly, and always a good time.
Oct 06, 2020
Anyone who has anything negative to say about this place is crazy!! Great place, great management. Great experience!!
Oct 06, 2020
Was hoping we could of been closer to our friends. I put that in our reservations when I booked. Once there we were able to change and was able to move a little closer.
Oct 06, 2020
We had a great time even though the weather sucked! Owners and staff were very helpful and attentive to all our needs and questions. We had two full hookups side by side for two families and it worked out great.
Oct 06, 2020
Owner is very helpful, responsive and bends over backwards to make your stay as nice as possible.
Oct 06, 2020
All the staff is so friendly! Remember our family. Takes the time to get to know you! Will be going back.
Oct 05, 2020
Can't say enough good things about Allendale KOA. We originally had one of the "new" patio sites, but found it was too small for us. Robert ( the Mohawk) in the office was very helpful and put us in a nicely shaded site for our week. He's always available to help and a pleasure to just chat with. Will definitely be going back as long as the Mohawk is running the show there
Oct 04, 2020
The deluxe cabins we stayed in we're clean, comfortable and well stocked for our stay.
Oct 04, 2020
Camp staff was extremely helpful and personable. Lot was very large. Lot was not grassy. Delivery of fire wood was fast. Bathrooms were clean. Shower shelving is rusty and should be updated. I would add more hooks in changing section of shower. Water was wonderfully hot in shower @ 8 am. Walk from lot to bath house wasn't far at all.
Sep 30, 2020
Level spot good power & cable. yet a lot of traffic wandering through park early morning & late at night . Not especially friendly or neat.
Sep 29, 2020
They did everything they could to make our stay enjoyable!! We'll definitely be back!
Sep 29, 2020
Good sites, good helpful staff
Sep 29, 2020
Great place to take the kids. Non stop fun
Sep 29, 2020
clean and the staff was friendly
Sep 29, 2020
Great campground and even better management.
Sep 28, 2020
Plainly just mediocre. Facility NOT picked up and put away. Did not sparkle in any way.
Sep 28, 2020
Very nice, long camp sites, shaded, many things to do,
Sep 28, 2020
Great facility and friendly staff
Sep 27, 2020
Nice, clean welcoming.
Sep 26, 2020
The entrance to the campground is not well maintained. This was the most expensive KOA we've stayed in. The manager came by to greet us and is very personable. The overall appearance was a step down from our other KOA experiences.
Sep 25, 2020

Bathrooms were clean and well maintained. Cabin was very nice.
Sep 24, 2020
Owner does a great job making this a fun place to stay for all ages. Nicely kept up and quiet.
Sep 23, 2020
Property was amazing AND we got to meet Mohawk before heading back to Columbus, Ohio and he made a great week in MI even better.
Sep 23, 2020
Beautiful campground. Huge sites, kids loved feeding the goats and Mohawk and team give the best customer service around! We'll be back!
Sep 22, 2020
It was a pleasant experience, the staff were friendly and the campground was just right for our needs. It's close to everything!
Sep 22, 2020
Beautiful grounds, plenty of wildlife to enjoy, making it feel like you could be "off the grid". Yet only 15 minutes from the grocery store. Amazing staff. Highly recommend
Sep 21, 2020
Campers talked til 5:30 am, drunk talk. Then at 7 am, gun shots around the outside of the campground for 30 m. It felt like there was a war. I left in the morning and stayed w my daughter next night and came back to take my tent down and check out the next day. I asked the front desk and she explained that they can't stop the talking and that there are hunting lands all around campground.
Sep 21, 2020
We loved our stay. The environment was fun and great. We will be back.
Sep 21, 2020
Everything was good except we got woken up every morning at 6am to gunshots.
Sep 21, 2020
Always a great time and experience. Thanks again for the amazing time Robert!
Sep 21, 2020
Awesome place very clean and well maintained. The staff was very nice and friendly. Rob delivered fire wood and spoke with me for a bit, very informative. Will definitely be back
Dec 09, 2020
Love it
- Anne Nuttall on Google
Nov 07, 2020
Great place to camp.
- Sean Barr on Google
Oct 11, 2020
Staff very friendly, always like camping there
- Debbie Andree on Google