Directions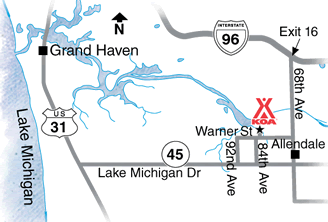 From Grand Rapids: Take 96 West toward Muskegon. Take Exit 16 toward CR B35/ Coopersville. Turn left onto 68th Ave. Turn right on Warner St to KOA. About 6 miles.
Get Google Directions
Dec 30, 2020
Even with the pandemic going it was very enjoyable.clean and everyone was very helpful.will definitely be staying there again. Thank you
Nov 15, 2020
Check in via the KOA App is always easy for most any location. I appreciate the ability to KOA Camp off season at this Allendale / Grand Rapids KOA.
Nov 04, 2020
We had a wonderful time- very relaxing fall time getaway in a super clean and cute cabin. �
Nov 03, 2020
Spots are a little too close but its is peaceful here . And a nice location between grand Rapids mich.and Holland mich.with plenty of places to visit or just have fun over lake mich and a beautiful piece of the grand river in the back of the koa campground here . Thank you Mohawk for everything and our stay was great
Nov 01, 2020
We had a great time. Robert is awesome! So friendly and a really good sense of humor. We are already planning on going back in August when it's a little warmer. Our Florida blood didn't like the cold temperatures. In January we will book our reservation for next year.
Nov 01, 2020
Average Park to say the least. Don't know how people can give it 5 stars.
Oct 31, 2020
Staff very nice
Oct 27, 2020

we loved the small cabin. the beds were comfortable. the bathrooms were outstanding.
Oct 27, 2020
Nice place to stay great hostility.
Oct 26, 2020

Oct 26, 2020
What site number will I get? "Don't worry about it." But, I really want to know! "They're all nice, and we can't move people around, so I'll let you know when you get here." The explanation of this interaction is that customer service is to much hassle, and questions/concerns as a customer are not important. Campground is cool. Great things for the kids to do. Passive aggressive staff is a bummer.
Oct 23, 2020
Very friendly and helpful.
Oct 20, 2020
Unkept, unclean, and the store was pretty lame. I was surprised it meant KOA standards. However the people were friendly.
Oct 20, 2020
Beautiful campground and wonderful staff! Would appreciate a recycle bin though.
Oct 20, 2020
This was our second visit. We brought friends with us and was not disappointed. We will be back
Oct 20, 2020
Love the long deep campsite leading into the woods. This was our 2nd stay... will stay again. Need to camp here in the summer as well so we can enjoy the wonderful amenities.
Oct 20, 2020
First camping trip in our camper and this was a perfect spot! Great outdoor space and things for the kids to do.
Oct 20, 2020
just a quick late season getaway for us - enjoyed the camp very much! loved playing horseshoes!
Oct 20, 2020
Love the large sites with a canopy of trees. Firewood was exceptionally dry unlike the typical green wood you get at a campground period would definitely camp here again. Rock the mohawk.
Oct 18, 2020

The campground is fantastic and the customer service is great. My only complaint is that the property is located near hunting land or a sportsman club as there was excessive shooting early on Saturday morning.
Oct 18, 2020
Was very quiet kid friendly staff was super nice
Oct 18, 2020
Clean safe KOA, like many it could use a little maintenance but everything works. We arrived after dark due to some travel delays and our registration was waiting on the board outside the office. Spots are a little narrow and wooded which is nice if you're not trying to back in a 44' 5th wheel in the dark. Recommend arriving before dark �Ϝ
Oct 17, 2020
Loved it except ni one was available to get fire wood. Even when the office said they would b open at 7p. So disappointed with that!!!!
Oct 16, 2020
This was our 4th visit to this KOA. We love the area, we love the layout, we love the staff. I have children and feel very safe here, they are able to get out and play and ride bikes. They love it as well. We will definitely make this a stop annually.
Oct 16, 2020
This was our third stay this year, we have never stayed at the same place three times in the same season. Very enjoyable and family campground.
Oct 14, 2020
We really enjoyed our stay at the Allendale KOA. The staff was very friendly, clean facilities and just the right amount of things to do for our grandchildren. A great fall camping experience!
Oct 14, 2020
We absolutely love this campground. It has great activities for the kids. It was so fun to see the kiddos dressed in costumes, the sites decked out in halloweeen decorations. Plus they supplied pumpkins to carve!!! The owner is super awesome and the camp sites are big. Enough room to set up a couple games for the kids away from the fire. A slice of the "Up North feel" but closer to home.
Oct 13, 2020
Clean facilities, friendly staff, and allows the wood like feeling. One of my favorites to go too.
Oct 12, 2020
Robert is amazing. He truly goes out of his way to make sure you have everything you need
Oct 12, 2020
A very clean, well managed campground. Fun activities for the kids and adults as well.
Oct 12, 2020
We really enjoyed our site with the patio. What a nice addition!
Oct 12, 2020

Dec 09, 2020
Love it
- Anne Nuttall on Google
Nov 07, 2020
Great place to camp.
- Sean Barr on Google
Oct 11, 2020
Staff very friendly, always like camping there
- Debbie Andree on Google