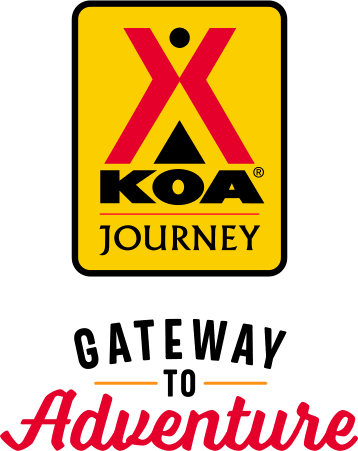 KOA Journey Campgrounds
KOA Journey campgrounds are the perfect oases after a day on the road. Whether it's along the way or a quick getaway, they've got you covered. Located near the highways and byways of North America with long Pull-thru RV Sites, they deliver convenience to the traveling camper. Pull in, ease back and take a load off.
KOA Journeys Feature:
Pull-through RV Sites with 50-amp service
Premium Tent Sites
Well lit after hours check-in service
Directions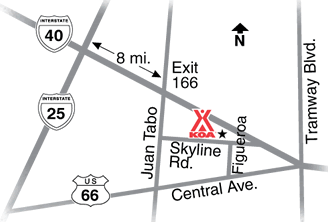 From the West:  Exit on 166 - Juan Tabo.  Use the 2nd to the right lane to make a right on Juan Tabo.  Take the 2nd left, at the Well's Fargo Bank, on to Skyline Road NE.  Follow Skyline to Albuquerque KOA Journey.
From the East: Exit on 166 - Use the far left hand lane to turn left to turn left on Juan Tabo.  Take the 2nd left, at the Well's Fargo Bank, on to Skyline Road NE.  Follow Skyline to Albuquerque KOA Journey.
If you exit on 167 - in 1.28 miles Turn right onto Figueroa St.  We are located at the dead end.
Get Google Directions
Sep 17, 2021
The manager and her staff was outstanding. Everyone was extremely helpful and nice. I would stay there again. The R.V. park was clean and nice. Only one reconamation put lights in the dog park area for night time to dark over there.
Sep 17, 2021
Great Deluxe RV site and the place was very clean and well maintained. The staff were very kind and let me check in early. I plan on staying here again in the future. If there was one Con for me it's the security gate that locks you in the property after 7pm. While I understand the importance of the gate, it makes it hard to go anywhere or have visitors after 7pm. The only vehicle I had was my R
Sep 16, 2021
Staff was very friendly and helpful. We would definitely stay there again
Sep 16, 2021
Disappointed experience at this property... In all honesty... will not stay here again... poor customer service... campers were friendlier than most of the staff... did contact corporate on this experience
Sep 16, 2021
The bathrooms were not as clean as the other 4 KOAs we have stayed this trip. There is not a handicap accessible bathroom for those who need to assist another adult with restroom needs.
Sep 15, 2021
Staff was helpful in getting you checked in, but had to find our site on our own. Sites were not that big, was very busy and noisy. Price was twice as much as other KOAs in New Mexico (Grants and Tucumcari). Bathrooms and showers were clean.
Sep 15, 2021
Very nice staff and helpful. Clean park. Bathrooms were a bit smelly but appeared clean. Park was convenient to highway and easy to access. Will definitely be back.
Sep 15, 2021
Very nice park. Clean. Would definitely recommend.
Sep 15, 2021
This campground was our favorite to date. We stayed at quite a few KOA's during our recent trip and this was the nicest, very well maintained, the staff was very friendly and best of all it was nice and quiet. Thanks again, we'll see you next time we pass thru Kingman.
Sep 15, 2021
Super clean, super friendly,super convenient!
Sep 14, 2021
Great KOA! We only stopped for the night and it was very clean and staff was nice. They have the Sandia Tram I really wanted to go on but we got there late so check it out.
Sep 14, 2021
Great place to spend an evening while traveling.
Sep 14, 2021
Great place impressed with how wonderful the campground is!
Sep 14, 2021
The folks there were very helpful and made our stay super easy. The only problems with the location is something they can't do anything about - the interstate on the other side of the wall and city lights.
Sep 14, 2021
Great park lots of shade Secure doggy runs Right off Route 66 Loved it !!!
Sep 14, 2021
Very well maintained park, friendly and organized staff!
Sep 14, 2021
A Very nice campground, clean. Staff was Very pleasant !
Sep 14, 2021
Clean and well run.
Sep 14, 2021
Fabulous park. Spacious clean friendly. On my top ten list in America.
Sep 13, 2021
Everything was great until our last day. I called the day before checkout and paid $25 for late checkout. I was told that I had until 2 or 3 to leave ( I extended to watch a football game). First, a knock on the door, then a phone call and then 20 minutes before 2, a new arrival was pushing me out of my site!! Not a cool experience. I feel like I should get a refund as I missed the end of my game!
Sep 13, 2021
Great site very level clean bathrooms friendly staff!
Sep 13, 2021
The pet patio worked well for our 2 dogs. Thank you!
Sep 13, 2021
Checkin was great up until we saw the spot they put us in. Was not big enough for our RV 5th wheel. Besides having to park our truck some place away from the RV we could not get out because every other RV was blocking the road. Because they were in spots to small. Then we went to the front desk the older lady up front was just mean and rude and didn't care to hear we were having issues.
Sep 13, 2021
Very nice place to stay. Nice to get away from the hustle and bustle. Big property with great people!
Sep 13, 2021
Nice spot, clean, shady trees,. What kept me from giving this KOA a 5 star is that 1-it is in a very high crime area, but Albuquerque has a reputation for being unsafe and overrun by homeless folks. The KOA is gated, we felt safe in the park, but didn't feel too safe driving after dark. 2- the pool is freezing cold. Kids don't mind it, but us older folks get a bit stiff in that cold water.
Sep 13, 2021
I was easy to get to. I was very unhappy the the women's showers were down to only 1 shower. Two were out of order. This is not good with such a large KOA.
Sep 12, 2021
Tight spaces and older facilities. Bathrooms are not sufficient for the size of this KOA. Price of 1 night stay was over $80.
Sep 12, 2021
Extremely tight spaces. Our picnic table was on top of our neighbor's dump spot. The pet walks were very inconvenient. And the man driving around on his tractor was very rude.
Sep 12, 2021
It's a gated KOA, which made me feel good and bad.. but Richard, the night host was amazing.. He is right on top of things and doesn't let any bs happen. It's a nice place.
Sep 12, 2021
Really like the late check in. Arrive around 11:30pm with the greatest welcome from Jackie Brown. Can't wait to stay again.
Sep 12, 2021
Great place, clean and friendly, an absolute haven after a long drive!
Sep 12, 2021
Best KOA so far
Sep 11, 2021
Very clean very well run campground. Would definitely stay again if in the area.
Sep 10, 2021
Nice family style restrooms/showers. Easy in & out, pull-thru for one night. 39 ft motorhome + dinghy. No need to unhook I could not get wifi to work on any of my devices. Don't think it was me or my devices. RV parks are way behind the time on providing reliable wifi service. If they're going to advertise "free" wifi; then they need a robust system
Sep 10, 2021
Nice amenities, convenient to everything. Very welcoming, ample space, full hookups.
Sep 10, 2021
Beautiful park. Will definitely stay next time we're in Albuquerque.
Sep 10, 2021
One of the best KOA ever, we always stop there!!
Sep 10, 2021
This is an expensive park, but it's also one of the nicest I've stayed in. The staff is friendly and professional. The sites and the facilities are immaculate.
Sep 10, 2021
Great place to stay, beautiful campground only thing missing is a restaurant, everything else was there. Dog lovers sites are a great idea wish you had more.
Sep 10, 2021
Booked for two days. Change of plans for the 2nd day. ABQ KOA refunded our stay
Sep 09, 2021
Beautiful park and our lot was roomy and had beautiful shade trees. Really enjoyed our stay.
Sep 09, 2021
The staff is simply great ! Very friendly also very helpful with making us more comfortable! The grounds are very clean ! My doggie loves his walks!Also felt very safe ! Thanks KOA for a great stay! ����������
Sep 09, 2021
Amazing place, even better staff! Left my surge protector and they are helping me with shipping it too me in Missouri there staff is amazing!
Oct 09, 2021
Is now my Albuquerque camper parking location! Next time and everytime im in Albuquerque I'll be using this koa.
- quick cricket on Google
Oct 06, 2021
We stayed in the deluxe cabin for the first weekend of the Balloon Festival. What a great cabin and experience. They had every amenity we could want. Clean, organized, great grill, perfect location. Thank you, KOA and the great staff for welcoming us and treating us so kindly. Oh.. almost forgot... great hot tub.... and the guy on duty checked to make sure that we were all adults. That was a good check.
- MaryJo on Google
Sep 23, 2021
Dog park, swimming pool, hot tub, laundry 24 hrs, showers/bathrooms, tents, cabins, will bring ice to you if you call, 24 gate, miniature golf, picks up garbage all day. Doesn't get any better as far as KOA's go!! Thank you!!
- Terri Huffman on Google