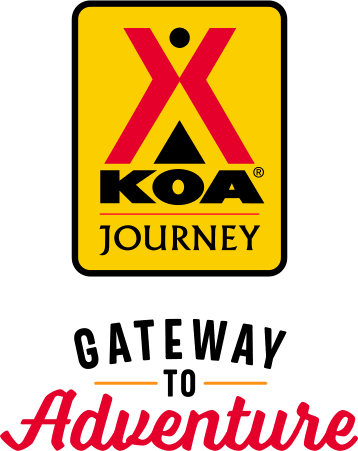 KOA Journey Campgrounds
KOA Journey campgrounds are the perfect oases after a day on the road. Whether it's along the way or a quick getaway, they've got you covered. Located near the highways and byways of North America with long Pull-thru RV Sites, they deliver convenience to the traveling camper. Pull in, ease back and take a load off.
KOA Journeys Feature:
Pull-through RV Sites with 50-amp service
Premium Tent Sites
Well lit after hours check-in service
Directions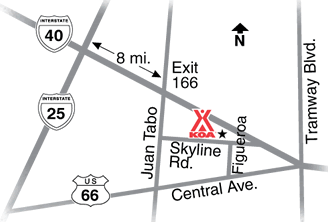 From the West:  Exit on 166 - Juan Tabo.  Use the 2nd to the right lane to make a right on Juan Tabo.  Take the 2nd left, at the Well's Fargo Bank, on to Skyline Road NE.  Follow Skyline to Albuquerque KOA Journey.
From the East: Exit on 166 - Use the far left hand lane to turn left to turn left on Juan Tabo.  Take the 2nd left, at the Well's Fargo Bank, on to Skyline Road NE.  Follow Skyline to Albuquerque KOA Journey.
If you exit on 167 - in 1.28 miles Turn right onto Figueroa St.  We are located at the dead end.
Get Google Directions
Sep 24, 2021
Friendly staff and clean facilities. �
Sep 23, 2021
This is an awesome KOA. The staff are very friendly and helpful. We had to extend our stay to to mechanical issues and they worked hard to accommodate our extended time. The dog parks are great. The bathrooms are great with private shower sink and toilet. Everything is very clean. Garbage is picked up daily.
Sep 22, 2021
We had a nice spot at Albuquerque KOA we really enjoyed the dog run, but when we tried to cancel our second stop due to unforeseen problems with our 5th wheel we were unable to get someone to answer the phone or to answer our emails. We have tried numerous times on both.
Sep 22, 2021
Nice campground but sites are right on top of each other. Wifi needs a serious upgrade as it usually dropped out or was impossible to stay connected. Night security was top notch. Ideally located right in the city right off the highway.
Sep 22, 2021
Great Location. The perfect home base while visiting Albuquerque. Very pleasant and happy staff. Easy access ON and OFF the I-40 and I-25. Everything is all close by. I Highly Recommend. Thank You!
Sep 22, 2021
Checkin was confusing bc there were two sites with same number. Staff should have driven us there since we were the only customers. Road noise and sirens were very disruptive for sleep. Location was not marked at turn from Juan Tabo Blvd.
Sep 22, 2021
Verry clean. This place should be the benchmark for all KOA's Would definitely stay again.
Sep 22, 2021
Handicap restroom and shower was out of order. When it was available, was not able to get access from the door closest to my assigned site, had to walk around the building. Otherwise nice place, and nice staff.
Sep 22, 2021
Great place. Clean bathroom, Laundry room was sufficient. I would definitely stay here again.
Sep 22, 2021
I only wish the pool had been heated.
Sep 22, 2021
This KOA was clean and safe, and it had a nice cold pool and games to enjoy. However, it is right next to the freeway and very loud. Bring earplugs to get some sleep.
Sep 21, 2021
Very nice campground and easy to find.
Sep 21, 2021
One of the CLEANEST KOA's we've ever stayed at! Simply great to see this.
Sep 21, 2021
Great Thanks
Sep 21, 2021
Management helpful, Place kept very clean. Location is right next to freeway and noise very loud and constant.
Sep 21, 2021
Great KOA. Pool and hot tub were clean and spacious and exactly what we needed to relax at the end of the day. KOA campgrounds were clean and well maintained. It was nice to have a pet park to allow our dog to run and do his business.
Sep 21, 2021
Excellent. Exceeded our expectations!
Sep 21, 2021
We are travelers not campers but this was the best KOA we have stayed at. Great bath snd laundry facilities. Nice sites and extended facilities. Overall clean and friendly
Sep 20, 2021
Great location to use to explore the many things Albuquerque has to offer. Very clean, nice RV sites, pool, and easy check in.
Sep 20, 2021
Unable to contact office Not able to turn on WiFi Code given would not work Unable to use bathroom Found out handicap bathroom had different Code than regular bathroom Unable to use it
Sep 20, 2021
hello , very nice front desk service and friendly nice park little tight on the roads but secure .
Sep 20, 2021
We felt welcome and very safe at this KOA. Easy access to the highway. The staff was welcoming and friendly! Felt like family.
Sep 20, 2021
Very nice and quiet Our spot was perfect! #44
Sep 20, 2021
We had made a short notice reservation, them had to move it back one day. Both people I spoke with were so incredibly helpful and friendly. I gladly signed up to be a KOA member. We look forward to our next visit.
Sep 19, 2021
Wonderful! Everything is very Clean and very friendly and helpful staff! Really enjoyed our stays. Will stay again if we are out that way and will recommend to others!
Sep 19, 2021
One of the nicest KOA's we have ever stayed. The staff was exceptional and the property is immaculate.
Sep 19, 2021
Friendly helpful staff. Laundry room not clean, but location was convenient
Sep 19, 2021
the space just barely fit my rig I had to get out a couple times to make sure I wasn't in the road, which by the way are kind of narrow
Sep 19, 2021
Nice campground for a KOA. Although I understand the need for a gate to the premises, it's unfortunate that there is one. It was a struggle to gain entrance one evening and I felt like a caged animal on the night we wanted to take a walk outside of the campground and the gate was already closed. The people here are very friendly and helpful.
Sep 19, 2021
Finn was wonderful. Very courteous, helpful and professional.
Sep 19, 2021
Very clean and well laid out. Nice park.
Sep 19, 2021
Very secure.
Sep 18, 2021
Perfect stay! Kids had a lot to do and the room was clean and cozy.
Sep 18, 2021
Excellent KOA, sites were wide, and landscaped nicely. Everything was clean and inviting. Prices are high but guess that is a sign of the times.
Sep 18, 2021
Easy check in. Clean bathrooms.
Sep 18, 2021
The pull thru site isn't set up so that we could leave our tow vehicle hooked up and still reach the hook-ups. Also, staff did not show us to our site, just handed a map.
Sep 18, 2021
Campground is very clean and neat. Tried several times during the day while traveling to contact them to reserve a spot but never was able to get an answer. We did pull in and get a spot for the night. I thought it was a little pricey but we were there so we stayed. Our spot was nice and large enough however the cable did not work.
Sep 17, 2021
Excellent choice campsite. Staff was excellent and courteous. Very knowledgeable and helpful. We would definitely stay here again. In fact this is our third times here.
Sep 17, 2021
Best laundry facility we have ever used. Very friendly staff.
Sep 17, 2021
One night stay but staff very pleasant and helpful and park was clean
Oct 09, 2021
Is now my Albuquerque camper parking location! Next time and everytime im in Albuquerque I'll be using this koa.
- quick cricket on Google
Oct 06, 2021
We stayed in the deluxe cabin for the first weekend of the Balloon Festival. What a great cabin and experience. They had every amenity we could want. Clean, organized, great grill, perfect location. Thank you, KOA and the great staff for welcoming us and treating us so kindly. Oh.. almost forgot... great hot tub.... and the guy on duty checked to make sure that we were all adults. That was a good check.
- MaryJo on Google
Sep 23, 2021
Dog park, swimming pool, hot tub, laundry 24 hrs, showers/bathrooms, tents, cabins, will bring ice to you if you call, 24 gate, miniature golf, picks up garbage all day. Doesn't get any better as far as KOA's go!! Thank you!!
- Terri Huffman on Google