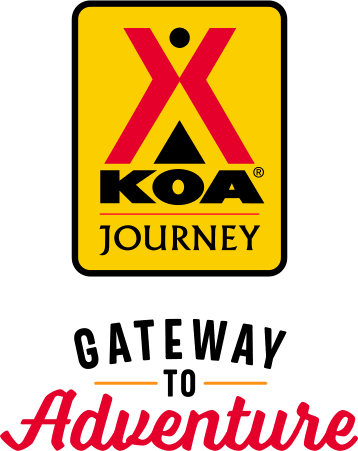 KOA Journey Campgrounds
KOA Journey campgrounds are the perfect oases after a day on the road. Whether it's along the way or a quick getaway, they've got you covered. Located near the highways and byways of North America with long Pull-thru RV Sites, they deliver convenience to the traveling camper. Pull in, ease back and take a load off.
KOA Journeys Feature:
Pull-through RV Sites with 50-amp service
Premium Tent Sites
Well lit after hours check-in service
Directions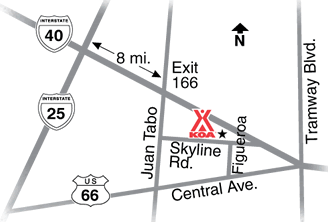 From the West:  Exit on 166 - Juan Tabo.  Use the 2nd to the right lane to make a right on Juan Tabo.  Take the 2nd left, at the Well's Fargo Bank, on to Skyline Road NE.  Follow Skyline to Albuquerque KOA Journey.
From the East: Exit on 166 - Use the far left hand lane to turn left to turn left on Juan Tabo.  Take the 2nd left, at the Well's Fargo Bank, on to Skyline Road NE.  Follow Skyline to Albuquerque KOA Journey.
If you exit on 167 - in 1.28 miles Turn right onto Figueroa St.  We are located at the dead end.
Get Google Directions
Sep 29, 2021
Beautiful KOA. Very nice staff. Problems. The sites are so close together I. Most sites. Your picnic table, visiting areas are literally a few feet fro Your neighbors sewer. You'll have to be lucky if your neighbor would empty while your gone. The premiere spots ( we rented this) is right next to I40. No way to enjoy your outside beautiful area. It is like your on the front seat of a race trac
Sep 29, 2021
Liked it very much. Would give it full marks if the internet access/speed was upgraded-a working trip for us and needed better inernet
Sep 29, 2021
Very nice campground with security fence closed at night which made me feel safer. Nice pool and relaxing hot tub.
Sep 29, 2021
Staff is exceptional and check-in and out were super easy! It's a very clean park. Spaces are a bit tight but manageable (41 ft 5th wheel) but the main reason we rated this park a 4 instead of 5 is because after a little research, we find it to be overpriced for the area. We haul our RV through ABQ a couple times each year and have stayed here a couple times. Best of luck to this park!
Sep 29, 2021
! tniamlleW! naelcgnilkrapSC
Sep 29, 2021
Peaceful and comfortable
Sep 29, 2021
Easy access from I-40. Plenty of restaurant options nearly. Nice campground facilities. Friendly staff.
Sep 29, 2021
There is so much to say!! Wow! I've been on the Route66 tour from NC heading to California and this is by far the vest best KOA I have ever been too! Staff is amazing! Campers are so friendly and the camp is immaculate! Thank you!
Sep 28, 2021
Very nice place and quite!
Sep 28, 2021
We were traveling in a 38 ft diesel motorhome and towing a car. The sewer hookups were all the way at the back of the site. We could not hook up our sewer. We were only staying one night and did not want to unhook the car. Would have been nice if all the hookups were in the middle of the site. It was a nice campground although the sites were pretty close together.
Sep 28, 2021
Clean cabin and campground. Close to alot of attractions. Would definitely stay there again. �
Sep 28, 2021
We were VERY happy with our stay at the Albuquerque KOA. All of the staff were very helpful and the park was exceptionally well maintained. This was a great campsite!!
Sep 28, 2021
Wi-Fi was what I've come to expect. Fine otherwise for all we needed was the night.
Sep 27, 2021
Awesome park but some sites are way off level.
Sep 27, 2021
This place is just fine. It's nothing too fancy, but it doesn't need to be or try to be. Friendly, helpful, staff. Good facilities. Close to the interstate and just great for those of us who don't plan to hang out... we've got places to go, people and things to see. It's refreshing that it's exactly what it is... a "Journey." Not trying to be the destination. Just makes a whole bunch of sense.
Sep 27, 2021
The dog parks were nasty! Lots of people didn't pick up their dog poop! The staff should check that daily and do a better job of keeping it clean. Maybe a fine for those if caught leaving the poop would help. Other than that the park was nice. Staff was friendly and spaces were nice.
Sep 27, 2021
This is one of the best campsites I have ever been to, from the receptionist, the cleanliness to the grounds, awesome site, I will definitely stop at Albuquerque again!!!
Sep 27, 2021
Fin helped us out so much with our stay at the KOA! He was so helpful and informative. Thank you for your customer service!
Sep 26, 2021
Very nice place to stay.
Sep 26, 2021
Wonderful great people always friendly had a great time would come back
Sep 26, 2021
Staff was very friendly but the sites were not very big and all the turns are really tight.
Sep 26, 2021
Kind of noisy as it is next to I-40..
Sep 25, 2021
Wish we could have stayed longer to enjoy the campground more.
Sep 25, 2021
AN EXCELLENT STAY!
Sep 25, 2021
Very nice facility in great location.
Sep 25, 2021
We just overnighted. But campground was so very nice, clean and grounds were awesome.
Sep 25, 2021
Beds in deluxe cabin were terrible. And insufficient parking for a 6 person cabin. There were larger parking spaces at the smallest cabins.
Sep 25, 2021
Thanks for such a nice RV park
Sep 25, 2021
Excellent hookups, had to get RV repair,recommend ACE RV repair
Sep 24, 2021
We always enjoy our stay in Albuquerque. Extra friendly is a tradition.
Sep 24, 2021
Nice stay, clean park, nice showers. Wish store stocked better.
Sep 24, 2021
Needed to be in Albuquerque for business. KOA is our go to place whenever we're in the area. Clean, secure RV park.
Sep 24, 2021
Nice clean campground. Would stay again
Sep 24, 2021
Great Amelia do gate for safety. Bathrooms very clean. Just rather noisy as it's next to the highway but that also means easy access. We had a cabin that even had tv and fridge. Would give top marks if it wasn't next to highway, so noisy
Sep 24, 2021
Nice place. Only stayed one night. Loved the goodies in their store!
Oct 09, 2021
Is now my Albuquerque camper parking location! Next time and everytime im in Albuquerque I'll be using this koa.
- quick cricket on Google
Oct 06, 2021
We stayed in the deluxe cabin for the first weekend of the Balloon Festival. What a great cabin and experience. They had every amenity we could want. Clean, organized, great grill, perfect location. Thank you, KOA and the great staff for welcoming us and treating us so kindly. Oh.. almost forgot... great hot tub.... and the guy on duty checked to make sure that we were all adults. That was a good check.
- MaryJo on Google
Sep 23, 2021
Dog park, swimming pool, hot tub, laundry 24 hrs, showers/bathrooms, tents, cabins, will bring ice to you if you call, 24 gate, miniature golf, picks up garbage all day. Doesn't get any better as far as KOA's go!! Thank you!!
- Terri Huffman on Google