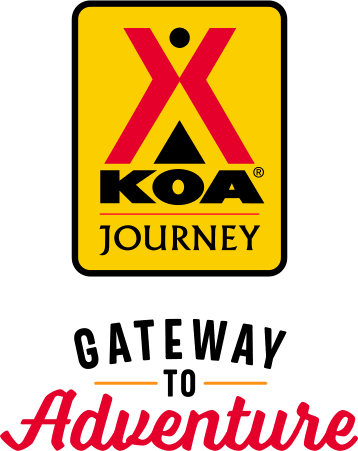 KOA Journey Campgrounds
KOA Journey campgrounds are the perfect oases after a day on the road. Whether it's along the way or a quick getaway, they've got you covered. Located near the highways and byways of North America with long Pull-thru RV Sites, they deliver convenience to the traveling camper. Pull in, ease back and take a load off.
KOA Journeys Feature:
Pull-through RV Sites with 50-amp service
Premium Tent Sites
Well lit after hours check-in service
Directions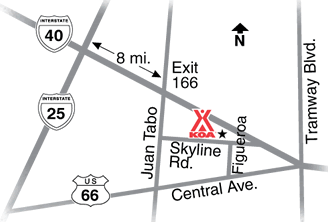 From the West:  Exit on 166 - Juan Tabo.  Use the 2nd to the right lane to make a right on Juan Tabo.  Take the 2nd left, at the Well's Fargo Bank, on to Skyline Road NE.  Follow Skyline to Albuquerque KOA Journey.
From the East: Exit on 166 - Use the far left hand lane to turn left to turn left on Juan Tabo.  Take the 2nd left, at the Well's Fargo Bank, on to Skyline Road NE.  Follow Skyline to Albuquerque KOA Journey.
If you exit on 167 - in 1.28 miles Turn right onto Figueroa St.  We are located at the dead end.
Get Google Directions
Oct 08, 2021
Pleasantly surprised at how great this KOA was—very nicely maintained, friendly staff & great location. We will consider staying here again when we come back in town. Overall wonderful experience from start to finish
Oct 07, 2021
Nice patio site! Clean bathrooms. Great location for exploring and attending Balloon Fiesta.
Oct 07, 2021
The only real negative about Albuquerque KOA is the pretty significant I-40 noise.....
Oct 07, 2021
Very professional staff, grounds were well maintained and was in a convenient location to visit local attractions.
Oct 07, 2021
Very nice and comfortable. Not noisy. And very secure!
Oct 07, 2021
Very rough area with a lot of crime. This KOA is located in the heart of the city. The gate was broken making us feel less secure overnight, but they did have staff posted by the front all night. Bathrooms were at least locked and very clean. Small campground with very little space for big rigs to maneuver.
Oct 07, 2021
Would NOT stay here purely based on neighborhood-not walkable (drug users/prostitutes out walking). 1 mile away is fine, but this is a seedy part of town!
Oct 07, 2021
A great facility. We always enjoying our stay here.
Oct 07, 2021
It was a quick overnight. Everyone was nice and the space was good.
Oct 06, 2021
Though the campground was adequate, the staff was far from friendly or helpful. Checking in on Friday night was horrible. We were greeted, told we would be taken care of, then never saw the greeter again. Checking in asked about our sites next to each other per request. Told they saw the request, didn't have time to do it. Making reservations in Feb seems like it could have been done.
Oct 06, 2021
The people were great but I prefer a campground with gravel rather than dirt. Every stay includes at least 2 days of rain and I am so tired of dirt and mud. Will look for different grounds next time. Nice park other than that
Oct 05, 2021
We came to Albuquerque for the balloon festival and stayed at this KOA and it was wonderful!
Oct 05, 2021
We went with our friends with 3 little kids and it was the perfect place to hang out with them. The kids loved the jumping pad, playground and pool! The cabins and bathrooms were very clean. The staff very friendly and helpful. The gate was broken when we were there so the staff made sure there was someone one duty 24 hrs to ensure our safety. It was wonderful.
Oct 05, 2021
we enjoyed our stay it was very nice and everyone friendly
Oct 05, 2021
Beautiful campground. Our cabin was perfect for our stay in Albuquerque for the Fiesta. So clean and quiet. People that run the place, SUPER friendly and accommodating.
Oct 04, 2021
Great fun for kids. Staff was very friendly and helpful. My only concern was the area around us was a little scary. However, we felt very safe inside the park.
Oct 04, 2021
Everyone was really nice!
Oct 02, 2021
Friendly staff, quiet and clean park. Hot clean showers.
Oct 02, 2021
Great RV park. Pulling out of the park is difficult if your coach is over 40 feet and/or you are towing. There is not enough turning radius at the end of 3 of the rows. We watched a 45 footer with a tow vehicle get stuck at the end of the row next to our motor home. The RV park needs to inform owners when they check-in that they may want to hold off hooking up.
Oct 02, 2021
We have a 45' class A motor home and was put in a site that we feel was too small for us. We were in a pull through but had to back up when leaving because there was a tree that kept us from pulling forward. Have been to this KOA several times and each time had a great site but this time was very unhappy.
Oct 02, 2021
Check in people a very abrupt. And not a lot of give in any questions. The space I was in 103 had new check-ins daily moving in and out right Next to me. (lot of other empty spaces throughout the park but they seem to enjoy putting all the In & Outs next to me. Highly overpriced I spent $1900 for around 23 days!!
Oct 02, 2021
Always a nice overnight stay.
Oct 02, 2021
The cabin was old, and didn't seem to be very clean. The mattresses were ripped, the door didn't open all the way, and there was no water at the site. We called ahead and said that we had a wheelchaired person, and the fact that the door didn't open on our cabin, and none of the other ones were rented, makes me wonder. NOT worth the $92.
Oct 02, 2021
This is the nicest KOA we have stayed in! We stayed a week and everyone is so friendly and helpful. Restrooms clean and laundry are clean and easy to use. Pool was clean and inviting, lots of dog walking and dog pens. Upgrade to nicer campsite gives you concrete patio and patio set. Nice camp-store Easy check in.
Oct 02, 2021
Very friendly staff. Clean and secure.
Oct 02, 2021
All went well, pull through we had was a bit shirt is all.
Oct 02, 2021
It was brief and only one night because we failed to remember about the Balloon Fiesta, so we were grateful to be able to get one night. It was easy from I 40 and everything seemed very orderly and great location. Will stay there again when passing through.
Oct 01, 2021
All first class operation!
Oct 01, 2021
This is a nice campground in a not-so-nice place. The staff are very friendly and efficient. The facilities are well-maintained and clean. The sites are pretty narrow, but that's not unusual for KOAs. The two main issues are that you could throw a stone with your bad arm and hit I-40... extremely noisy, and the water tastes terrible - even filtered through two carbon filter.
Oct 01, 2021
I found some employees not to friendly.
Oct 01, 2021
Easy check in and Rick (and his dog Hot Lip!) had us follow him in his golf cart directly to our site! The bathrooms were clean and all of our neighbors were quiet. Rick swung by our site a few times to ask us if we needed anything (and brought back ice per request) He gave us directions to Smiths grocery so we could pick up a few things including fire wood since they were sold out.
Oct 01, 2021
Staff was wonderful. Campgrounds were immaculate. Really enjoyed our stay.
Sep 30, 2021
This KOA is very nice with asphalt pads and streets. My only complaint is the lots and streets are very narrow so there's not a lot of room to set up seating and the entry/exit from each lot is a challenge because they are so narrow.
Sep 30, 2021
Excellent camp ground. Will stay there as often as I am in the area.
Sep 30, 2021
Staff were very friendly and helpful! Sites were narrow - stepping out of the rv right into large gravel with the neighbor's water hookup just a couple of feet from our door. However, it was a good one night stay and we didn't have to unhook our tow vehicle which was very helpful. Some tight corners to navigate but very appreciative of the worker that helped us as we were leaving in the dar
Sep 30, 2021
Would have given a 5 star except for the very noisy dogs howling. Otherwise, the stay was great!
Sep 30, 2021
I wish our stay was longer. Friendly staff, great site for our large rig, and very clean. We will be back!
Sep 30, 2021
Noisy and loud - airplanes, trains all day and night. Also sewer hook ups are really far away from sites, you will definitely need an extra long hose or an extension. Wish we had known this in advance. Bathrooms were clean.
Sep 30, 2021
The park itself was okay, but the location is something to be desired, never before have I stayed in a KOA that is walled in and a locked gate at night. The gunshots at night were something to be desired that's for sure. We came to Albuquerque to visit an old friend from the Corps, we certainly will not be going back.
Oct 17, 2021
Ultra-friendly staff and they were very accommodating to our late check-in. Richard, the night gateman, was personable and very helpful. The fact that they had a 24-hour jacuzzi was amazing Right smack on the highway, but the noise barrier does a good job. Easy off the on i40. -NoNonsenseKnowHow on YT
- R NoNonsenseKnowHow on Google
Oct 15, 2021
Very helpful. Let me store trailer while visiting in Albuquerque. Looks like a great facility. Will definitely use to camp in RV when in area.
- Bruce Revennaugh on Google
Oct 13, 2021
Very clean. Large pull thru RV spaces. Friendly staff.
- Edward Chauff on Google