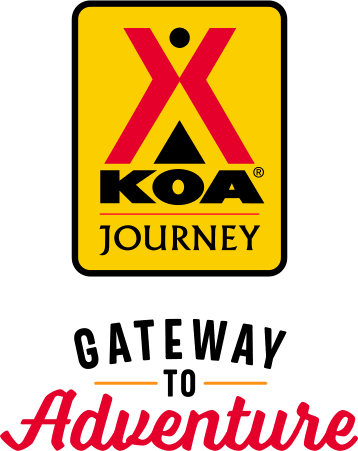 KOA Journey Campgrounds
KOA Journey campgrounds are the perfect oases after a day on the road. Whether it's along the way or a quick getaway, they've got you covered. Located near the highways and byways of North America with long Pull-thru RV Sites, they deliver convenience to the traveling camper. Pull in, ease back and take a load off.
KOA Journeys Feature:
Pull-through RV Sites with 50-amp service
Premium Tent Sites
Well lit after hours check-in service
Directions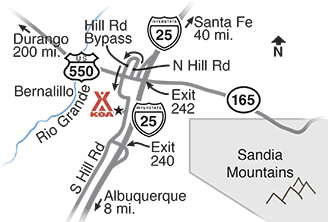 N I-25 Exit 240: Right on South Hill Road, go 1 mile, campground on the left. S I-25 Exit 240: Right at stop sign, take first right onto South Hill Rd, go 1 mile, campground on the left.. E 550: Right on South Hill Road (before I-25), go 1 mile, campground on the right.
Get Google Directions
May 31, 2021
Professional and site very quiet
May 30, 2021
Marty, Susie and staff are great!!!! Very welcoming, courteous, and professional!!!
May 30, 2021
Just a quick overnight. Nice campground. Dogs loved the dogpark
May 29, 2021
Beautiful park with friendly staff
May 29, 2021
I am a huge fan of KOA and use it all the time during our road trips. However I would not recommend staying at this KOA. All of the staff was great and made us feel very welcome, until we met the very rude manager (Suse). There was no reason for her to be rude. After our stay I've read other online reviews. We are not the first to experience this attitude. Highly recommend picking another KOA
May 29, 2021
No outside grill. Was misinformed several times of pool opening. Wi fi did not work. But park was quiet and clean
May 29, 2021
Nice well managed park! Thanks!!
May 29, 2021
Fine park, but if you are going to say you have Wi-Fi available, it should work. Even getting (Apple) devices to show it in the list was rare. Otherwise a clean, quiet, pleasant place to stay a few days.
May 28, 2021
Susie in the office was great! She got us the exact spot we wanted for our next stay. The staff was extremely helpful and friendly.
May 27, 2021
10 day stay to visit friends ... everything worked just fine. Clean. Easy to get too from I-25. Busy park but quiet. Would stay here again!
May 27, 2021
Internet didn't work. Pull thru very small.
May 26, 2021
Our stay was wonderful! We Appreciated the dog park and the later Check out. We were very happy with the campground
May 26, 2021
Very nice campground. Bonus - the proximity to the next door brew pub was an unexpected surprise.
May 26, 2021
Remodeling some, but showers clean. Employees were helpful, but not the bubbly KOA people I'm used to. Nice, just different. One lady told me how sick she was & needed to close the office and get to bed, while coughing like crazy with no mask. It made me very uncomfortable.
May 26, 2021
They tried to put my 40 ft. motor home towing a Honda in a spot where I had to make a sharp left. Unfortunately my motorhone doesn't bend in the middle. After going around twice, one guy told me I'd have to go somewhere else that night. You've got to be kidding!! Finally I had to unhook the Honda and made it into the site!! I'll never stay there again if I can avoid the place!
May 26, 2021
Great Campground and Staff
May 26, 2021
I took my dad and his brother on a Route 66 trip and stayed in 4 different KOA's no complaints about any, but Bernalillo KOA Took it above and beyond the best KOA I have ever stayed in. Starting with owners and staff always friendly, smiling, and helpful. Then there's the art work around the camp WOW they took to an 11. The brewery was awesome. It was truly amazing. THE BEST. Thanks
May 25, 2021
It was ok, unfortunately due to state restrictions, amenities were not available.
May 25, 2021
Nice space with enough room separating the sites. We will stay here agin
May 25, 2021
Frustrating that the tent area was completly covered in pine needles. Decided not to set up the tent because I didn't want to have to clean the pine sap off the bottom when finished. Slept in my truck instead.
May 25, 2021
Friendly staff and clean campground!
May 24, 2021
Wonderful stop off. Clean, friendly. Always our go to place in Albuquerque. No unpleasant surprises.
May 24, 2021
Our stay was great. Cabin was clean. Bed comfortable. Wish there had been a screen door on the cabin. Staff was very friendly
May 24, 2021
Very nice and friendly campground. Easy access to I 25, but not close enough for any road noise. We will stay here again.
May 24, 2021
What a great Campground! The hosts were amazing. The cleanest bathrooms we have seen in a long while.
May 24, 2021
Our reservation was a mess and the managers handling was poor. The campground is in mich disrepair. New managers will make me return.
May 24, 2021
The restroom was very clean and the staff was friendly. The site was orderly and neat.
May 24, 2021
Your saving grace at this KOA is having a doorway into Kactus Brewery. It's amazing. If you don't mind robotic workers and nighttime gunshots this place is for you. My dog got attacked by an aggressive unleashed dog that could have been a tragedy all around. This KOA is in a crappy part of town. Avoid. But still, go to the brewery!
May 24, 2021
Great customer service, best showers/restrooms I've come across, nice walkway to pub next door, crowded feel although privacy fences were nice touch, still felt a bit like camping in a parking lot, only grassy area was in front of office and was beautiful and inviting but off limits, pool closed presumably due to covid
May 23, 2021
Pool not open, bird poop all over picnic table. Great for dogs, about 20 minutes to old historic town center.
May 23, 2021
Not enough green space for pets. Signs all over "no pets" yet they are supposedly "pet friendly". Gravel is horrible and just artificial turf square next to the site. "Any port in the storm" but nothing else
May 23, 2021
Very accommodating, clean restrooms.
May 22, 2021
We found this campground to be up to KOA standards. Very friendly staff. This is our second time in this campground. We would use this campground in the future. The Burrells from Bogart Georgia ���������
May 22, 2021
Nice place! Great customer service, lots of activities nearby, and nice large sites. One of our favorite KOAs!
May 22, 2021
Everything was setup just right when I arrived (late). All the facilities were clean, the cabin was clean and neat. Staff was most helpful telling me about the route I was going to take and what to look out for.
May 22, 2021
I really enjoyed this KOA - my cabin was close to everything - laundry, store, trash, restrooms, and dog park. Great place to stay!
May 22, 2021
We just stayed for one night but the park was very nice. Friendly staff, clean, and well set up. Some shade. Spaces were decent size with extra area to park truck. Good area right next to I-25. We would stay there again.
May 22, 2021
Very friendly staff. Bathrooms were very clean. It was only a stop-over for us, but we felt welcomed the same as if we were staying a week.
May 21, 2021
Nice site, clean bathrooms, nice people, the brewery was awesome. There are hound dogs belonging to a residence next to the park. Very obnoxious barking.
May 21, 2021
A short stay in our way North to Colorado. Very nice people and spaces. Everything worked just fine. Thank you! Gary
May 20, 2021
Very helpful staff on our first ever RV stay on our first ever RV trip. Great neighbors too!
May 19, 2021
Narrow spaces, a little too close for me. We just stayed overnight as we passed through town so it did the job.
Jun 10, 2021
Best place in town to fill your propane tank
- Ali Vaisvil on Google
Jun 07, 2021
Folks are very helpful 🙂
- Ed on Google
Jun 03, 2021
Very clean. Friendly staff nice roomy sites
- Claudette Dean on Google