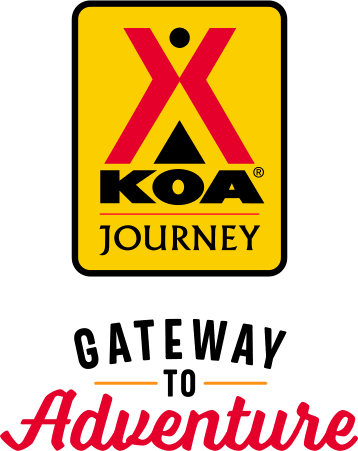 KOA Journey Campgrounds
KOA Journey campgrounds are the perfect oases after a day on the road. Whether it's along the way or a quick getaway, they've got you covered. Located near the highways and byways of North America with long Pull-thru RV Sites, they deliver convenience to the traveling camper. Pull in, ease back and take a load off.
KOA Journeys Feature:
Pull-through RV Sites with 50-amp service
Premium Tent Sites
Well lit after hours check-in service
Directions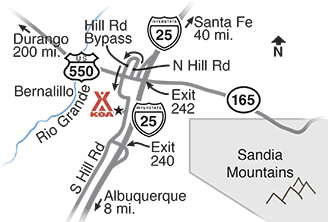 N I-25 Exit 240: Right on South Hill Road, go 1 mile, campground on the left. S I-25 Exit 240: Right at stop sign, take first right onto South Hill Rd, go 1 mile, campground on the left.. E 550: Right on South Hill Road (before I-25), go 1 mile, campground on the right.
Get Google Directions
Jun 09, 2020
Clean and everyone helpful.
Jun 09, 2020
I had book two nights on different days. When I was there for the first night I spoke with the office told them that I might not be back on the date for the second night. They said it was no problem. Upon my return (which was one day delayed as I had warned them) they said did not have a reservation. They did have a opne space and were very accommodating.
Jun 08, 2020
Great place to stay and very friendly and helpful staff.
Jun 07, 2020
Staff came out to us to check in, then escorted us to the site. Friendly efficient and well managed, clean RV park.
Jun 07, 2020
As soon as we drove in, it felt like a safe, well organized clean community of campers or travelers. Owners, were so helpful. All of the grounds, restrooms,showers were so clean &well maintained.The Whole campground had a very festive feel to it. We would always come back when attending events in Albequerque. People staying in the campground were so pleasant. Oh! & the hook- ups were
Jun 06, 2020
Darren greeted us immediately when we pulled up, escorted us to our site then came back to check on us, offering extension cords & other items & to make sure we were comfortable. Awesome staff, extremely friendly & a very clean campground.
Jun 06, 2020
Great. Daily rate just a little high
Jun 05, 2020
Pool closed ����
Jun 05, 2020
Great level pull through site. Friendly staff.
Jun 04, 2020
Great place. I just wished we could have stayed longer and it wasn't during the Coronavirus pandemic.
Jun 04, 2020
The staff was so welcoming and helpful! Bathrooms are always nice and clean. We have stayed here a couple of times now and will continue to keep coming back!
Jun 03, 2020
Folks, both staff and campers, were very nice. Sure are clean and level. Facilities are nice. Appreciated a nice place to stay while covid camping. Coming back again!
Jun 03, 2020
We had an amazing time, the camp ground was clean and all the staff were super friendly!! Thank you for making our stay so enjoyable! We will be back.
Jun 03, 2020
The facilities were great but we were unable to sleep in our tent because of highway noise and barking dogs which seemed to go on all night. We stayed there twice (going to Colorado from Texas and then the return trip) because of covid, and other family did as well but we will recommend they stay elsewhere on their return trip.
Jun 02, 2020
Very friendly staff and helpful. Very well maintained.
Jun 02, 2020
Such a cute, clean KOA. Would definitely stay again!
Jun 02, 2020
5 stars - Great place to stay!!! We will recommend and definitely be staying here again in our 36' fifth wheel. Very clean and tidy KOA. Thank you
Jun 02, 2020
It was great. I have been wanting the outdoor stay for quite some time , and it was worth it. I'm very satisfied. Also, being alone as a woman I felt secured.
Jun 01, 2020
We really enjoy staying here... everyone is so friendly from staff to neighbors. Love the location and monthly rate is AWESOMENESS.... We will continue to come here...many Mahalos
Jun 01, 2020
This campground needs to be updated. Very small sites, with narrow roads and tight turns that made it very difficult to get out of the park the morning after our stay. Would not stay here again.
Jun 01, 2020
During pandemic but staff was helpful and friendly even though most amenities were closed
Jun 01, 2020
Very nice clean RV park.
Jun 01, 2020
Was okay for a 1 night stay while traveling. Was VERY tight throughout the campground and appeared to be an older location in need of some upgrades. Staff was very friendly and helpful! We'll stay again but would prefer a little more space!
May 30, 2020
Overall campground met my expectations. Sites are a bit close together, but clean. One unpleasant exchange with the park manager. I planned to have tires replaced; he approached me in a bossy, irritable, & condescending manner to say this was not allowed. No reason not to be pleasant, since I explained I had been led to believe this was okay, but readily stated that I would make other plans.
May 30, 2020
Susie, the manager was great! She was extremely attentive to the park and what was happening during this pandemic. The park is very clean and I would have given it 5 stars if the sites were not so close together.
May 30, 2020
Restrooms and sites were very clean, our tent site felt very comfortable, spacious, and protected with a fence around 3 sides. Did not take advantage of playground/pool due to covid but looked fun! Was VERY windy (not KOA's fault, of course, but plan accordingly). Quiet at night, except the sound of wind in the trees.
May 30, 2020
Beautiful! Quiet. Will definitely stop there again!
May 30, 2020
We stay here every summer. It is always a great experience.
May 30, 2020
Everyone was helpful and friendly. The facility is clean and quiet.
May 30, 2020
Really nice park, friendly staff, very well maintained.
May 30, 2020
The spaces are extremely small, my driveway is bigger! Our living room slideout was in a tree, we were unable to put out the awning. We were relieved the people next to us left so we could get out 36ft trailer out without a problem. Will never stop there again.
May 29, 2020
Great stay overall EXCEPT for the roaches running around at night at the site, kinda gross. I had just hoped they didn't get into our RV.
May 28, 2020
Great stay. Staff very helpful.
May 27, 2020
Appreciated the accomadations that Marty made for us, also Jackie was friendly and kind. They work very hard to maintain and improve an older facility. Just a bad location and too many full time live ins that are rude and inconsiderate. Gunshots, motorcycles and barking dogs will not bring us back.
May 27, 2020
This was a nice stopover stay for a night. We liked having the brewery and restaurant in the back. The playground was nice for the kiddos. The only bad part about this KOA was the location. It's in the middle of a not-so-great neighborhood, but the KOA does a good job of still making it feel like camping.
May 26, 2020
A little tight, but nice and clean
May 26, 2020
We had a great time. Thank you so much for being open. Everyone was very nice. The place was very clean. The kids loved the movies.
May 25, 2020
My first time using my RV and my first time at a KOA. Highly impressed. All of the employees were really great!
May 25, 2020
Spaces are a little tight, but its a nice campground!
May 25, 2020
Wonderful staff! Very clean and quiet park with great areas for kids and your fur babies
May 25, 2020
Staff was exceptional.
May 25, 2020
Called for a last-minute overnight stay on Memorial Day Weekend. Staff was very friendly and was able to give me the last spot - many thanks! Park was very clean and offered many amenities. Spaces were very tight, though. That's why I only rated it a four star.
Nov 25, 2020
Marty as well as the rest of the staff go out of their way to be helpful and polite. This is a pet friendly area, and remains very well maintained. The facilities are clean and cared for. I appreciate everyone working here who made my visit better each day.
- Randall Flagg on Google
Nov 14, 2020
This is a very nice campground on the north side of Albuquerque which is perfect for visiting the Hot Air Balloon museum and festival, heading north to Sante Fe, visiting Sandia Mountain, heading to four corners or Ship rock. There is a train station near by that has the train between Sante Fe and Albuquerque. Great level paved sites.
- Tennessee50plus on Trip Advisor
Nov 10, 2020
A very nice KOA. Clean restrooms and showers and really checked frequently because of Covid. Staff were very thoughtful and helpful to guests. The staff could answer many questions about visiting the area and offering excellent advice. Amenities were excellent.
- virginias729 on Trip Advisor