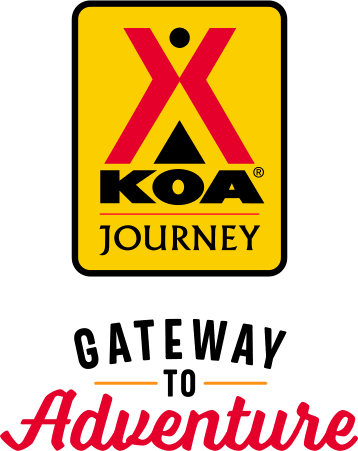 KOA Journey Campgrounds
KOA Journey campgrounds are the perfect oases after a day on the road. Whether it's along the way or a quick getaway, they've got you covered. Located near the highways and byways of North America with long Pull-thru RV Sites, they deliver convenience to the traveling camper. Pull in, ease back and take a load off.
KOA Journeys Feature:
Pull-through RV Sites with 50-amp service
Premium Tent Sites
Well lit after hours check-in service
Directions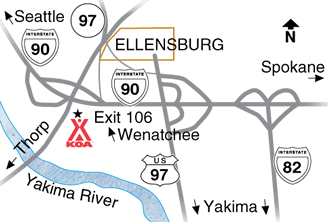 From I-90: Take Exit 106. If coming from the west, we will be immediately on the RIGHT on the off-ramp.
If exiting from the east, go left from the off-ramp, taking you over I-90 and we will be on your immediate left.
If coming from SR 97, stay to the right at the stop sign, then right again at the end of 97.
Get Google Directions
Jun 22, 2021
This review has been removed by KOA due to profanity.
Jun 22, 2021
No toilet paper in the bathroom,
Jun 22, 2021
The grounds are nice and facilities clean. Staff very friendly. The pool however is too cold to enjoy and somewhat dirty. Could use improvement.
Jun 22, 2021
I stayed at a tent site by the river. The site though was under an overpass so with all the noise I couldn't even hear the river. Not worth $65/night. The playground was pathetic: absolutely no shade and very difficult for small children to use. I like that there is a wading pool and my toddler did enjoy the sand pit. Overall I don't think I'll stay here again.
Jun 22, 2021
We have stayed here a few times and always had a great experience. The park is clean, the staff is friendly & helpful, and the laundry facilities are great!
Jun 22, 2021
Location was beautiful. I would definitely go back. We had an incident and the owner were so nice. Turkey a wonderful place to go.
Jun 22, 2021
�‍���
Jun 22, 2021
Best Koa we have been camping at. Very quiet, wonderful spot by the river. We will be back and highly recommend it to anyone traveling through Ellensburg.
Jun 21, 2021
My cabin was not clean,food left in fridge,someone's toothbrush left in shower, not cleaned. Manager was rude and argumentative.Made excuses and never apologized once.will never stay again.
Jun 21, 2021
Way too many sites packed in a tiny space.
Jun 21, 2021
Overall great stay. Staff is always very friendly. The pool was pretty dirty and would be nice and if they cleaned it throughout the day.
Jun 21, 2021
So many fun things do do with the kids, staff was friendly, and clean facilities!
Jun 21, 2021
shower was good. Very pricey.
Jun 20, 2021
Worst ever KOA we have stayed in. New owners not taking care of the place & charging exorbitant fees for people to visit you.
Jun 20, 2021
One of the staff members put us in site 85 which was a tent site. After putting up our tents we started to her multiple employees calling us telling us that's not a site they use anymore and should never have been put there. They were very rude and never apologized.
Jun 20, 2021
Your Wi-Fi is horrible. Basically non existent. Your tv reception is horrible. The way your campsites are set up You end up having trailers facing each other. So when you're sitting outside you're staring right at the people next to you.
Jun 20, 2021
The rates are to high 84 dollars for power and water. Is that covid prices
Jun 19, 2021
We had a back in spot along the river. That was nice until a massive motorhome pulled in next to us. It was so close, we couldn't open the hatches on that side. We had to keep all our shades closed too. There were lots of along the river sites open. A family member rented a cabin. I called ahead to see if it was ready and was told it was. When we arrived, the cabin wasn't ready. Another one was.
Jun 19, 2021
our spot was amazing! right on the river, so beautiful. The park was super nice, we will stay here again for sure. The garbage pick up service was a nice touch. The pool was very nice too.
Jun 19, 2021
The staff is very nice. The grounds are sub par. I travel for work and stay in campgrounds all over washington and tje rest of the country and for what this KOA charges it is garbage. The hook ups are very inconvenient for half of the RVs, we shared a spot of dead grass with the neighbors who's door opened up to our door, the fir put was too deepand narrow to maintain a fire, to much more to say
Jun 18, 2021
Very clean, workers super friendly and helpful. Pretty quite.
Jun 18, 2021
Very pleasant stay by the Yakima River! Nice folks there!
Jun 18, 2021
Super friendly staff. Beautiful big old trees. Great location on the river, however, for safety reasons you cannot go into the river from the campground. The facility needed some loving care. There were so many cobwebs on our elec. that it looked like something was living there, same in the remote restroom. Easy to fix. Some sites were very nice, others not so. Not consistent with the maintenance,
Jun 18, 2021
Noisy patrons throughout park were inconsiderate and uncontrolled by management.
Jun 18, 2021
Perfect excellent stay everyone one in staff very friendly and helpful
Jun 17, 2021
Paper towel dispenser in restrooms did not work. We reported the problem, nothing was done. Garbage was to be set out- that makes it available to wild animals and birds. There were no accessible dumpsters for campers to properly and quickly dispose of garbage. Overall, camp was clean and well maintained. New dog run is a nice addition.
Jun 17, 2021
Beautiful, clean, close to interstate
Jun 16, 2021
Okay campground.
Jun 16, 2021
Staff was friendly and helpful. Grounds very well maintained. Great place!
Jun 15, 2021
When I made the reservation there was a 2 day minimum. I only needed it for ONE day. Now the new owner has a 3 day min. when there is an event in town. There was NO event in town. Central Wash. University did not have a graduation ceremony, which would have been that weekend, but they had it online. I had to pay for parking and $5 per person at my 3 hr picnic with 15 total people. Never again!
Jun 15, 2021
Stayed there on the way back from South Dakota. Clean sites. Didn't get out to explore. Too tired.
Jun 15, 2021
The grounds look terrible for this high-priced park. The grass is dead, and there were weeds. They are quick to charge for everything and were like mean watchdogs every time a car showed up for our event. We were being watched the whole time so they could catch us and charge us more. We were buying car passes as our guest arrived and had no intention of not paying. Very uncomfortable!!
Jun 15, 2021
Friday and Saturday nights. Spot #2. Very nice. Easy to get to town. Staff helpful and friendly. Easy access to Freeway. Been at this KOA before and will stay again.
Jun 15, 2021
Everyone busy but always had time to be helpful and very friendly
Jun 15, 2021
Something has changed and not in a good way. The grass was brown, and it was very dusty. The store shelves are bare and the refrigerator empty. We had to pay for 3 nights when we only stayed 2, even though there were empty spots.
Jun 14, 2021
Location is under new management No more dumpsters for trash which is a problem Yes there is pickup but not enough Violet dog went unpunished Loud music allowed
Jun 14, 2021
Awesome staff, super helpful and friendly. Awesome events and family things and meals. Clean/organized sites.
Jun 14, 2021
Very good stay. We've been coming here since 1997 we will be back soon.
Jun 08, 2021
Very well maintained and close to gas station and grocery store. The campground $10 stone oven pizzas are really good.
- Demetrios Consolo on Google
May 27, 2021
Campy
- Gary Prince on Google
Jun 07, 2021
Staff very friendly and helpful, no rush at all. It's a less crowded campsite, well maintained. Very convenient location, it's also the only downside -- too close to highway, and you can hear highway noise.
- Liz Chen on Google