If you've never been to a Family Motor Coach Association (FMCA) convention, or any RV convention for that matter, we'd advise checking one out. It is worth your while. You'll find countless opportunities to learn, network, and enjoy the comradery that makes RVing such a wonderful lifestyle.
FMCA, a not-for-profit, member-owned association for RV owners, is gearing up for its 101st International Convention and RV Expo. The event will take place at the Pima County Fairgrounds in Tucson, Arizona, March 26 through 29, 2020. Being set on the cusp of spring makes this the ideal end-of-winter outing for snowbirds who are beginning to make their way back north with the warmer weather.
During the week leading up to the convention, the fairgrounds will be converted into a city of RVs, with all the necessary services, including shopping opportunities. RVers will find items needed to improve, repair, or upgrade their homes on wheels.
Socialize with other RVers
If there is one thing that can be said about nearly all RVers, it's that they are a social group. The festive environment becomes apparent from the moment you enter the convention grounds. The campgrounds are full of travelers who are eager to start making new friends, catching up with familiar faces, and sharing stories from the road. The first-timer opportunities offered help to ensure you feel right at home when you arrive.
One aspect of FMCA that keeps members social while on the road is chapters. These groups are organized around a common interest, hobby, geographic location, or RV brand. A chapter fair will take place during the convention, where various groups set up information tables, and newcomers are welcome to inquire about the chapter and sign up if they feel inclined to join. Another great opportunity to see what each chapter has to offer will be during the Chapter Block Party, an evening event that takes place within the campgrounds.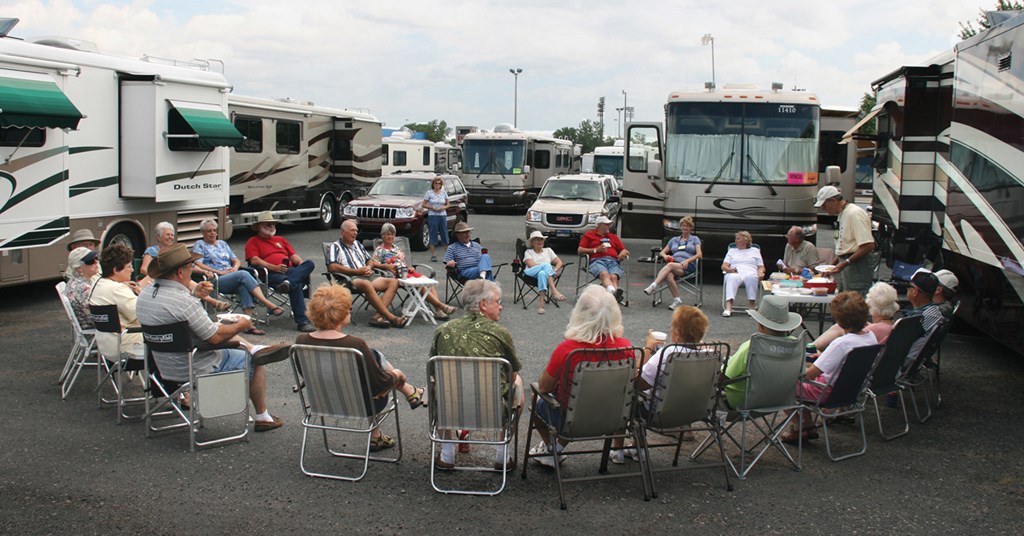 Educational Opportunities
Over the course of the event, dozens of educational seminars will be held. Topics range from very informative and technical to relaxed and fun. They are taught by industry experts who are seeking to share their knowledge of various aspects of RVing with eager ears.
If you're interested in learning about RV driving safety or you want to understand the way RV brakes work, there is a seminar for that. If you'd rather learn a new craft or get tips about boondocking on public land, there is a seminar for that. Some seminars are held more than once throughout the event so that you don't have to worry about schedule conflicts. A list of all the topics of discussion is available to give you a better idea of the wide spectrum of subjects.
Shop ´til you Drop
If you're looking to make a purchase for your RV, odds are you'll be able to do so at one of the many vendors who are on-site. You can stroll the aisles of the vendor hall daydreaming about upgrading different aspects of your RV, take the plunge and replace that one thing that you've been meaning to replace for months, or even make an appointment to have your RV serviced by one of the companies performing on-site RV service work.
Besides the vendor booths, there will be multiple RV manufacturers and dealers at the convention inviting you to shop for a new RV. You can browse the newest models from Newmar, Tiffin, Entegra, Jayco, Winnebago, Fleetwood, Airstream, Grand Design, Lance, Renegade, and more. Even if you are just daydreaming, it is a lot of fun to tour the newest, nicest models on display!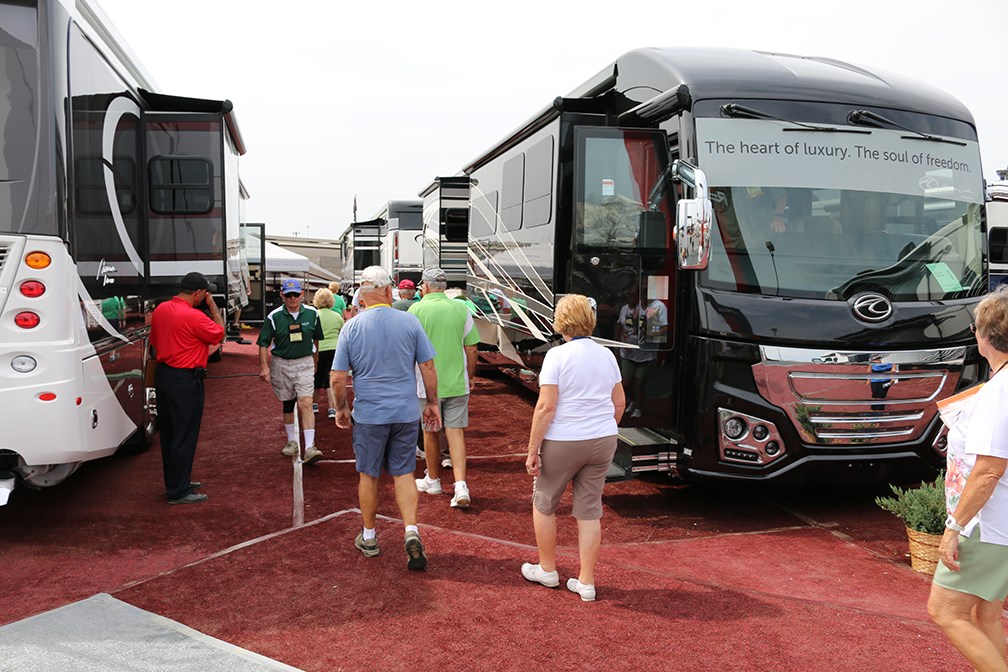 Entertainment & Activities
The F in FMCA stands for Family, but who says it can't also stand for Fun? Plenty of fun-filled activities will take place throughout the convention. Registered attendees will enjoy live music from classic rockers Three Dog Night and national country megastar Josh Turner. Aside from the headlining artists, attendees also can enjoy daytime entertainment, starting with coffee and doughnuts each morning.
Other entertainment includes stand-up comedy, bingo, karaoke, a charity walk-a-thon, and the Mr. Whiskers facial hair competition. Check out the events page on FMCA's website to see all the scheduled activities.
Sign up today
If you haven't already registered for the convention, there is still time to do so. Online registration is available here or by phone until March 18, 2020. After March 18, registrations will be accepted on-site at the fairgrounds. Daily passports (with no on-site RV parking) also will be available for $50 a person on-site, allowing you to attend seminars, tour the display RVs, shop in the vendor hall, and enjoy the evening entertainment. Day passes ($10 per person; $25 for a family of three or more) also will be available for those who wish to visit the RV displays and indoor booths only.
So, no matter what type of RV you own, and no matter how long you've been participating in the RV lifestyle, there will be something for you to do, learn, and experience at the "Sunsets + Saguaros" convention in Tucson.