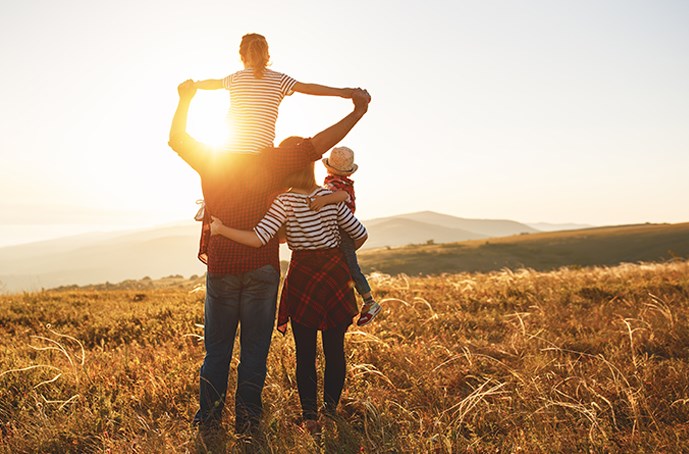 A family vacation is a perfect opportunity to create lasting memories with your children, and road trips can offer many benefits over traveling by air, including lower costs and more room to pack all your favorite games, clothes and adventure gear. However, even on a road trip, traveling with children can have its challenges. After sitting in a car for long periods, even the best-behaved kids can grow a little bit restless. If you want to avoid any whining, bickering or crying during your family travel, we have a few tips for traveling with kids that can help you have a smoother and more enjoyable road trip.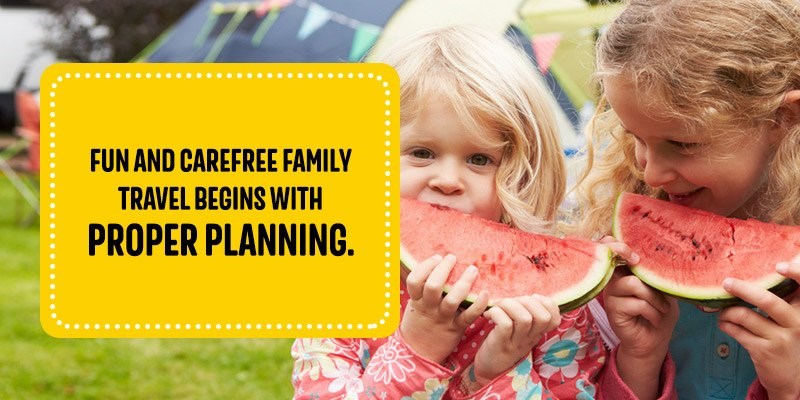 Planning Routes & Schedules
Fun and carefree family travel begins with proper planning. While a spontaneous road trip may sound exciting, planning your trip in advance can provide just as much entertainment — without the risks of getting lost, arriving behind schedule or other mishaps that can befall you on an unplanned route. Here are a few tips for planning your travel itinerary and choosing the best route when traveling with children.
1. Plan Your Itinerary Before Going Out
Planning your route is vital for any road trip, but it is especially beneficial when you travel with kids. Setting a schedule based on how far you want to travel each day will keep everyone on the same page and help you arrive at your final destination on time. When you plan your itinerary in advance, you can also visit a few fun, family-friendly attractions along the way. Use these tips to plan the perfect road trip with kids:
Set a daily mileage: Determine how many miles you want to travel each day and be realistic with your goal. Setting a daily mileage will minimize stress on everyone in the car, while still maintaining your travel schedule.
Plan your lodging: Once you know how far you want to drive every day, you can pick a place to stay at each destination. When you book your lodging in advance, you can choose places to stay with fun amenities that your kids will enjoy, like a playground, swimming pool or game room. You can also save money by booking early and avoid making last-minute arrangements if where you happen to stop is already full.
Stop for fun roadside activities: Research a few fun attractions along your route, like museums, parks or mini-golf courses, and schedule time to stop and enjoy them. When you have a fun stop coming up, you can also leverage this to help keep your kids behaved in the backseat. They can look forward to the activity coming up and will be less likely to become impatient during long periods of driving.
Research local festivals and events: If you have a more flexible road trip timeline, you can even plan to stop at town fairs or festivals along the way. You may even stumble upon a pie-eating contest, circus performance or local parade. Especially during the summer, you can find exciting and unique celebrations going on across the country that are kid-friendly and fun.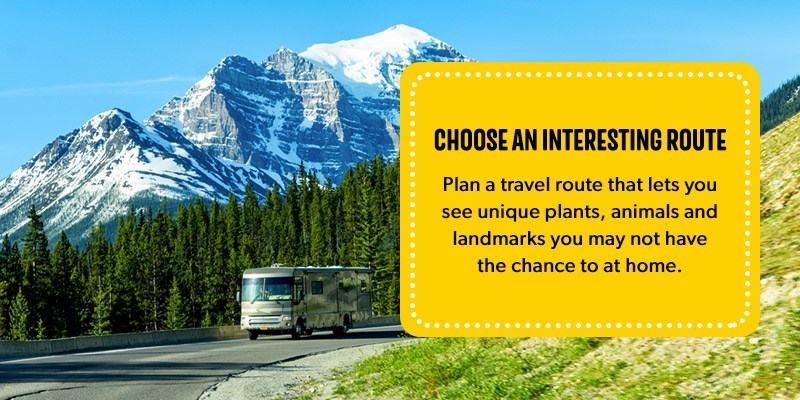 Choose an interesting route: Adults are not the only ones who can marvel at breathtaking scenery or stunning views. Plan a travel route that lets you see unique plants, animals and landmarks you may not have the chance to at home.
Take a new route on the way home: Taking the same roads on the way home from your trip can be boring, especially for young travelers. See if there is another route you can take back without adding too much time to your trip. Alternatively, you can take the same route home to stop at any attractions you skipped on the way to your destination.
Let your kids help plan: If your children are old enough, let them have some input on your chosen travel route and the stops you plan. Ask what kind of scenery they want to see and give them a few options for fun attractions you can visit. You can even let them choose one restaurant to eat at each day. When your kids are excited about the journey and the destination, they are more likely to behave and have fun.
Schedule time for extra stops: When traveling with children, plan a little extra time each day for bathroom breaks and stops to stretch your legs. Kids tend to get more fidgety in the car and may need to use the restroom more frequently than adults. By anticipating this in advance and scheduling it into your daily itinerary, you will all have a more relaxing and enjoyable ride.
Travel at night: Whenever possible, travel at night or while your kids are sleeping to minimize the stress on them. When traveling at night, you are also less likely to run into traffic, which can cause frustrations or make your kids feel more restless. However, if you are traveling in the dark, be sure to take steps to improve your driving visibility, and never drive if you are too tired.
Check the weather: Before you head out each day, check that the weather on your route is clear. If the weather looks bad, see if there is another route you can take to avoid driving through a storm. Driving in bad weather poses additional safety risks, especially if you have children in the backseat who may distract the driver.
Bring another adult: Traveling by yourself with kids can be particularly stressful and makes it hard to keep an eye on your children's behavior. Whenever possible, bring along a friend or partner to help watch the kids and keep them occupied. An older sibling can also serve this role by helping to keep the peace between the younger kids.
Plan relaxing bedtime activities: After a long day in the car, it is easy to be a little bit on edge. Remedy any negative emotions by planning a relaxing activity before bed, such as swimming in the hotel pool or watching a movie as a family.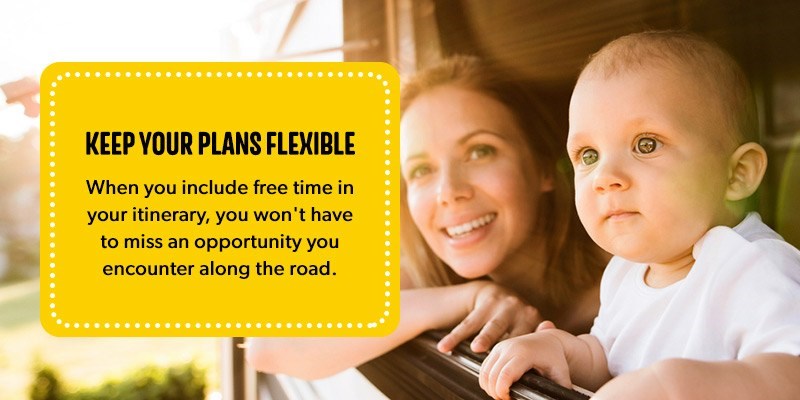 Keep your plans flexible:While planning ahead is essential, it is also a great idea to leave yourself room for some flexibility. You may run into bad weather or an accident that puts you behind schedule, or you may discover a hidden gem that you simply have to stop at and explore. When you include free time in your itinerary, you won't have to miss an opportunity you encounter along the road.
2. Stay Close to Home
If you only have time for a quick weekend getaway, consider choosing a vacation destination a little closer to home. A short road trip of 30 minutes to a few hours can still take you somewhere impressive without all the hassle of planning a multi-day excursion. You may even be surprised at the wonders that lie just around the corner from your hometown.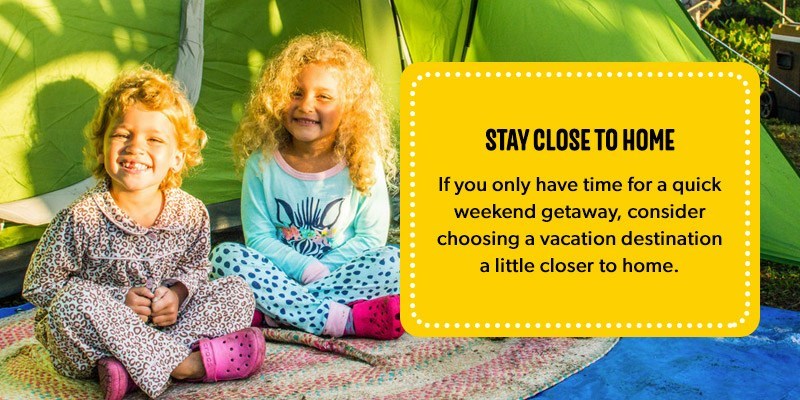 Staying close to home is a great idea for families with small children or who are new to traveling or camping. You won't have to endure long hours in the car with antsy toddlers, and if something goes wrong during the trip, you can easily head home early and sleep under your own roof. Another bonus of a vacation closer to home is lower expenses for gas and food.
As the largest collection of private campgrounds in the world, KOA is a great choice for a family camping stay-cation. Search for a KOA campground conveniently located near you to enjoy a secluded and peaceful family trip, without the hassle of traveling long distances with kids.
What to Bring
Once you have chosen your family vacation destination and planned your travel route, it's time to pack the car. Whether you're traveling with toddlers or older kids, bringing the right gear, food and games can help alleviate any stress and provide a great experience for everyone. Here are some helpful packing tips for traveling with children.
1. Food and Snacks
Packing your own food for a family road trip allows you to have control over your family's nutrition without relying on meals at restaurants and gas stations along the way. Keeping snacks in the car also allows your kids to eat whenever they want. You can skip taking lengthy stops to eat if you would rather keep moving as well — like when your kid has finally fallen asleep for a nap.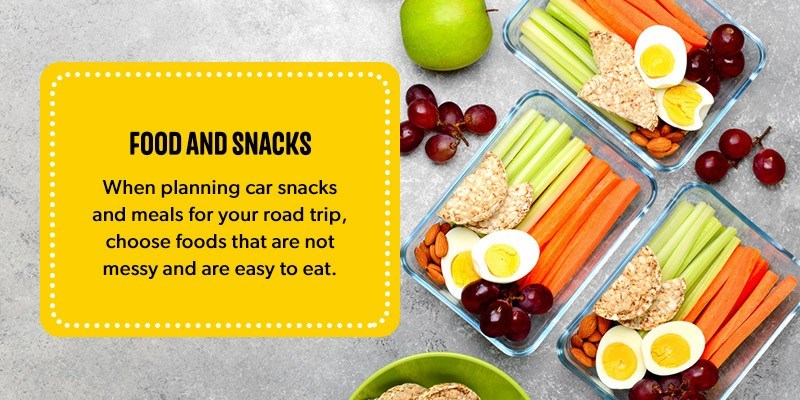 When planning car snacks and meals for your road trip, choose foods that are not messy and are easy to eat. Bringing foods that do not need to refrigerated also saves room in your cooler and prevents it from going bad, which could happen on multi-day trips. Here are a few ideas for road trip snacks for children:
Sandwiches: Most sandwiches are easy to munch on in the car without making a mess, but avoid sandwiches like peanut butter and jelly that could cause sticky drips. To protect against stray bread crumbs, try wrapping the sandwiches in foil.
Granola bars: Breakfast bars and granola bars are great for a quick snack, and they will last outside of your cooler.
String cheese: Kids love eating string cheese, and it is an easy snack that will not make a mess.
Fresh fruit and vegetables: Precut fruit and veggies are a healthy option for car snacks for kids. Choose fruits like apples, grapes and pears, rather than very juicy fruits like peaches and pineapple that are more likely to make a sticky mess. Carrots, celery and cucumber are also great options for veggies.
Nuts or trail mix: If your children like nuts, pack a bag of healthy trail mix for them to munch on during the trip. Nuts are full of protein and other nutrients that will keep your kids full and happy.
Pretzels and crackers: Although these crunchy snacks may be prone to spread crumbs, these can still be vacuumed up a lot more easily than sticky yogurt spills or melted candies. Consider letting your children pack their own snack bags from a selection of crackers, pretzels and chips you provide. When your kids get to choose their own snacks, they are more likely to actually eat them and be happier during the ride.
Sippy cups or spill-proof water bottles: For young children, pack sippy cups or spill-proof water bottles for their water and juice that cannot spill if dropped. Refillable water bottles with tight lids are also a great idea for older children to stay hydrated during the trip without making a mess in the backseat.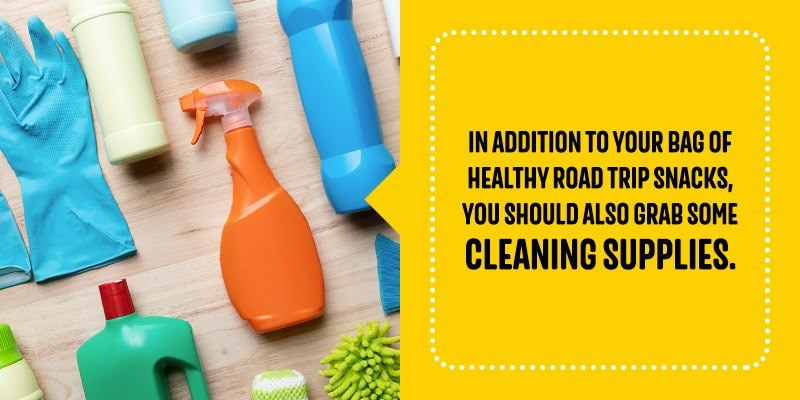 In addition to your bag of healthy road trip snacks, you should also grab some cleaning supplies. Even with your best efforts to avoid a mess, young kids can still manage to create one. Put a trash bag in the backseat and pack wet wipes for accidental spills. A portable handheld vacuum is another great tool to keep in your car that you can recharge when you stop at a hotel for the night.
2. Fun and Games
What many parents of young kids dread most about long road trips is their children getting bored and restless in the backseat. Kids who were once smiling and excited can quickly begin whining and pestering their siblings if they do not have something to keep them entertained. Luckily, there are plenty of easy car games that are fun for kids of all ages and require very few materials. Here are a few of our favorites:
I Spy: This classic car game involves only your eyes and your creativity. One person chooses an object they can see inside or outside the car and provides a clue about what object it might be, typically the color or the first letter of the object's name. For example, "I spy with my little eye, something blue." The other players take turns guessing the object, and whoever guesses right gets to spy an item next.
License plate game: There are a few ways to play this car game, depending on the age of the players. Younger travelers can look for each letter of the alphabet in order on car license plates. Older players can search for license plates from all 50 states and cross them off on a list as they find them. In both versions, players must call out when they see a new letter or state so the judge — the parent — can confirm the spotting.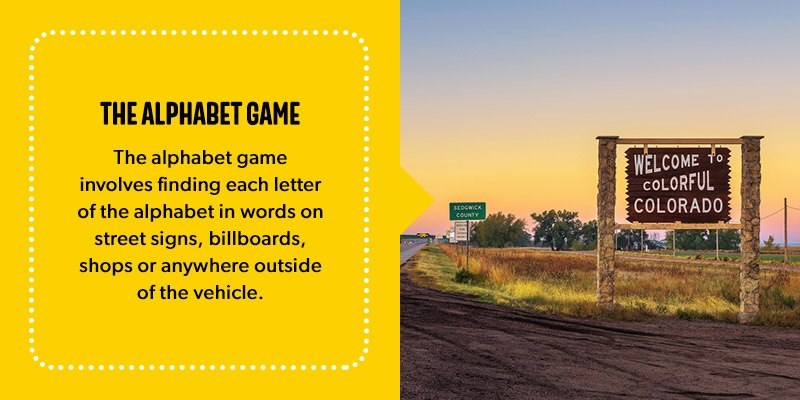 The alphabet game: The alphabet game involves finding each letter of the alphabet in words on street signs, billboards, shops or anywhere outside of the vehicle. Like the license plate game, players must find the letters in alphabetical order. The letter can be found anywhere in the word. For example, "Main Street" could be used for the letter "A." For a more challenging version, the letter must be the first letter in the word.
Spot the car: Another spin-off of the license plate game, this road trip game challenges players to spot different brands or models of cars. Start by creating a list of cars for each player to cross off as they spot them during the trip. Players must shout out each vehicle as they see it to prevent cheating. For younger players, you can create a list of car types and colors, like "blue minivan" or "red pickup truck" instead of car brands.
Road trip bingo: This game involves a little more preparation before your trip, but it is worth it for the hours of entertainment it provides. Create a few bingo boards with pictures of items your kids might see from the car during your road trip. You can choose general objects like a pine tree or specific items like a left-turn-only sign. When a player spots the item, they mark it on their board with a token. For even less mess, consider laminating the bingo boards and giving each player a whiteboard marker to cross off items as they spot them.
Categories: Start by choosing a category of items based on the age of the players — such as "animals" for toddlers or "things found in a kitchen" for older kids. Players take turns saying an object in that category. The first person who cannot think of an item or repeats an item loses. For a more difficult version, players come up with things that start with each letter of the alphabet in order. For an even more challenging version, players must come up with an item that starts with the last letter of the item that the previous player said.
Twenty questions: This straightforward road trip game is fun for everyone in the car. The first player thinks of a person, place or thing. The other players take turns asking questions that can be answered with a simple yes or no. You have twenty chances to figure out the item. If you reach the final question without a winner, each player gets one more guess before the item is revealed.
Name that tune: Perfect for musically inclined families, this game involves one player singing, whistling or humming a song and the other players guessing what it is. You can choose a theme for the tunes, like a particular artist or genre of music. Another option is to guess songs playing on the radio. Hit the "seek" button to find a random channel and then try to guess the name and artist of each song that comes on.
Your kids can also enjoy hours of entertainment with just a pad of paper and a pencil if they are not prone to car sickness. Games like tic tac toe and hangman are easy for all ages and encourage your kids to play together. Children can also draw pictures using crayons or colored pencils — However, you'll want to skip colored markers that can leave stains on your backseat. If your children cannot think of anything to color, challenge them to draw things they see out the car window.
Listening to music or podcasts can also be a great way to keep your backseat passengers quiet. Choose a kid-friendly podcast about a topic your children are interested in, like science, history, robots or pirates. When choosing music, let your kids take turns suggesting songs they want to hear. You can also create a road trip playlist or mix CD before you hit the road.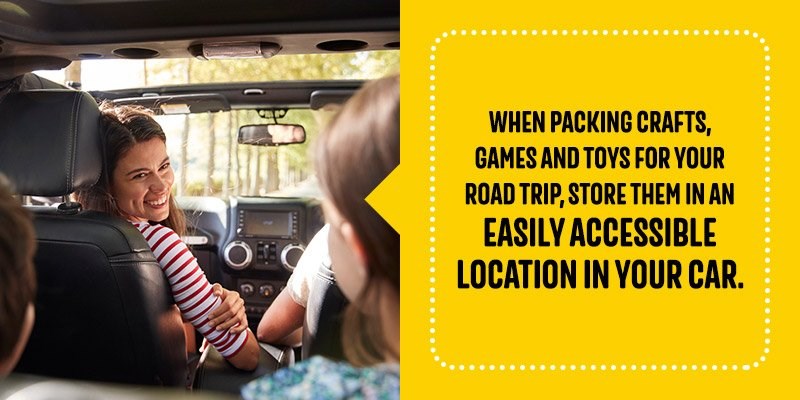 When packing crafts, games and toys for your road trip, store them in an easily accessible location in your car. Make sure your kids can grab the toys and supplies they need to stay entertained without you having to stop the car to get them from the trunk. Planning fun activities and games for your family travel can keep everyone in good spirits the whole way to your destination.
3. Emergency Supplies
In addition to essential road trip emergency supplies — like jumper cables, a spare tire and a few gallons of water — travel with kids requires a few additional emergency and back-up items:
Wet wipes: Wet wipes deserve another mention because they are one of the most versatile road trip tools. Wet wipes can be used to clean up sticky spills, wipe messy faces and clean dirty hands before your kids dig into their snack bags.
Extra clothing: Keep an extra pair of clothes handy in case your children spill something or have an accident. You'll be able to pull into a rest stop for a quick change without having to dig through your luggage for an extra t-shirt or pair of pants.
Blankets and pillows: On a long trip, your kids may need to take a nap — which can also offer some peace and quiet for you. Keep extra blankets and pillows in the backseat for sleepy children to snuggle up with.
Extra trash bags: If your kids are prone to getting sick in the car, bring a few extra trash bags. Store the bags in the back seat pockets where your kids can grab them if they are feeling queasy.
Motion sickness medicine: Car sickness medicines are available for kids who experience travel sickness frequently. These medicines can be taken before the trip to prevent motion sickness before it occurs. However, be sure to check with your child's doctor before giving them any medications.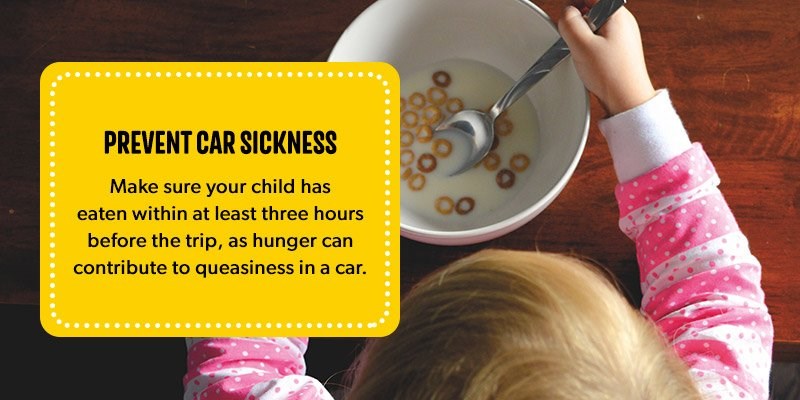 There are also a few other tricks you can try to prevent car sickness during family travel. Make sure your child has eaten within at least three hours before the trip, as hunger can contribute to queasiness in a car. Encourage your child to focus on objects outside of the car window that are far away, rather than playing games inside the car.
Keeping your kids entertained with fun car games or music can also help keep their attention off of their nausea until you can stop for a meal or take a break to stretch your legs. The stops you planned for roadside attractions and local festivals can also help keep everyone in the car feeling healthy and happy!
Make KOA Campgrounds Your Family Road Trip Destination
At KOA, we strive to provide fun camping adventures for the whole family. All KOA campgrounds are kid-friendly, with playgrounds, clean bathrooms, laundry facilities and convenient KOA Stores for any last minute items you forgot to pack. When you stay with KOA, you will never have to go without toothpaste, soap, firewood — or even marshmallows for your kids to roast over the campfire.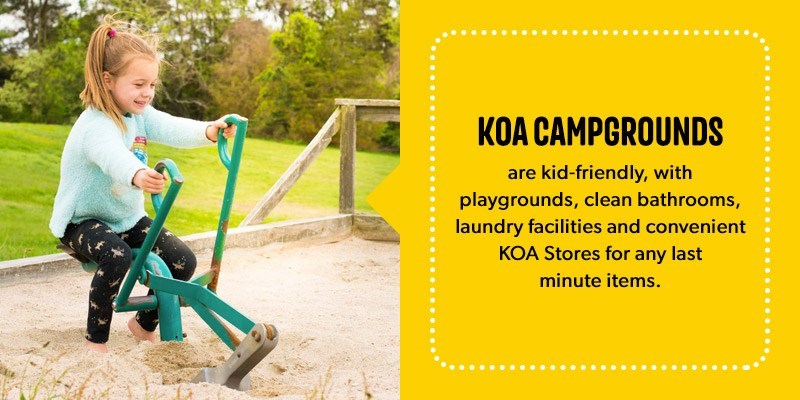 Many KOA campgrounds feature additional events and activities for kids of all ages to enjoy. At some KOA campgrounds, you can find features like swimming pools, mini golf, bike rentals, climbing walls, hiking trails, fishing ponds, game rooms, water sports and more.
Whether you want to enjoy the great outdoors or are looking for an affordable place to stay near your travel destination, you can plan the perfect family vacation with KOA. With more than 500 locations across North America, you can find KOA campgrounds in quiet and remote destinations, as well as convenient locations near cities, national parks and other popular attractions.
KOA also makes it easy to camp with kids of all ages by providing a variety of ways to stay. We offer traditional Tent Sites for families who want to sleep closer to nature, as well as cozy Camping Cabins and Deluxe Cabins that are perfect for families with babies or toddlers. If your family enjoys long RV road trips, we have fully-equipped RV Sites, too. Using our camping trip planner, you can even find KOA campgrounds located right along your travel route.
Make KOA campgrounds your family travel destination — find a KOA campground to start planning the perfect road trip with your kids today!
---