Here We Grow Again – Introducing New KOAs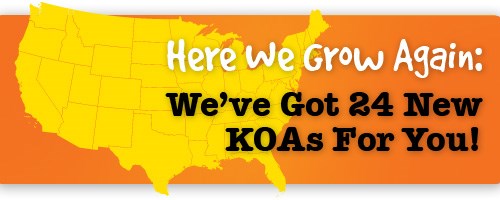 As the largest campground system in the U.S. and Canada, we are always looking for prime spots for new campgrounds—and we love to welcome existing campgrounds into our KOA family. Whether it's a destination campground or one along the way to other attractions, we focus on finding places with many fun things for our campers to experience.
In 2011, KOA added 24 new campgrounds all across North America, from sunny Florida to the cooler climes of Ontario. Which ones will you be making reservations for this year?
Many of our new KOA campgrounds are already available on koa.com, and all will be available on our website well before the start of the spring camping season. So, please check koa.com often for more news about these exciting new KOA campgrounds!
ALABAMA:
Oxford/Talladega/Dandy RV KOA
This campground is just down the road from the famous Talladega Superspeedway, so plan to book your sites early for those big NASCAR races. But there's more than racing. This KOA is conveniently located near many shopping and dining options. For history buffs, there's a natural history museum in nearby Anniston, as well as the Barber Vintage Motorsports Museum in Birmingham. Ready for some fun? Visit Six Flags Over Georgia theme park in Atlanta, just 45 minutes away.
Check back soon at www.koa.com for more information.
ARIZONA:
Picacho/Tucson NW KOA
Folks describe this campground as "An oasis in the Sonoran Desert." Located in central Arizona, it is a winter destination for RVers and campers looking to escape from the cold up north. While you're there, you'll also fall head over heels in love with the amazing cinnamon rolls served up at Frankie's Chuckwagon Steakhouse, the fantastic on-site restaurant.
ARKANSAS:
Heber Springs KOA
If you love the Ozarks, you'll love this KOA. Not only are there wonderful shops and restaurants, but the world's record brown trout (40 pounds!) was landed in the nearby Little Red River, so bring your pole. The campground has its own 6-acre fishing pond, too. Just three miles away is Greers Ferry Lake, where you can swin, boat or fish for record walleye. This place is perfect for big rigs.
Check back soon at www.koa.com for more information.
CALIFORNA:
Fresno E/Kings Canyon Gateway KOA
A tranquil setting awaits you at this lovely California getaway. Enjoy long walks along the river, then return to a your campsite surrounded by beautiful mature trees. There is a greenbelt trail that parallels the Kings River. You'll enjoy casting for trout in Wildwood Creek, or visiting Kings Canyon National Park, just 45 minutes from the campground.
COLORADO:
Montrose/Black Canyon National Park KOA
With its sheer black walls, a thriving ecosystem or stunning views, Black Canyon is a hiker's paradise. The Montrose/Black Canyon National Park KOA is located just 15 minutes from the entry to the canyon and within walking distance to historic downtown Montrose, making it the perfect visitor destination. It is open year-round and offers spacious full hook-up RV sites, deluxe cabins and tent sites.
FLORIDA:
Orlando NE/Wekiva Falls KOA
Located in central Florida, this amazing 100-acre getaway is bursting with beautiful landscaping, outstanding amenities and exceptional family-friendly activities. It offers nearly 800 full hookup sites, tent sites along the river and a fantastic natural spring-fed swimming lagoon.
Orlando NW/Orange Blossom KOA
Year-round fun is waiting for campers of all ages at this newly updated Orlando gem. Close to area attractions, great golf courses and great dining and shopping, it also provides the perfect spot to kick back, relax and enjoy the beautiful Florida weather.
GEORGIA:
East Ellijay/Chattahoochee National Forest KOA
This KOA is so new, it isn't even built yet! This brand new KOA location will boast tumbling mountain streams surrounded by a national forest and ringed by Appalachian peaks. There will be 100-foot-long pull through sites with mountain views and for the more adventurous, fully furnished teepees. An impressive 4,500-square-foot Lodge will serve as the campground's social center with a restaurant, indoor pool and indoor playground. Check back soon at www.koa.com for more information.
IOWA:
Waterloo/Lost Island Waterpark KOA
This brand new campground will be open for the 2012 summer season. You'll find bamboo groves as well as a 15-acre lake. There's a disc golf course, Jumping Pillow, paddleboats and rental bikes. You can even purchase discounted tickets to Lost Island Waterpark, Iowa's largest waterpark. Just down the road are the South Hills Golf Course and the Isle of Capri Casino.
Check back soon at www.koa.com for more information.
KANSAS:
Perry Lake/Topeka NE KOA
This area has earned the nickname "Paradise on the Plains." There's boating and fishing, as well as a terrific network of hiking , biking and horseback riding trails. Best of all, you're camping right on the lake shore, with the state's largest marina. Rent a boat, or just enjoy the Kansas City barbecue at the campground's floating restaurant.
Check back soon at www.koa.com for more information.
NEW YORK:
Houghton/Letchworth KOA
An indoor pool, catch 'n release fishing and wagon rides are just a few of the family-friendly amenities you'll find at this Allegany County campground. Bring your camera—this area is well known for its beautiful lakes, breathtaking scenery and wonderful wildlife.
Springwater/Dansville KOA
This KOA is a great base camp for a Finger Lakes Region adventure. You can fish in the campground ponds for bass and bluegill, or hunt for frogs and crayfish in the creek that runs right through the park. There's musical entertainment nearly every summer weekend, and don't forget to stop and offer an apple to B.G. and Little T, the official campground horses.
Check back soon at www.koa.com for more information.
1000 Islands/Association Island KOA
Fun on land and fun on the water await at this destination campground. Once the training center for the U.S. Olympic Sailing Team, Association Island is known for gorgeous sunsets, amazing fishing and rich history. All sites have lake views and full hookups and there are five wonderful lakefront cottages too.
OHIO:
Homerville KOA
This new KOA is laced with natural trails, fishing ponds and even has its own swimming lake. The on-staff naturalist will guide nature walks to look for wild turkeys, deer and fox, as well as eagles and cranes, all with an hour's drive of Cleveland and Akron.
Check back soon at www.koa.com for more information.
Salem/Lisbon KOA
This KOA is all about fun and games for the whole family. Take a dip in their Olympic- sized swimming pool or try your luck in the 3.5 acre catch 'n release fishing pond. They also have spacious lakeside and poolside pavilions that are the perfect spot for your family reunion, anniversary celebration or company retreat.
PENNSYLVANIA:
Meadville KOA
This big rig-friendly campground in the heart of western Pennsylvania is all about keeping campers of all ages having fun and on the go. This "Family Fun Camping Zone" offers volleyball, basketball, swimming, paddle boats, playgrounds, kiddie train rides, crafts and themed weekends—just to name a few of the things you can expect when you visit.
TENNESSEE:
Hohenwald/Nachez Trace KOA
More than 800 acres of unspoiled lake and forest await you at this new KOA, just off the historic Natchez Trace Parkway. Experience the wonders of the Tennessee hills when you set off for a hike along a rushing stream. Many campsites have water views, and you can even explore the lake on a pontoon boat tour.
Check back soon at www.koa.com for more information.
TEXAS:
Bastrop/SE Austin/Colorado River KOA
RVers love this park for its spacious full hook-up sites, convenient location and relaxing pool, spa and sauna. Easy access to the banks of the Colorado River also make it the perfect fishing spot. A beautiful clubhouse and meeting room make it great for meetings and rallies too.
Onalaska/Lake Livingston KOA
Keep and eye out for Eddie, the local bald eagle, who can often been seen sailing over this East Texas KOA. The campground wraps around the shoreline of Lake Livingston, the second largest lake in Texas. It's a swimming, boating and fishing paradise. There's a marina, of course, and Check back soon at www.koa.com for more information.
Weatherford KOA
Whether you're looking for a weekend getaway or a winter home away from home, you'll love the southern hospitality of this Fort Worth-area campground. Have fun exploring the many area attractions during the day, then head on back for a quiet evening under the Lone Star skies.
VIRGINIA:
Luray KOA
The Blue Ridge Mountains seem to roll on forever at this KOA, nestled in the Shenandoah Valley. Visit the Luray Caverns or one of several local Civil War sites including New Market Battlefield State Historical Park and the Harpers Ferry National Historical Park. There's even fresh brick oven pizza for sale.
Check back soon at www.koa.com for more information.
WASHINGTON:
Longview North/Mount St. Helens KOA
There's plenty of Pacific Northwest scenery at this campground, just an hour away from Porland, Oregon and Olympia, Washington. It's at the start of the road to Mount St. Helens, the site of one of the nation's most dramatic natural events in 1980. It's an ideal base camp for exploring this natural wonder.
Check back soon at www.koa.com for more information.
ONTARIO:
Sturgeon Falls KOA
Located on the Sturgeon Falls River and just 2 kilometers from Lake Nipissing, this campground is all about having a great time on—and in—the water. There are a plethora of boating, fishing and swimming opportunities as well as wonderful on-site activities.
QUEBEC:
Bas St. Laurent KOA
Located on the shores of Lake Saint-Mathieu, this campground is an outdoor paradise. Without leaving the campground you can launch a kayak or boat, hike the nature trails or dine at the full-service restaurant. Bring a group, because this KOA has a clubhouse that can handle 100 of your friends and family.