Great New Locations Welcomed Into the KOA Family in 2013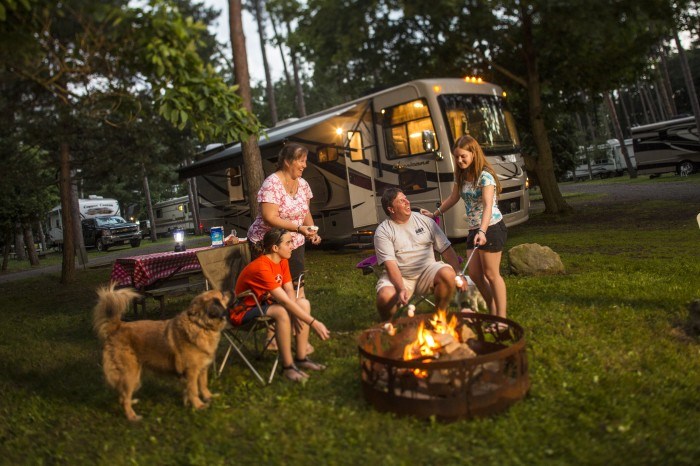 KOA is always on the lookout for new campgrounds in just the right locations.
But the "right location" is only a small part of our mission. The most important thing we do is find the right people in those new locations to ensure you receive that same great KOA camping experience you've grown to expect.
Late in 2012, we were fortunate to find Patty Newcomb and husband Ivan Gaetan, who had a dream to build the perfect campground in the rolling hills near Hancock, Wisconsin. Shortly after we found them, they went to work building roads, wonderful tent and RV sites and Deluxe Cabins.
In April 2014, Patty and Ivan's dream will become reality when they welcome their first KOA camper.
Stories like Patty and Ivan's are what make KOA such a special organization. (Click Here to learn more about the Hancock KOA)
And there were a lot of similar stories in 2013. Let's take a look at some of the locations (and people) we were fortunate to add to the KOA Family in 2013:
The Granby/Bromont, Quebec KOA, owned by Mario Poulin & Ginette Parker
This KOA is located in one of the most visited places in Quebec Province. Just north of both Vermont and New York, the campground is close to the Granby Zoo, the Ski Bromont Aquaparc and just 45 miles from Montreal. Check them out here.
Bordon-Carleton/Confederation Bridge, Prince Edward Island KOA, owned by Barry King
This KOA can be your first stop when crossing Confederation Bridge onto Prince Edward Island. Just minutes from Gateway Village, it's a wonderful place to explore the island's shoreline and get some great photos of the word's longest freestanding bridge. This is absolutely the best "home base" for visiting the Island. For more, click here.
Springville/Provo, Utah KOA, owned by McKay Winkel
A central Utah location that boasts a beautiful mountain backdrop highlights this KOA. It's just a short way to the local water parks, college sports, restaurants and local shops. This KOA is open all year, so it's just as fun in the summer as it is in the winter, with snow skiing, snowmobiling and snowshoeing in Utah's legendary powder. For more, go to click here.
Alamogordo/White Sands, New Mexico KOA, owned by Kelly & Sandy Rodwick
This new KOA, formerly known as the Roadrunner RV Campground, is surrounded by fun stuff like the Alameda Park Zoo, golf courses, Imax Dome Theater, Kids Kingdom, New Mexico Museum of Space History and the White Sands National Monument. It will also have a brand new pool by Spring 2014. FUN! Check them out here.
Yellowstone Park/Mountainside, Montana KOA, owned by the Linde Family
The nation's first national park is just 7.5 miles down the road from this new KOA. It feels just like an extension of the park, with meandering streams, fishing ponds and giant old-growth Lodgepole Pines. Get a KOA Cabin right along Denny Creek. It's a perfect base for your Yellowstone visit. For more, click here.
Paris Landing/Kentucky Lake, Tennessee KOA, owned by Richard Kaczar
Located on 17 acres of woodlands just a mile and a half from Kentucky Lake, there's plenty of shade on all of this campground's sites. It's a great place to enjoy a peaceful vacation, yet there's still plenty to do with boating, fishing, hunting, wineries, golf and Civil War sites nearby. For more, click here.
Uniontown, Pennsylvania KOA, owned by Denise Gallo & Denne Yenchochie
The new Uniontown KOA is set between the Youghiogheny River and the Great Allegheny Passage Bike Trail, and every campsite comes with a view of the trail or the river. You can cast for trout from shore, or rent a canoe. Take a bike out on the 150-mile bike trail. There are theme weekends from spring to fall, and a brand new pool to keep you cool. Check them out here.
Starkville, Mississippi KOA, owned by Rick & Meo Stansberry
Set on 400 beautiful acres on Oktibbeha County Lake, this new KOA has both shaded and non-shaded sites, along with a pier and great fishing! There's even a water park complete with slides and a beach, which stays open from May through September. You can rent a paddleboat or kayak. It's handy, too, just minutes from the Mississippi State University campus. For more, click here.

Benbow, California KOA, owned by John Porter
This Humboldt County hideaway comes with winding rivers, redwood trees and mountain views. The campground has a pool, hot tub, splash park, sport court and family fire pit for lots of fun activities. Don't want to cook? Check out the Benbow Inn next door. For more, click here.
Nashville North, Tennessee KOA, owned by Jim & Mary Zaborowski
This new Music City location is just six miles from Nashville (12 miles from downtown attractions) and has KOA Deluxe Cabins, solar bike rentals and a 24-hour laundry. This is a very "green" park, and it's also handy if you're planning a tour of President Andrew Jackson's family home, The Hermitage. This KOA is open all year, and we know Jim and Mary will treat you like family. Check them out at here.
Tucson/Lazydays, Arizona KOA
Spend your next vacation at this desert oasis! It has beautiful fruit trees throughout the park, and authentic Sante Fe-style buildings. The Lazydays RV Dealership is right next door. The park has a full restaurant and bar, two pools, and event center, fitness center and free WiFi. Camping at this Arizona KOA is a breeze! For more, click here.
Pocatello, Idaho KOA, owned by Maurice & Lorraine Dicaire
Pocatello is known as the "U.S. Smile Capital," since it's famous for its hospitality. That sure is true of this KOA. Surrounded by mountains, you can rock climb or hike to your heart's content, then soak in the world famous Lava Hot Springs, only 25 miles from town. Pocatello is also home to Idaho State University and the Museum of Natural History. There's even catering available for larger groups. For more, click here. 
So, that's our new faces for 2013. But, just in case you think we aren't out there on our never-ending search for even MORE great KOAs, we want you to know we've already found a new location east of Austin, Texas, that will be under construction soon — and open for business in 2015. Stay tuned!