After A Tiffany Breakfast, Holly Golightly Can Go Camping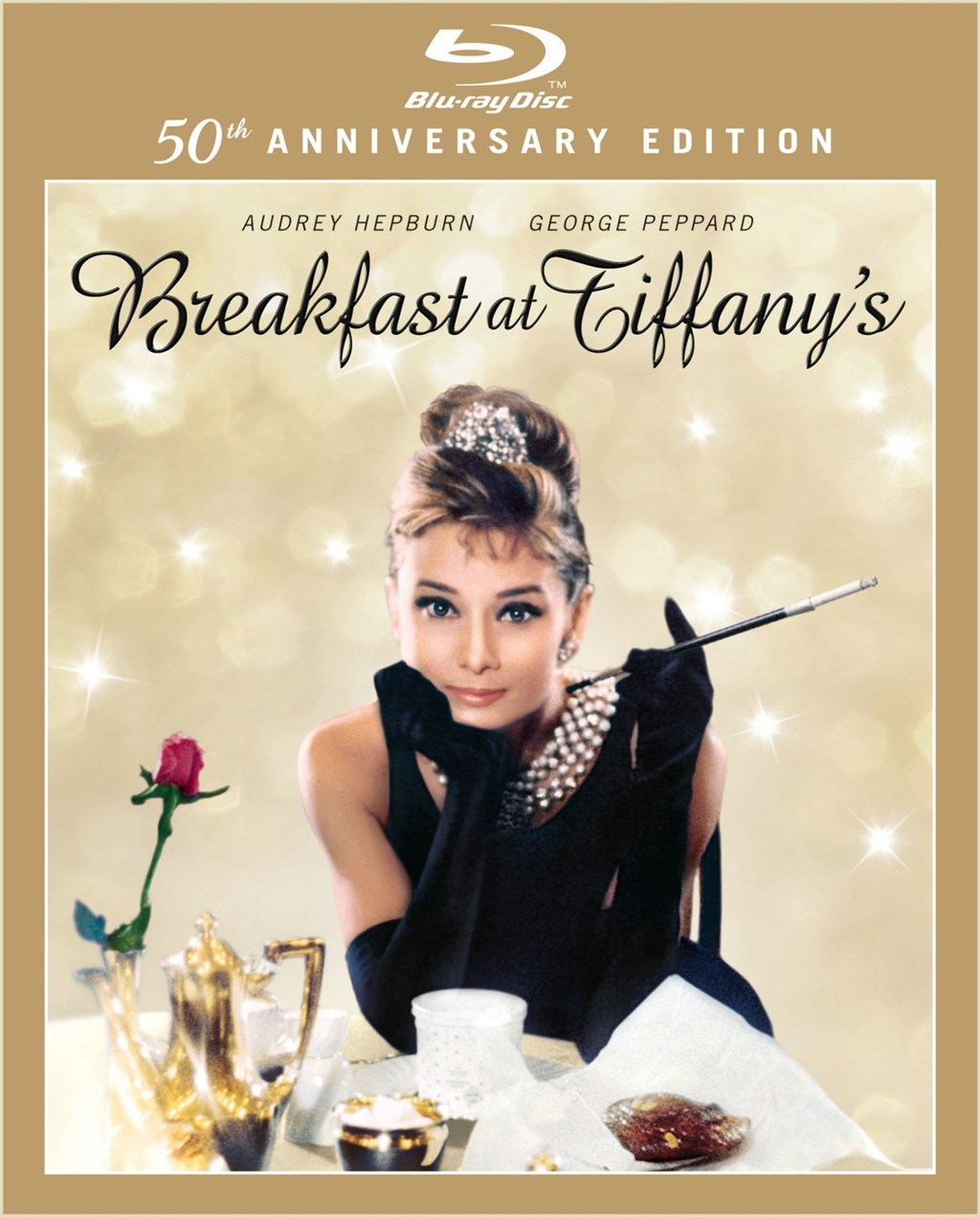 By Jennifer Grambs, KOA Travel Correspondent
Photos: Jennifer Grambs
You can start your day like a movie star in New York City with breakfast at Tiffany's, and fall asleep that night under the stars in a KOA country campground.   It's all just a train ride away.
In between, stroll through Central Park, marvel at the dazzling Chrysler Building, ride a subway, adjust your backpack, buy a $10 fake Rolex watch, people watch and indulge yourself in big city fun knowing that, at the end of the day, KOA will welcome you.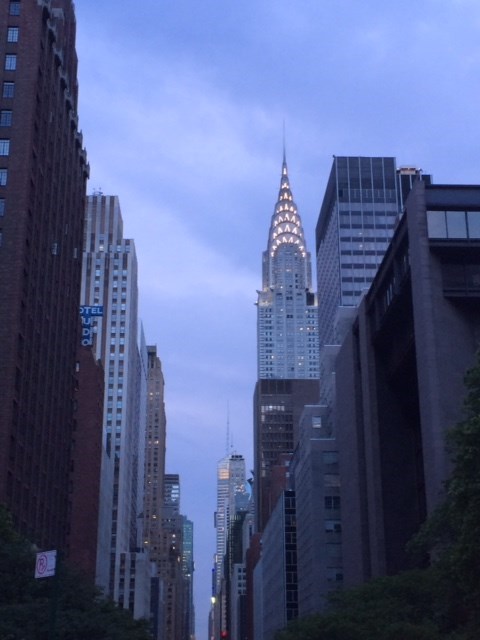 My transition from city gal to camping adventurer for this article began in midtown Manhattan, where I live, and intensified as I made my way to the Deerpark/New York City NW KOA campground. There, I was transformed into the serious camper I consider myself. But, this time, I was on my own to prove that camping doesn't always have to be a family affair.
Sure, KOA can make city or country camping possible and fun. But there's no accounting for what to do if you encounter a bear on the trail or arrive in a raging rainstorm. Yes, both happened.
I had two options about where to camp without a car: either Deerpark/New York City NW KOA, or New York City North/Newburgh KOA. I used the Internet and my trusty KOA Directory to do research.   Each campground is within easy traveling distance of NYC, offers excursions or, at least, expert advice about tours and things to see. It seemed to me that you could go to either with just the knapsack on your back. Well, almost.
I chose Deerpark because I was fascinated with staying in a yurt, something I'd never done. When I spoke to KOA's Kristin on the phone, she eased my mind about train connections and assured me that campers are picked up at the country station in Otisville, NY. My decision was made.   Off I'd go.
Departure morning, I left my New York apartment carefree and practically empty-handed. My computer and overnight stuff were in a small, rolling case. Everything else fit into my hands-free (and extremely stylish) GreatBags backpack purse that, yes, a vintage movie star like Audrey Hepburn might have chosen. I was ready for anything the city or country could throw at me.
Obsessed with the 1961 film Breakfast at Tiffany's, I was determined to recreate the movie's opening scene made famous by Audrey Hepburn. Every film buff remembers glamorous Holly Golightly, in long gown and tiara, alighting from a taxi at dawn, to gaze in wonder at Tiffany's diamond-filled windows. Iconic photographs are all over Manhattan. Like Holly, my heroine, I carried a brown bag breakfast of Danish pastry with coffee that I sipped from a paper cup.   My big sunglasses and backpack were perfect, but I'm not sure about the jeans and hiking boots.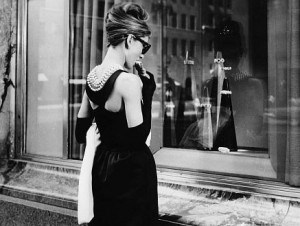 It had been a half-hour walk to Tiffany's.   Across Fifth Avenue, I wandered past Bergdorf Goodman's fancy department store among the super elegant clientele. A few steps beyond, I was at the Plaza Hotel walking through a spectacular lobby where the famous painting of Eloise, an imaginary little girl who lived there, still stands. There's even an Eloise shop downstairs for children of all ages.
Central Park, New York's masterpiece, is just a leap away from the Plaza. I followed a trail of tourists through the park to Manhattan's Upper West Side.   A quick subway ride later I was at bustling Penn Station where NJTransit would transport me to camping serenity.
Less than two hours later, hello Deerpark KOA.
After a scenic train ride of pretty little homes with gardens and greenery everywhere, I was at the Otisville station. Kristin, in her yellow KOA shirt, picked me up.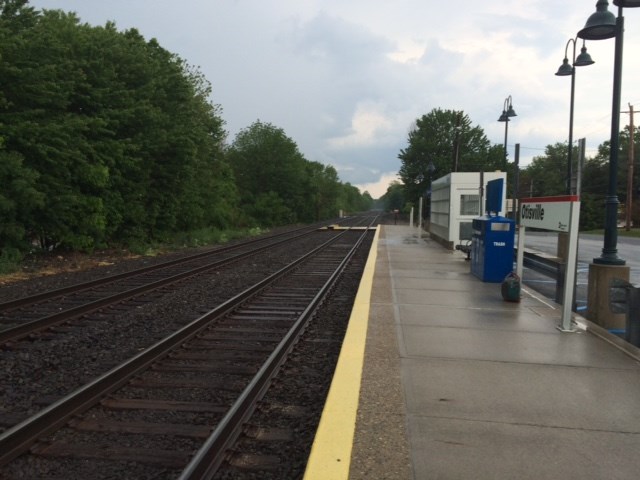 I arrived just after a raging downpour. Everything was soaked, and there were puddles everywhere. This campground was different from others I've stayed at across the country.   It reminded me of the summer camp I'd attended as a kid, a country setting that brings back visions of childhood retreats. I liked that. It was comforting and inviting.
I decided to split up my 48-hour stay, one night in a yurt and the other in one of those Deluxe Cabins where you can cook, rest, play and relax on the porch. I ended up running back and forth between both, enjoying the roundness and open sky feeling of the yurt and the cuteness of my Deluxe Cabin.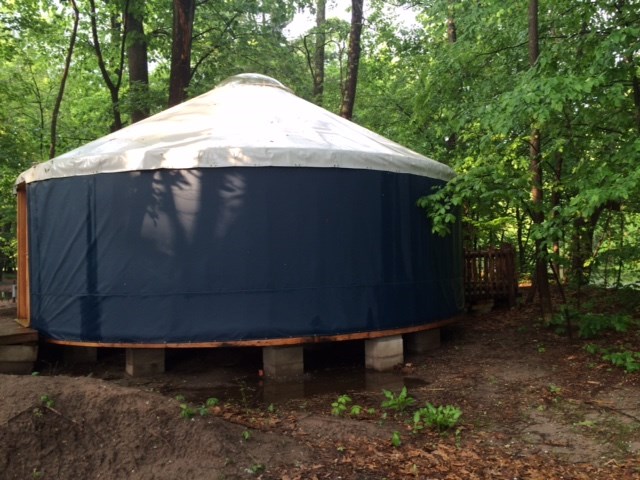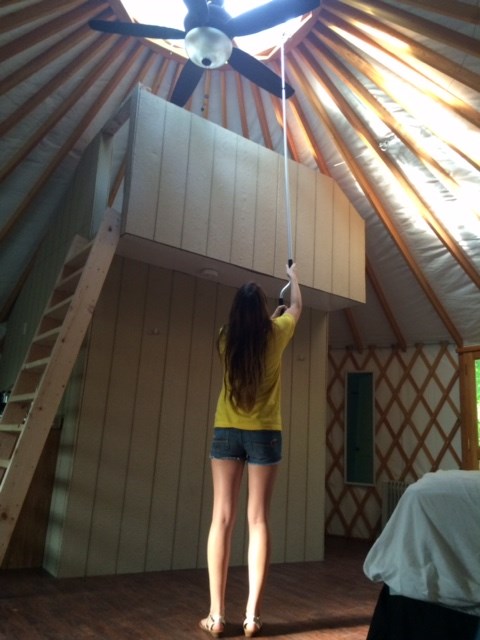 Strolling through the grounds gave me a glimpse of the place I hadn't noticed in the rain. Owner Wynn Taylor suggested what not to miss despite intermittent rain: the jumping pillow, bike station and sluicing area, playground and pool. All the things that remind me of KOA. What was different was the amount of acreage here that included creeks and rivers. It was the first time I went kayaking.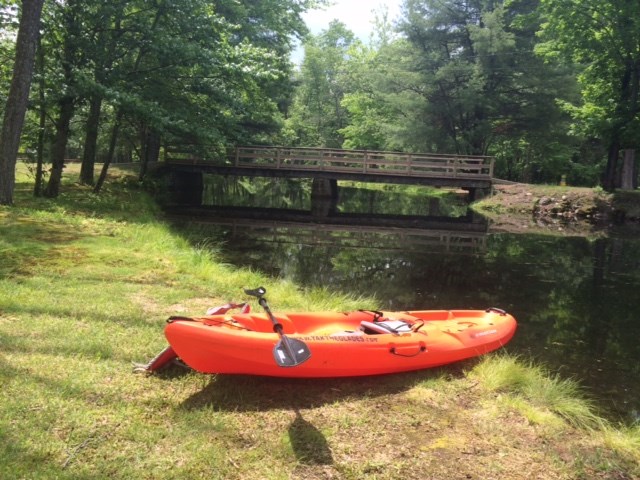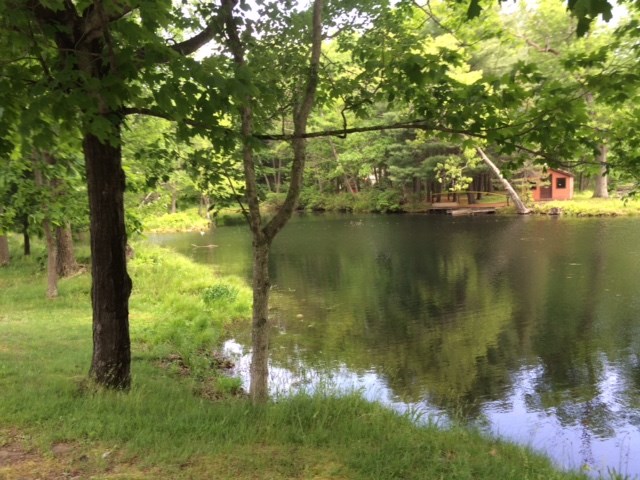 Back at the Deluxe Cabin in between activities, I cooked up some hot dogs and vittles from the office grocery. Next day I added the hot dogs to eggs, had some toast and pretended I was outside making use of a campfire.
The highlight of my solo adventure was spotting a bear during a long hike I took at the the Nature Conservancy's Neversink Preserve.   Just a left turn out of the campground and past Betty Jane Lane, I spent my final morning exploring acres of this ecological wonderland.
On one of the Red, White, Yellow or Blue labeled paths — I managed to try them all — I saw a bear standing on hind legs about fifty yards from me.
I knew not to panic. What would Holly Golightly do?
Remembering my bear wisdom, I stood tall, puffed myself up larger than my 5'3" frame, didn't make eye contact, talked loudly, sang, whistled, made noise and kept walking. When I l dared to peer over again, no furry creature remained. He was glad to be rid of me, too.
The moral of my story is: Whether or not you go lightly, with a little ingenuity and help from KOA, you can experience both city and country life with ease.
Jennifer Grambs is a journalist who has published three books about traveling in the United States as part of the American Traveler series. 
KOA: Cabins to Experience The Comfort of the Inside, Outside