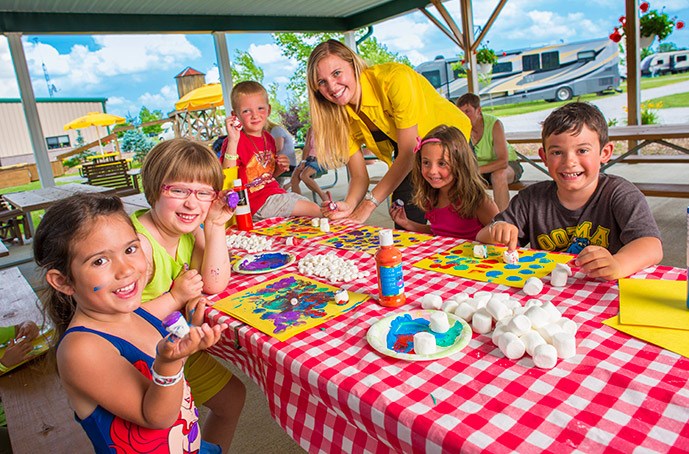 Add some fun to your summer with KOA campground events and themed weekends.
Across North America KOA campgrounds are gearing up for another summer of camping. In addition to the usual camping fun, campgrounds are filling their calendars with a wide variety of events and weekend celebrations. From concerts to mystery weekends to fundraisers to wine tastings – this list has something for everyone!
Pick a region to start exploring some of the events happening at KOA campgrounds this summer. Your favorite KOA not on the list? Remember that events are always being added – visit campground websites for the most up-to-date information.
---
West
Washington
Washington Bay Center / Willapa Bay KOA Journey
Memorial Day Weekend – May 26-18
Halloween Weekend – June 9-10
Fathers Day Weekend & Clam Chowder Cook-off – June 16-17
Christmas in July – July 18-29
Cowboy's & Robbers Weekend – Aug 4-5
Mother's Day Breakfast – May 12-14
Victoria Day Weekend – May 19-22
Hawaiian Vacation Weekend – June 9-11
Sasquatch Search – July 7-9
Fiesta Time Weekend – August 4-6
Puppy Power Weekend – August 18-20
Longview North / Mount St. Helens KOA
Kids to Park Day & Adult Social – May 21
Canada Day – Jul 1
National Ice Cream Sandwich Day Celebration – August 2
National Watermelon Day Melon Eating Contest – August 3
National S'mores Day Celebration – August 10
Newport / Little Diamond Lake KOA
Kamploops Rodeo Fishing Derby – May 19-21
Candy Land Fantasy – June 9-11
Corn Boil Bonanza – July 14-19
Family Challenge Weekend – August 4-6
Hot August Days – August 18-20
---
California
Memorial Day Weekend- May 26-29
Father's Day Weekend – June 16-18
4th of July Celebration – July 1-5
Mother's Day & Care Camps Weekend – May 12-14
Father's Day Weekend – June 16-18
4th of July  – June 30 – July 4
Mother's Day Weekend – May 12-14
Memorial Day Weeekend – May 26-29
Father's Day Weekend – June 16-18
1st 4th of July Weekend – June 23-25
2nd 4th of July Weekend & Willits Frontier Days – June 30 – July 4
Christmas in July – July 14-16
---
Arizona
 Care Camps Big Weekend – May 12-14
---
New Mexico
Independence Day Fireworks Extravaganza – July 4
---
Texas
Care Camps Big Weekend – May 12-13
Jaden's Hay Wagon Rides – Nightly from May 26-August 15
Lake Conroe/Houston North KOA Holiday
Care Camps & Mother's Day – May 13-14
Memorial Day Weekend – May 26-28
Scavenger Hunt Fun – June 2-4
Cowboy Weekend – June 23-25
Flying Weekend – July 21-23
Memorial Day Weekend – May 26-29
Memorial Day Cookout – May 28
4th of July Events – July 2
---
Oklahoma
Checotah / Lake Eufaula West KOA
Fireworks Spectacular – July 1
---
Kansas
Kansas City West / Lawrence KOA
Tent for Troops – May 19-20
Death by Chocolate – June 2-3
Supersoaker Wet & Wild Party – Jun 23-24
Recycle & Upcycle Weekend – July 28-29
Pirates & Mermaids Weekend – August 4-5
Tent for Troops – August 25-26
---
Colorado
Colorado Whitewater Spring Training Camp – May 19-21
Schools Out Celebration – June 9-10
Wild West Weekend – August 11-12
Denver East / Strasburg KOA Holiday
Mother's Day & Kick Off Care Camps – May 12-14
Springtime Camping Fun – May 19-21
Father's Day Weekend – June 16-18
Independence Day Weekend – June 30 – July 4
Strasburg's Hometown Days – Augusts 11-13
Live County and Old Tim Rock & Roll – June 21 – August 5
Weekend Bar-B-Ques – June 21 – August 5
Mothers Day & Care Camps Big Weekend – May 12-14
Memorial Day Weekend – May 26-29
July 4th Weekend – July 1-4
---
Utah
Bear Lake / Marina Side KOA Holiday
Care Camps Big Weekend & Mother's Day – May 12-14
Celebrating Bear Lake weekend – June 2-4
Storybook Character Heroes & Villains Weekend – June 23-25
Tropical Weekend – July 14-16
Carnival Weekend – July 28-30
Halloween Weekend – August 25-27
Mother's Day Weekend & Care Camps Big Weekend – May 12-14
---
Montana
Polson / Flathead Lake KOA Holiday
Care Camps Big Weekend – May 12-13
Father's Day Kids Camp Free – June 16-18
---
Wyoming
Devils Tower / Black Hills KOA
Relay For Life – June 3
4th of July Celebration & Fireworks – July 4
Devils Tower Car Show – August 19
Devils Tower Ranch Rodeo & Dance – August 26
Campfire Meals – Daily from June 2 – August 27
2017 Solar Eclipse – August 19-21
---
South Dakota
Mount Rushmore KOA Resort at Palmer Gulch
Rodeo at Palmer Gulch – June 10
Rodeo at Palmer Gulch – June 25
Rodeo at Palmer Gulch – June 30
Rodeo at Palmer Gulch – August 19
Chocolate Lover's Weekend – June 9-11
Kids Get Even – June 23-25
Christmas in July – July 21-23
Blast From the Past Weekend – August 11-13
One Sweet Weekend – August 25-27
---
Nebraska
Solar Eclipse – August 21
---
Midwest
Iowa
Waterloo / Lost Island Waterpark KOA Resort
Mardi Gras Weekend – June 9-11
4th of July Weekend – June 30 – July 3
Super Soaker Weekend – July 21-23
S'mores Weekend – August 11-13
Fiesta Weekend – August 18-20
---
Missouri
Annual Vintage Camper Event – August 3-6
Kansas City East/Oak Grove KOA Holiday
Care Camps Big Weekend – May 12-14
---
Tennessee
Memorial Day Weekend – May 27-29
Bonnaroo!! – June 8-11
July 4th Celebration – July 4
Pigeon Forge / Gatlinburg KOA Holiday
Memorial Day Weekend – May 26-28
Water Wars Weekend – June 2-4
Independence Day – July 2-6
Audrey's Jingle in July – July 29
Water Wars Weekend – August 4-6
---
Kentucky
Birthday Weekends – Monthly, May – August
Cinco De Mayo Weekend – May 5-7
Memorial Day Weekend – May 26-29
Camp Out Jam Out – June 2-3
Father's Day Weekend – June 16-18
4th of July Weekend – June 30 – July 4
Water Gun Wars – July 1
Candy Bar Bingo – July 8
Root Bear Float Social – July 22
Western Weekend – July 28-30
Annual Fall Clean-Out Yard Sale – August 19
Annual Gospel Songfest – August  25-26
Kentucky Lakes / Prizer Point KOA
Armed Forces Day – May 20
Father's Day Weekend – June 16-18
Luau Weekend – August 11-13
Mardi Gras Weekend – August 25-27
Memorial Day Weekend – May 26-28
Camper Challenge Weekend – June 2-3
Beach Party Weekend – June 23-24
Weird Science Weekend – July 14-15
Western Weekend – July 28-29
I Love my Pet Weekend – August 11 – 12
Chili Cook Off – August 18-19
Memorial Day Celebration & Family Olympics – May 26-29
4th of July KOA County Fair – June 30 – July 4
Christmas in July – July 21-22
Chili Cook – Off & Cornhole Games – August 18-19
Memorial Day Weekend – May 26-29
---
Illinois
Memorial Day Weekend – May 26-29
End of School Fling – June 9-11
Hawaiian Luau – June 23-25
Christmas in July – July 28-30
Annual Corn Boil Weekend – August 4-6
Western Weekend & Chili Cook Off – August 18-20
St. Louis NE / I-270 / Granite City KOA Journey
---
Wisconsin
Once Upon a Time/Memorial Day Weekend – May 26-28
Country Carnival Weekend – June 9-10
Under the Sea Weekend – June 23-24
Wild, Wild West Weekend – July 7-8
Chocolate Weekend – August 4-5
Super Hero Weekend – August 25-26
Pool Party – Carnival Days – June 2-3
Candyland Weekend – June 23-24
Corn Roast – July 21-22
24th Anniversary Party – August 11-12
Fiesta Weekend – August 25-26
---
Michigan
Memorial Day Weekend  – May 26-29
Father's Day Weekend – June 16-18
Independence Day – June 30 – July 4
Christmas in July – July 21-23
Wild Wacky Water Weekend –  August 11-13
Covert/South Haven KOA Holiday
Memorial Day Weekend – May 26-29
Harborfest & Father's Day Weekend – June 15-18
July 4th Weekend – June 30 – July 4
Blueberry Festival – August 10-13
Happy Birthday, Emmett KOA – June 9-11
Beach Party Weekend – July 7-9
Christmas in July – July 21-23
50's Weekend – August 18-20
Redneck/Hillbilly Weekend – August 25-27
Ludington East / Pere Marquette River KOA
Memorial Day – May 26-29
Dad is My Superhero!! Father's Day Weekend – June 16-18
4th of July: America the Beautiful: June 30-July 4
Memorial Day Weekend – May 26-29
Boy & Girl Scout Weekend – June 2-4
Candy Land Weekend – June 23-26
Wild West Weekend – July 14-16
Sand Castle Contest – August 4-6
Firefighter Weekend – August 18-20
Father's Day Weekend – June 16-18
Jungle Safari Weekend – May 19-21
Disney Weekend – June 2-4
Under the Sea Weekend – July 7-9
Hawaiian Weekend – July 28-30
Fiesta Weekend – August 11-13
End of Summer Bash – August 25-27
---
Indiana
Hillbilly Holiday – June 23-25
Retro Weekend – July 7-9
Treasure Hunt Weekend – July 21-23
Splish Splah Weekend – August 4-6
It's a Hoedown – August 18-20
Elkhart Co. / Middlebury KOA Holiday
Celebrate Independence Day – June 30 – July 4
Christmas in July – July 21-23
Memorial Weekend – May 26-29
Yard Sale Weekend – June 10
Weekend Ice Cream Socials – Weekly from June 17 – August 26
4th of July Celebration – June 30 – July 4
Chicken BBQ – August 19
---
Ohio
Buckeye Lake / Columbus East KOA Holiday
Tin Can Tourists RV, Car & Boat Show – May 18-21
Construction Weekend – June 2-4
Pirate Weekend – June 23-25
Western Weekend – July 14-16
Super Soaker Weekend – July 28-30
Mopar Weekend – August 10-13
Parents & Kids Weekend – August 25-27
Get Back to Nature – May 19-21
Crazy Races Weekend – June 2-4
Mystery Weekend – June 23-25
Zoom! Weekend – July 7-8
Super Hero Weekend – July 28-30
Princess & Knights Weekend – August 4-6
Canton / East Sparta KOA Holiday
Off to the Races – Memorial Weekend – May 26-29
All About Marshmallows Weekend – June 9-11
Wet N' Wild Weekend – June 9-11
Kids Adventure Games Weekend – July 14-16
Minute to Win It – August 11-13
Ice Cream Social & Hayride – August 25-27
Swimming Pool Grand Opening & Memorial Day Weekend – May 26-27
Hot Air Balloon Weekend – June 9-11
Everything Chocolate Weekend – July 21-23
Glow Weekend – July 28-30
Space Exploration Weekend – August 11-13
Hamvention Week – May 15-21
Happy Camper Show – June 3
Carnival Weekend – June 24-26
Rocket Fun – July 15
Wine & Cheese Social – August 5
Music Night – August 19
Memorial Day & Summer Fun Kickoff Weekend – May 24-30
Marshmallows Gone Wild Weekend – June 22-27
Off to the Races Weekend – July 13-17
Spongebob Weekend – July 20-25
Crazy Fun Weekend – August 3-8
Beach Party Weekend – August 24-29
Streetsboro / Cleveland SE KOA
Christmas in July – July 21
County Fair Memorial Day Weekend – May 26-28
Red Neckin' Father's Day Weekend – June 16-18
Peace, Love & Camping Weekend – July 7-9
Crawly Critter Weekend – July 28-30
Down on the Farm Weekend – August 4-6
Happy Days Weekend – August 18-20
Hillbilly Heaven Weekend – August 25-27
---
Northeast
Maine
Augusta / Gardiner KOA Journey
Father's Day Weekend – June 16-18
Victoria Day – May 19-21
Memorial Day – May 26-28
Traditional Camping Weekend – June 2-4
Grand Opening – June 9-11
Father's Day – June 16-18
Hollywood Red Carpet / Talent Show – July 7-9
Christmas in July – July 28-30
Country Western – August 11-13
Pirates & Princesses – August 25-27
Memorial Day Weekend – May 25-29
Father's Day – June 16-18
Independence Day Weekend – June 29 – July 4
Lobster Weekend & Yarmouth Clam Festival – July 21-23
Haunted Weekend – Classic Horror – August 4-6
Balloon Festival – August 18-20
Memorial Day 'Hero's' Weekend – May 26-29
Newlywed & 'Not-So' Newlywed Weekend – June 2-4
Father's Day Weekend Pancake Breakfast – June 16-18
Naples Family Carnival – June 30 – July 4
Christmas in July – July 21-23
Hawaiian Luau Weekend – August 10-13
Lobster Weekend  – August 18-20
Skowhegan / Kennebec Valley KOA
Easter Weekend – May 19-21
Memorial Day Weekend – May 26-29
Father's Day Weekend – June 16-18
Fourth of July – June 30 – July 4
Christmas in July – Weekends of July 14 & 23
Super Soaker/Slip & Slide Weekend – August 4-6
---
New Hampshire
Lincoln / Woodstock KOA Holiday
Airstream Rally – May 19-21
Father's Day Weekend – June 16-18
---
Vermont
Vintage Camper Rally – June 9-11
Memorial Weekend – May 26-29
Christmas in July – July 21-22
Halloween in August – August 4-5
One S'more Weekend – August 18-22
Quechee / Pine Valley KOA Holiday
The Vermont Institute of National Science Makes a House Call – July 8-22
---
New York
1000 Islands / Association Island KOA
Mood Swing – May 27
Lisa Lee Band – July 1
Amarillo Hot Country – July 29
White Tail Country – August 5
Mood Swing – August 26
Memorial Day Weekend – May 26-19
Cinderella's Big Day – June 9 – 11
Father's Day Weekend – June 16-18
Happy Fourth Of July – June 30 – July 4
Mardi Gras  – July 28-30
Water Wars – August 11-13
Classic Camper Roundup – August 25-27
Memorial Day Weekend – May 27-28
Wine & Paint Weekend  – June 10
Father's Day Weekend – June 14
Fourth of July Weekend – July 1-4
Nature Weekend – July 15
Summertime – August 5
Pet Weekend – August 12
Hoedown Weekend – August 26
Lake Placid / Whiteface Mountain KOA Holiday
KOA Mothers Day/Care Camp Weekend – May 12-14
Victoria Day Weekend & Dinner – May 19-22
Memorial Day Sunday Dinner – May 26-29
Father's Day Weekend – June 16-18
St. Jean Baptiste Weekend – June 23-23
Meet and Greet the US Olympic Bobsled Team – June 29
Fourth of July Weekend – July 1-3
A July of Holidays! Easter & Christmas in July – Weekends of July 7-17
Medina / Wildwood Lake KOA Holiday
Memorial Day Weekend – May 26-29
Golf Cart Race Weekend – June 2-4
Father's Day & Poker Run Weekend – June 16-18
Fourth of July Weekend – June 30 – July 4
RV Show Weekend – July 14-16
Easter Weekend – August 4-6
Glow Party Weekend – August 25-27
New York City North / Newburgh KOA
Memorial Day Weekend – May 26-29
Family Olympics Weekend – June 2-4
Father's Day Weekend – June 16-18
Chocolate Lover's Weekend – July 7-9
Fear Factor Weekend – July 28-30
Pool Party Weekend – August 11-13
Hawaiian Weekend – August 25-7
Niagara Falls / Grand Island KOA Holiday
Memorial Day Weekend – May 26-29
Father's Day Weekend – June 16-18
Music at the Pool – July 29
Saugerties / Woodstock KOA Journey
Memorial Day Carnival – May 27
Father's Day & Ice Cream Social – June 17
July 4th Weekend – July 1
Flashlight Candy Hunt – July 22
Craft – Tie Dye – August 5
---
Connecticut
Memorial Day Weekend – May 26-29
Father's Day Weekend – June 16-17
Fantastic Fourth of July Weekend – July 1-4
---
Pennsylvania
Delaware Water Gap / Pocono Mountain KOA Holiday
Wood Carving Demonstration with "Sawptician" – July 15
DJ Krazy Ken – July 22
Magnolia Band – August 12 & 26
Elizabethtown / Hershey KOA Holiday
Memorial Day Weekend – May 26-29
Father's Day Weekend – June 16-18
Fourth of July Celebration – June 30 – July 4
Christmas in July – July 28-30
Fun & Games Weekend – August 25-27
Memorial Day Weekend 0 May 26-29
Fun with Rocks & Dino Bones / Erie Wild Rib Cook-Off & Music – June 2-4
Jungle Terry Returns – June 9-11
4th of July Weekend – June 30 – July 4
Wet & Wild Weekend – July 21-23
Hunt 4 School Treasure & End of Season Store Sale – August 18-20
Gettysburg / Battlefield KOA Holiday
Memorial Day Weekend – May 26-29
Civil War Songs & Stories – June 9-11
Live Animal Weekend – June 23-25
Gettysburg Bike Week – July 7-9
Christmas in July – July 21-23
South Mountain Fair – August 4-6
Pirate Weekend – August 18-20
Honesdale / Poconos KOA Holiday
Hot Dog Social – May 19-21
US Great American Campout & Happy Birthday Weekend – June 23-25
Summer Fun & Pulled Pork Dinner – July 7-9
Bingo Bonanza Weekend – July 28-30
Wayne Country Fair Weekend #1 – August 4-10
Chocolate Weekend Fun!! – August 18-20
Jonestown / Hershey KOA Journey
Memorial Day Weekend – May 26-29
1st Annual Hero's Challenge 5K Mud Run – June 10
July 4th Celebration – June 30 – July 4
Memorial Day Weekend  – May 26-29
Father's Day Weekend – June 16-18
Fiesta – June 23-25
July 4th Weekend – June 30 – July 4
Pirates & Mermaids  – July 28-30
Chocolate Weekend – August 11-13
Memorial Day Weekend – May 27-28
10th Annual Car Show & Vintage RV Rally Weekend – June 3
Death by Chocolate Weekend – June 24
Independence Day Weekend – July 1-4
Duct Tape & Cardboard Boat Regatta Weekend – July 22
Juggler's Weekend – August – 12
Mercer / Grove City KOA Holiday
Victoria Day Weekend – May 20-21
Memorial Day Weekend  – May 26-28
Ventriloquist Cindy – June 24
Krazy Kitchen Kemistry – July 1
Chainsaw Carver – July 15
Annual Ice Cream Social – July 29
Pool Games – August 12
Annual Pig Roast – August 19
Philadelphia / West Chester Holiday
25th Anniversary Celebration – May 19-21
Memorial Day Weekend – May 26-29
Arts & Crafts Extravaganza – June 2-4
Scavenger Hunt Weekend – June 23-25
Elmwood Park Zoo – July 14-16
Music Weekend – July 28-30
Waterplay Weekend – August 11-13
Memorial Day Weekend – May 26-29
St. Patrick's Day Weekend – June 2-4
Mardi Gras Weekend – June 13-25
Wine & Cheese Social Weekend – July 7-9
Luau Weekend – July 28-30
Imagination Weekend & Pie Iron Chef's Competition – August 4-6
License to Chill Weekend – August 25-27
Williamsport South/Nittany Mountain KOA Holiday
Memorial Day Weekend – May 26-29
Summer Fun Weekend – June 9-11
Hawaiian Luau Weekend – July 7-9
Sawmill Festival #2 – July 21-23
Family Olympics Weekend – August 11-13
LLWS Championship Weekend – August 25-27
---
Maryland
Hagerstown / Antietam Battlefield KOA
Memorial Day Weekend – May 26-29
Mardi Gras Weekend – June 9-11
Old Fashioned Fun at the KOA – June 23-25
Jump Back in Time – July 7-9
Christmas in July – July 28-30
Tropical Weekend – August 11-13
Boot Scootin Weekend – August 18-20
Washington DC / Capitol KOA Holiday
Memorial Day Celebration / Rolling Thunder Weekend – May 25-29
July 4th Weekend – June 30 – July 9
Christmas in July – July 21-23
---
Virginia
Summer Kick Off – May 26-29
Silly Hat & Shirt Theme Dance Party – June 24
Pirate Weekend – July 9
Crab Fest – August 5
Keep Summerin Luau Pig Roast – August 12
Fancy Gap / Blue Ridge Parkway KOA
Memorial Day/Let the Summer Begin – May 26-29
Harrisonburg / Shenandoah Valley KOA Holiday
Memorial Day Weekend – May 26-29
Snack Attack – June 24
Water, Water Everywhere Saturday – July 8
Wacky Boat Race – July 22
Family Fun Saturday – July 29
Snack Attack – August 26
Memorial Day Weekend – May 26-29
Everyone's Birthday – June 23-25
Wet N Wild  – July 14-16
Wilderness Explorer – July 28-30
Virginia Luau – August 4-6
6th Annual Home Educators Appreciation Weekend – May 12-14
Digs Volleyball Tournament – May 19-21
Williamsburg / Busch Gardens Area KOA
Care Camps Big Weekend II – May 19-21
Memorial Day Weekend  – May 25-29
Pet Weekend – June 9-11
Frozen Weekend – Elsa & Anna Meet-and-Greet – June 23-25
Farm Weekend – July 14-15
Bigfoot Weekend – July 28-30
Carnival Weekend – August 18-20
---
West Virginia
Harpers Ferry / Civil War Battlefields KOA
Memorial Day Weekend – May 26-29
Mardi Gras Weekend – June 9-11
Old Fashioned Fun at the KOA – June 23-25
Jump Back in Time – July 7-9
Christmas in July – July 28-30
Tropical Weekend – August 11-13
Boot Scootin Weekend – August 18-20
Memorial Day Celebration / Rolling Thunder Weekend – May 25-29
July 4th Weekend – June 30 – July 9
Christmas in July – July 21-23
---
Southeast
North Carolina
Memorial Day – May 26 – 29
Father's Day Weekend – June 16-18
4th of July Celebration – June 30 – July 4
Memorial Day Celebration – May 26-29
Father's Day Weekend – June 16-18
Independence Day Celebration – June 30-July3
---
South Carolina
Father's Day Weekend – June 17
Fourth of July Weekend – July 3-5
Father's Day Weekend – June 16-18
Independence Week Celebration – June 30 – July 3
Spartanburg NE / Gaffney KOA Holidau
Memorial Weekend – May 27-29
Father's Day Weekend – June 17-18
July 4th! – July 1-4
---
Georgia
Jacksonville North / St.Mary's KOA Holiday
Memorial Day Weekend & Campground Yard Sale – May 27-29
Father's Day Weekend – June 17-18
Lookout Mountain/Chattanooga West KOA Holiday
South African Festival – July 14-17
---
Florida
Good Habits-Old Spirits Put Put Tournament – May 29
Fabulous Father's Day – June 16-18
"A Sparkling Good Time" – June 30 – July 4
---
Louisiana
Bayou Country Southern Fest – May 23-28
Jambalaya Festival – May 26-28
---
Alabama
Memorial Day Weekend – May 26-28
Father's Day Weekend – June 16-18
Fourth of July Weekend – June 30 – July 5
---
Canada
Alberta
Victoria Day Long Weekend – May 19-22
Wear Plaid for Dad Weekend – June 16-18
Canada Day – July 1-2
July 4th US Independence Day – July 4
Civic Holiday – Heritage Day – August 4-7
---
Ontario
1000 Islands / Kingston KOA Holiday
Mother's Day/Care Camps Big Weekend – May 12-14
Victoria Day "Unbirthday" Party – May 19-22
Father's Day Weekend – June 16-18
Canada Day Weekend – June 30-3
Mad Scientist Weekend – July 7-9
Emergency Response Weekend – July 14-16
Mystery Weekend – July 21-23
Easter Weekend – July 28-30
Carnival Weekend – August 4-7
Pirate Weekend – August 11-13
Hillbilly Weekend – August 18-20
Chili Cook-Off Weekend – August 25-27
KOA Care Camps Big Weekend & Happy Mother's Day – May 12-14
Eat.Sleep.Camp. Repeat – May Long Weekend – May 19-22
Zoo Tek Wildly Exciting Animal Show Weekend – May 26-28
Pirates of the KOAribean! – June 9-11
Father's Day Weekend – June 16-18
School's Out – Back to Kool! – June 23-25
Strong.Proud.Free – Canada 150 Long Weekend – June 30 – July 6
Splashtown Wet and Wild Weekend – July 7-13
And B.I.N.G.O. Was His Name "O"! – July 14-20
A Yule That's Kool – July 21-27
Amazing Race Weekend – July 28 – August 3
Celebrate the Campfire August Long Weekend – August 4-10
Kandy-Land – A Sweet Retreat Weekend – August 11-17
4th Annual Carnival Weekend – August 18-24
Island Fun Beach Party Weekend – August 25-31
Easter Weekend – May 5-7
Care Camps "Mothers Day" Big Weekend – May 12-13
House of Cards Weekend (Victoria Long Weekend) – May 19-22
Country Weekend – May 26-28
Beach Party Weekend – June 2-4
Pirates and Princesses Weekend – June 9-11
Father's Day & St. Patrick's Day – June 16-18
School's Out Weekend – 23-25
Canada Day / Fourth of July Weekend – June 30 – July 3
Summer Olympics Weekend – July 7-9
Cartoon Week – July 14-16
Christmas in July Weekend – July 21-23
Chocolate Weekend – July 28-31
Wet and Wild Long Weekend – August 4-6
Super Hero/Villain Weekend – August 11-13
Kid at Heart Weekend – August 18-20
Corn Roast Weekend – August 25-27
Cardinal / Ottawa South KOA Holiday
Cardinal's Got Talent – May 5-6
Big Weekend / Mother's Day – May 12-13
Victoria Day Weekend – May 20-22
Teddy Bear's Picnic – June 3-4
Mardi Gras – June 10-11
Father's Day Weekend – June 17-18
Creepy Critters Weekend – June 24-25
Canada Day – July 1-3
Wet & Wacky – July 8-9
Pirate Weekend – July 15-16
Christmas in July – July 22-23
Wild West – July 28-30
Civic Holiday  – August 4-7
Carnival Weekend – August 12-13
Tropical Weekend – August 19-20
Off to the Races! – August 26-27
Opening Weekend & KOA Easter – May 5-7
Mamora KOA Care Camp Big Weekend – May 12-14
Victoria Day Long Weekend – May 19-22
Fathers Day Weekend – June 16-18
Card Game Weekend – June 23-25
Canaday Day Wet and Wild Weekend – June 30 – July 3
Mamora Fire Department Weekend – July 7-9
Wine & Cheese Tasting Weekend – July 14-16
Pig Roast Weekend – Jul 21-23
Dessert Weekend – July 28-30
Civic Holiday Wet & Wild Weekend – August 4-7
Family Fun Week – August 7-13
Cowboy & Cowgirl Weekend – August 18-20
Back to School Weekend – August 25-27
Care Camps & Mother's Day – May 12-13
KOA's Superhero Weekend – May 19-21
KOA's Fairytale Weekend – May 26-28
Father's Day Weekend – June 16-18
Canada Day Long Weekend – June 30 – July 2
Hawaiian Weekend – July 7-9
Beach Party Weekend – July 14-26
Pirates of the Caribbean – July 21-23
Christmas in July – July 28-30
Civic Holiday & Pajama Party Weekend – August 4-6
Western Weekend – August 11-13
Carnival Weekend – August 18-20
Pet Lovers Weekend – August 25-27
Mother's Day – Celebrate Mom Like a Queen! – May 12-14
May Long Weekend & Heated Pool Opening – May 19-22
Bring a Friend & Pools Open Weekend – May 26-31
Father's Day Weekend & ATV Rally of Hope – June 16-18
Happy 150th Canada!!! Canada D'Eh Long Weekend – June 30 – July 3
Wet'n Wild Under the Sea Weekend – July 7-9
Art in the Park in Parry Sound at Market Square – July 14-16
Sports and Games Extravaganza – July 14-16
13th Annual Christmas in July – July 21-23
38th Annual Festival of the Sound – July 21 – August 13
Weird, Wacky & Wonderful Weekend! – July 28-30
Carnival & August Long Weekend – August 4-7
Art Craze Weekend – August 11-13
Sweet & Savory – Candy & Potato Bake Weekend – August 18-20
Mystery Weekend – August 25-27
Caro Rally Obedience Dog Trail – August 12-13
Glow in the Dark Canada Day Party – July 1-2
Pirate Weekend – July 29
H2O Weekend – August 12
Pig Roast Weekend – August 26
Big Weekend – May 13-14
Victoria Day Spring Fling – May 20-22
Father's Day Weekend – June 17-18
Pool Party – June 24-25
Canada Day Weekend – July 1-3
Chili Cookoff/Golf Cart & Bicycle Parade – July 8-9
Easter Egg Hunt & Adult Horseshoe Tournament – July 15-16
Shuffleboard Tournament – July 22
Christmas in July – July 29-31
Mini Golf Tournament & Evening Talent Show – August 5
Wet n Wild Weekend – August 12
Pet Weekend – August 19
26th Annual Driving Range Challenge – August 26
Toronto North / Cookstown KOA Holiday
Medieval / Victoria Day Weekend – May 19-22
Music Madness Weekend – May 26-28
Space Weekend – June 2-4
Animal Weekend – July 9-11
NASCAR & Father's Day Weekend – June 16-18
Disney Superhero Weekend – June 23-25
Canada's 150th Birthday Celebration Weekend – June 30 – July 3
Christmas in July – July 9-7
Cany Craze Weekend – July 14-16
Mardi Gras Weekend – July 21 – 23
Wild Water Weekend – July 28-30
Carnival & Labour Day Weekend – August 4-7
Sports Weekend – August 11-13
Nature Explorers Weekend – August 18-20
Potjie Fest Weekend – August 25-27
Chocolate Lovers Weekend – May 5-7
Victoria Day Glow in the Dark Long Weekend – May 19-22
Back to Nature – Spring Weekend – May 26-28
Candylicious Weekend – June 2-5
Tie Dye Weekend – June 9-11
Father's Day Weekend – June 16-18
Pajama Party Weekend – June 23-25
Canada Day Birthday Celebration Weekend – June 30- July 2
Christmas in July Weekend – July 7-9
Toronto West KOA Carnival Weekend – July 14-23
Splashtastic Water Weekend – July 21-13
Creepy Critters Weekend – July 28-30
Magical Weekend of Make Believe – August 4 – 7
Luau Beach Party Weekend – August 11-13
Dog Lover's Weekend – August 18-20
Off to the Races – August 25-27
---
Quebec
St. Jean Fireworks Big Party – June 24
Beach Party Weekend – July 1
Trois – Pistoles in Songs  – July 7-9 & July 14-16
Festival of the Riverain – July 28-30
Mini-Sport-And-Race – August 5
Halloween – August 19
Shuffleboard Tournament – August 26
Soiree De La St Jean – June 24
Fete Du Canada – July 1
Tournoi De Petanque – July 29
Competition De Voleyball – August 5
Le Grande Texas Holdem – August 19
---
Newfoundland & Labrador
Dads of Steel & Camp for Cancer – June 16-18
Happy Canada Day – July 1-2
Aloha' From Gros Morne KOA! – July 17-23
Sea's' the Day! – July 31 – August 6
Give a Little Love to our Pets – August 14-20
Space Week – August 21-27
---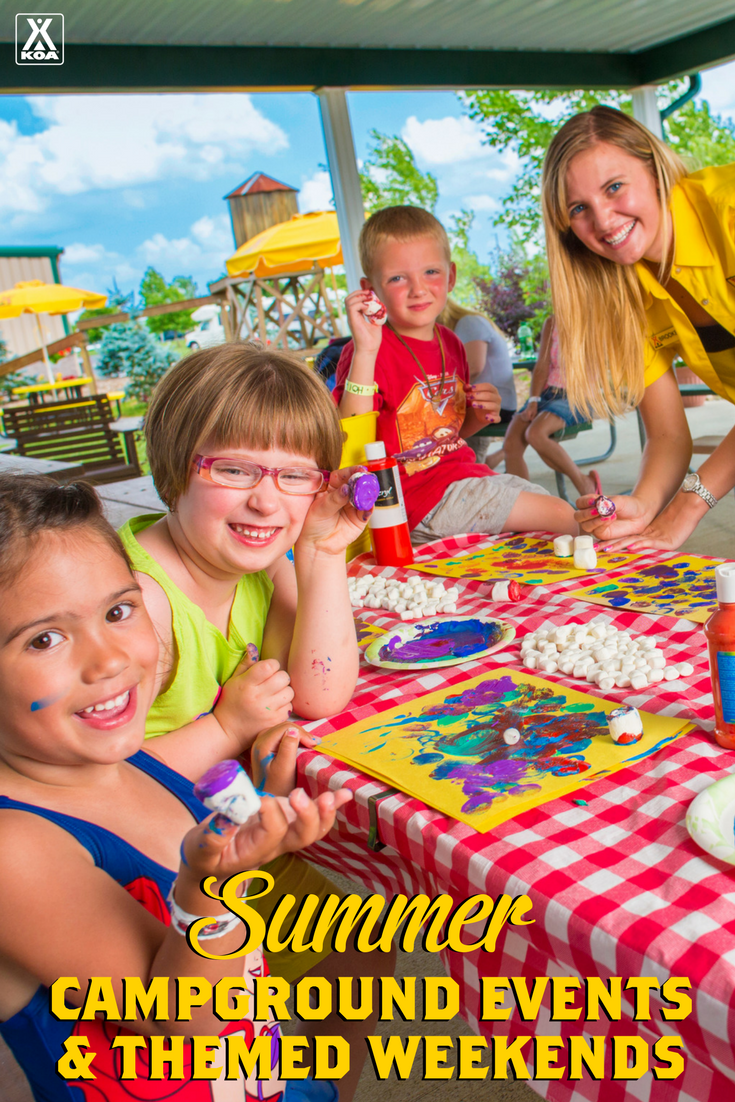 Save
Save
Save