Reserve Now
Or Check Rates
Campground Amenities
Amenities Overview
Campground Amenities
50

Max Amp

45'

Max Length

Wi-Fi

Pool (5/31 - 9/14)

Snack Bar ($)

Propane ($)

Fishing

Mini Golf ($)

Firewood ($)

Pavilion

Bike Rentals ($)
Unique Amenities
Basketball
Boat Rentals
Boat Slip Rentals
Fishing tackle and bait
Gasoline
General Store
Gourmet Coffee Bar
Ice
Laundry facilities
Nature Walks
Patio Boat Rentals
Pavilion
Ping Pong
Playgrounds
Propane
Trinity Mercantile Gift Shop
Meet Your Hosts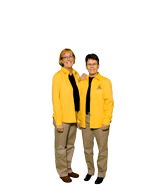 "We had a blast in 2012 and we hope you did too!"
Hi! My name is Barb Fallon but my friends call me Barbie and I hope you will too. I hail from the mid-west and migrated south after school. Growing up in the emerald necklace that surrounds Cleveland, Ohio gave me my love of hiking, biking, and all forms of water sports. Summer there meant camping… mostly in the Ohio Valley or the Allegheny Mountains. Later in Florida, we had an annual Halloween camping trip with 30 of my closest friends at what in now Wekiva Falls KOA.
I would go as far as to say most of the vacations throughout my life have involved camping of some sort… from primitive hike in/hike out to the luxury of an RV motor home or camping cabin.
One of my fondest memories is of a 7 day bicycle camping trip from Gainesville, FL to Gainesville, GA. Without a doubt the Georgia Mountains are great… but it is people that camp make a trip wonderful. Six days in, after a particularly rainy and tiring day of peddling up the road, we set up camp in the Oconee Nat'l Forest. Our camping neighbor found out it was my birthday and built me a campfire cake. (Fire wood is not something you carry on a bicycle) Cozy and warm, we toasted to my birthday, to our new friends, and a few marshmallows. I still keep in touch with them to this day.
I am absolutely ecstatic to be joining the Trinity Lake KOA team in the majestic California Alps. The Lake + The Mountains + The Trees = one Spectacular KOA campground!
.