Reserve Now
Or Check Rates
Meet Your Hosts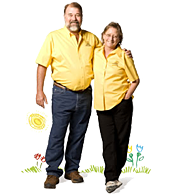 "We love camping and want everyone to have a GREAT time outdoors!"
Marshal and Sherri Gray have always loved camping, so they thought it would be fun to help others enjoy the camping experience. That's why they purchased the San Angelo KOA in 1995.
"We try to do more for the camper than they expect us to do," said Sherri in explaining the couple's guest service philosophy.
Campground managers David and Brenda Duncan help the Grays fulfill on that promise. Marshal also still owns and operates his own restaurant, the Pack Saddle Bar-B-Que, and Sherri still works as an accountant.
When not on the campground or working at their jobs in the "regular" world, the Grays will be found camping, fishing or enjoying NASCAR events with their four boys.