Reserve Now
Or Check Rates
Meet Your Hosts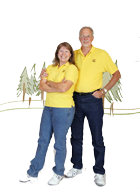 "We're excited about our RV park, come join us!"
If you like Facebook or Twitter, then we hope you enjoy this! We are Terry and Sandy Hays, owners and operators of Sallisaw / Ft Smith West KOA. So many of our campers have asked us how and why we bought a campground, we thought we'd share our thoughts here.
In 2000, we took the leap into the American Dream of owning our own business. It has been many long years or many short years - depending on which month of the year it is, which person you talk to, or what project we are taking on. We have loved it, and yes, on occasion, have hated it.
You might wonder how people like us, with social work and construction backgrounds, end up owning a campground? The answer is, because of the same reasons that you camp: to find a great way to relax and spend quality time together. We love each other; we live here and work here together, just the two of us. We could tell you how hard we work and list all the improvements we have made, but, we will let you just see for yourself. Each campground is different; ours is very special, quiet and serene. We agree with one camper when she said, "It is a secluded paradise."
I, Sandy, wrote the following, the first year we owned the Sallisaw/Ft. Smith West OK KOA: "Everyone has a story, a unique collection of life events. Most of the time, I find these events are easily shared with someone who otherwise is just an ordinary stranger. The first year we were in business, we encountered a man who touched my heart and my life. He came into the campground alone. He seemed like many others, just tired and not too talkative.
Over the next several days, he shared how much love he had for his wife, how she died from cancer, and how he was searching to end his loneliness. We had time to laugh at some of his jokes and share his barbecued lamb with him. He thought he was just sharing a new taste with us - lamb. But, he left me much more - a vision of a true love he had lost, an admirable goal at learning to live life after a devastating loss, and the courage to face life as an adventure - to go another direction."
So, now, when campers ask us why we bought this campground, we say, "Why wouldn't we?" We chose to go another direction in life - to buy a campground, improve it, and work together, side-by-side every day of our lives. Come stay with us and share your life!