Reserve Now
Or Check Rates
Meet Your Hosts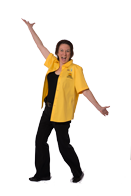 "We are now open for the 2014 camping season. Make your reservations now, we look forward to seeing you soon."
Ginny Rader, general manager of the Niagara Falls, NY KOA campground, knows what she likes when she sees it. She has been the manager here since 2006. "I love the wildlife, the seasons (yes, even the snow) and the people here," says Ginny.
Ginny's top goal is to treat her guests as she would like to be treated. "I like to know that my guests are having fun and enjoying the campground and that they feel safe. We have many local return guests who are comfortable here, know what to expect, and love the activities that we do here in the campground."
Ginny loves camping, photography, motorcycles and gardening.