Reserve Now
Or Check Rates
Meet Your Hosts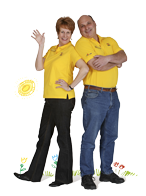 "Only the best for our campers! Cable tv, wifi and the great outdoors! Families, Friends, and Fun! That's what we're all about! As owners, Helen and I live on site and are ready to serve your RVing/camping needs. Come and enjoy our midwest hospitality."
Helen and I were married in 1984 and lived for the next 21 years in Cedar Rapids, Iowa in a traditional middle class neighborhood where we raised our 3 kids. During that time, I worked as a mechanical engineer at the nearby nuclear power plant.
One day I looked at Helen and said "Let's do something different and exciting for a living while the kids are still young - something that involves the outdoors and will involve the whole family."
She agreed and, after packing up our old beat-up RV, we headed west for Yellowstone. During that time we experienced all the mountain states had to offer such as Devil's Tower, Roosevelt National Park, Custer's Last Stand, the Grand Teatons, etc. I remember meeting many RVers and was impressed with how friendly and free-spirited they were. It didn't take Helen and me long to determine that RV park ownership was the answer to our career pursuits.
In 2005, we purchased the park that is now Newton KOA and never looked back. Even after 8 years as a park owner, I never get tired of RVers - they all have a story to tell. Come share your story with us while on your trip - perhaps at one of our ice cream socials.