Reserve Now
Or Check Rates
Campground Amenities
Amenities Overview
Campground Amenities
50

Max Amp

100'

Max Length

Wi-Fi

Pool (5/17 - 9/8)

Hot Tub / Sauna

Snack Bar ($)

Propane ($)

Kamping Kitchen

Mini Golf ($)

Firewood ($)

Pavilion
Unique Amenities
Boat Tour Discount Coupons
Clubs & Rallies Welcome
Extra Large Sites
Large Heated Pool
Pet Friendly
Planned Activities
Campground Activities
Campers Lounge
Activities include bingo, free satellite movies, arcade games and pool.
Read More
Campground Events
Listing
Calendar
Halloween Spiders & Spooks Trail of Terror Weekend
Watch for spiders & spooks and enjoy our Halloween activities, including our Scary wagon ride and Trail of Terror VII, best dressed trailer (overnight & seasonal) & cabin, costume contest, trick or treating and more!
Read More
Thanksgiving Pumpkin Crazed, Pot Luck Brunch & Last Trail of Terror VI Weekend
Celebrate Thanksgiving and Halloween all at once with pumpkin themed activities & our Annual Thanksgiving Pot Luck Brunch & Games. Also join our Scary wagon ride and Trail of Terror VII, pumpkin carving, trick or treating, best dressed trailer (overnight & seasonal) & cabin & best dressed costume contest with face fun! Susan's last Bingo of the year will be held.
Read More
Meet Your Hosts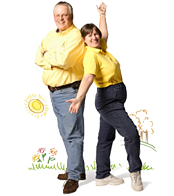 "Join us as we celebrate our 25 Years of Great Camping! Please call or go online to book your sites now!"
Becoming campground owners was a long time coming for Richard and Susan Marcoux, owners of the 1000 Islands/Mallorytown KOA in Ontario.
Richard purchased the campground with his father in 1988. For about 12 years, Richard and Susan worked at the campground on summer weekends, and pursued careers in aerospace during the week while his parents ran the campground. When his father passed away in 2000 and the campground became too much for his mother to run alone, Richard and his wife decided to try a lifestyle change and became sole owners of the campground.
Richard, who enjoys building things, and Susan, who loves to organize, got to work right away on making their campground the best it could be for their campers. Since 2000, they have been developing a pool complex that includes a large pavilion, laundry room, game room, full entertainment centre, and snack bar.
One of the interesting things campers will see when visiting the campground is a large moose named George. "We won George the moose at an expo convention, and he's been our campground mascot ever since," says Richard. "You'll see him all over our campground, sitting in the lobby with his KOA nametag around his neck, dancing with Susan, or hanging out in the snack bar while we serve our guests breakfast every morning. George even inspired most of the item names on the menu, such as "Hungry As a Moose" breakfast. When the food is ready, I shout 'Moose is up!"
"We just try to make everyone happy," says Richard and Susan. "We have very high standards for our campground, and try to make it an interesting and enjoyable place for families to stay."