Reserve Now
Or Check Rates
Meet Your Hosts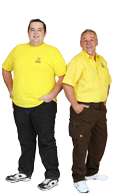 "At the 1000 Islands/Kingston KOA we want to make sure that everyone has a great time. When you camp with us you are not only our guests, but also our family."
Hans Wagner and his son Patrick are the father and son team who run the award winning 1000 Island/Kingston KOA at the beginning of the beautiful 1000 Island Region. Hans, a former CEO of a machine manufacturing company and Patrick, a recent graduate from a psychology program in Kingston are determined to make sure that every camper has an amazing experience when they are guests at the 1000 Island/Kingston KOA. We both take a very personal approach to the campground and try to meet with each of our guests to make sure they are enjoying their time with us. said Hans.
Patrick has been camping at KOA since he was 5 years old. I remember sitting in class when I was very young not being able to pay attention to my teacher because I knew that by 6 oclock that night I would be sitting by the campfire roasting marshmallows. Patrick said. When I heard that we were buying a KOA in Canada I was so excited. Even though I had to leave my friends and school in California I knew that it was going to be worthwhile when I could sit by a campfire every night.
In 2012 Patrick graduated with his Bachelors Degree and was ready to part ways with the campground and begin a career in psychology. "It saddened me thinking that I would not be part of the AMAZING 1000 Islands/Kingston KOA family anymore but I thought I was ready to go on with my life. Within weeks I realized that I really missed the campgrounds atmosphere and knew that was where I belonged. said Patrick.