Reserve Now
Or Check Rates
Meet Your Hosts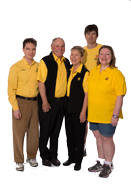 "Enjoy the city of Fort Collins all year!"
You are bound to run into members of our family hard at work during your visit. Were open all year.
Theresa & G.W. have been taking care of camping guests in the KOA system since 1988. They have been married for 51 years and understand the importance of quality family time. Their daughter Heidi and their son Bryon have been assisting their parents since 1988. Craig married Heidi & joined the family business.
Theresa and G.W. used to take their family camping during the summer in a motor home. I think we could write a book about our adventures in that motor home! says Heidi. It was these family experiences and the stress of corporate jobs & city living that convinced the family to move from Chicago, Detroit & Minneapolis to Colorado and become a team at Fort Collins/Lakeside KOA.
During the off season, the family likes to enjoy: traveling (G.W.), reading (Theresa), quilting (Heidi), table tennis (Bryon) and sleeping (Craig). We are also a family of pet lovers with 5 cats and 3 fish tanks between us.
We are here to ensure your family has a great time either relaxing or being active. Please ensure you say hi when you see us!