Reserve Now
Or Check Rates
Meet Your Hosts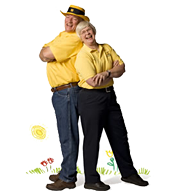 "We all have experiences where we've been 'wowed', and that is our goal - to provide our customers with a "wow" experience."
(2005) Settling in as the owners of the Estes Park KOA has been a dream come true for Jim and Ruth Turner. The fantastic location in the Estes Valley offers spectacular mountain views. They visited and camped at many KOAs over the years, and love KOA's.
The couple was ready for a lifestyle change and things fell into place, Jim recalled. They were fortunate that the first KOA they pursued was the right KOA for them. Ruth owned and managed a biological supply company and decided it was the right time to sell it. Jim was in the executive search business for 25 years. He's also done web design, development and hosting for seven years, which is something he has continued. They initially considered joining the Peace Corps, but when they discovered it would take some time for the process, they decided to pursue their dream of campground ownership.
They lived in Castle Rock, near Denver, and have always enjoyed camping, hiking and backpacking. They've hiked several "14er's." (Mountains with elevations over 14,000 feet) in the state. The opportunity to own a campground in Colorado was ideal, Jim said. The Estes Valley is a gorgeous area and a very popular destination in the summer. Majestic mountain peaks in every direction offer spectacular views at the campground.
The couple enjoys the opportunity to welcome guests, helping them feel very special. "We all have experiences where we've been 'wowed,'" Jim noted, and that is their goal - to provide their customers with a "wow" experience. They welcome campers as special guests, helping them to feel appreciated.
Their other interests include competitive duplicate bridge, camping, hiking, scuba diving and travel. Jim describes Ruth as "an A-class quilter and a major crafts person, including knitting, crocheting, weaving and quilting." She's also a voracious reader. Jim is a "computer junkie," working on web sites, developing software, writing code and working on their computer network.